New restaurant opens in Hungry Horse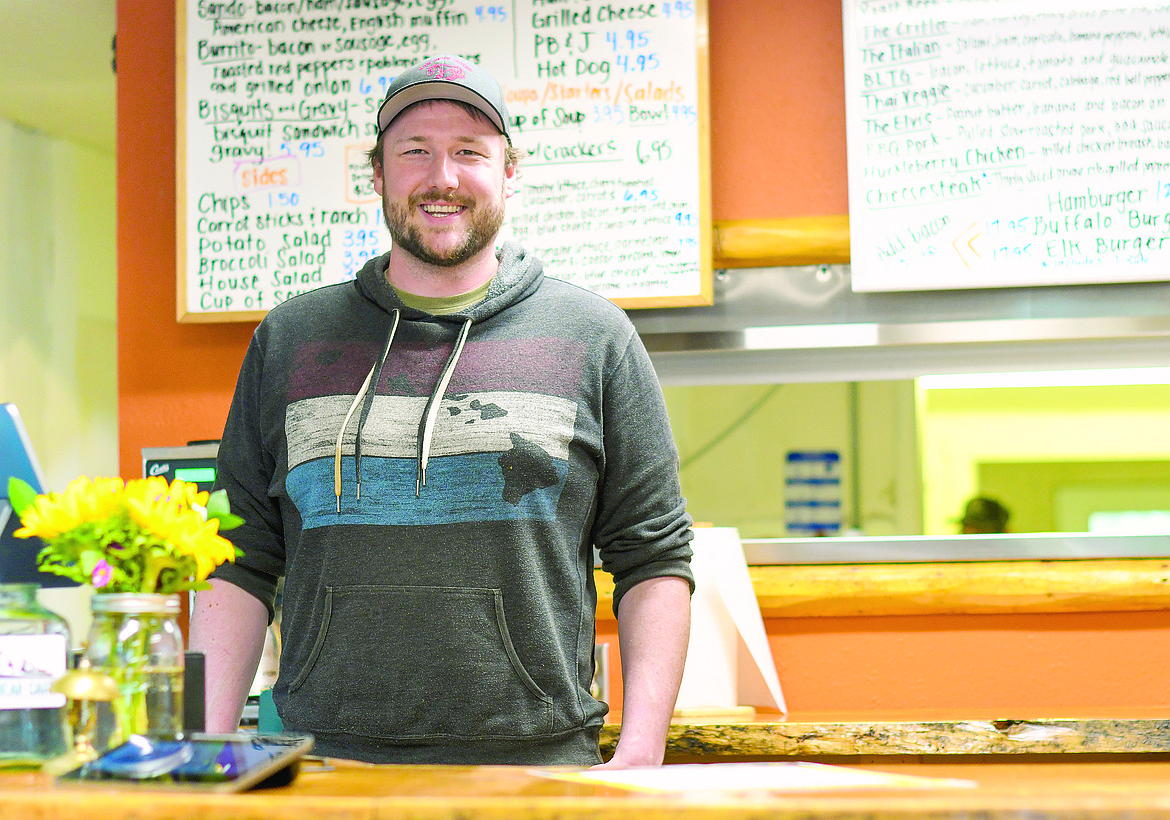 Garrett Johnson stands at the counter of his newly opened sandwich shop, the Great Bear Cafe, in Hungry Horse. (Teresa Byrd/Hungry Horse News)
by
TERESA BYRD
Hungry Horse News
|
June 13, 2021 12:00 AM
A new eatery has opened in Hungry Horse. The Great Bear Cafe, located across the highway from the Huckleberry Patch, celebrated its grand opening last week.
The diner, owned and operated by Garrett Johnson of Whitefish, opened in the small timber-framed shop that once housed the Elkhorn Cafe for over 15 years. The local cafe is keeping it simple with a lunch-dinner menu consisting mainly of hearty sandwiches and a couple of classic burgers as well as a small morning menu of breakfast sandwiches, breakfast burritos and biscuits and gravy.
The menu is full of options that pack a punch, including a barbecue pulled pork sandwich with a Southwestern slaw, a huckleberry chicken sandwich featuring a homemade berry compote or a classic hot cheesesteak.
The opening week's special was a morel mushroom elk burger with smoked gouda. Patrons can top off their orders with a glass of freshly squeezed huckleberry lemonade, made daily from scratch, or an "I'm Your Huckleberry" cream pie crumble.
The cafe also has a selection of pre-made options ready for costumes on a schedule to pick up and go, including sandwiches, pie and even side dishes like homemade potato salad or a signature broccoli medley with almonds, dried cranberries and bacon.
Johnson hopes to expand the ready-made options to include to-go quarts of soup or even "lunch boxes" containing a sandwich, chips and a cookie to serve local workers on the run or early-bird tourists.
All of the menu was created by Johnson, who began his career over a decade ago at a wood-fired pizza place in Bellevue, Washington, and has since worked as a chef at the Whitefish Lake Restaurant as well as the Summit House Restaurant & Bar on Big Mountain. Johnson hopes to keep the cafe open through the winter, noting a need for restaurants in the Canyon area outside the tourist season.
"A lot of the locals are always asking, 'Are you going to be open in the winter? Nowhere else is open, we need a place!'" Johnson said.
The restaurant is open daily from 8 a.m. to 8 p.m.
---