Kalispell council rekindles accessory dwelling discussion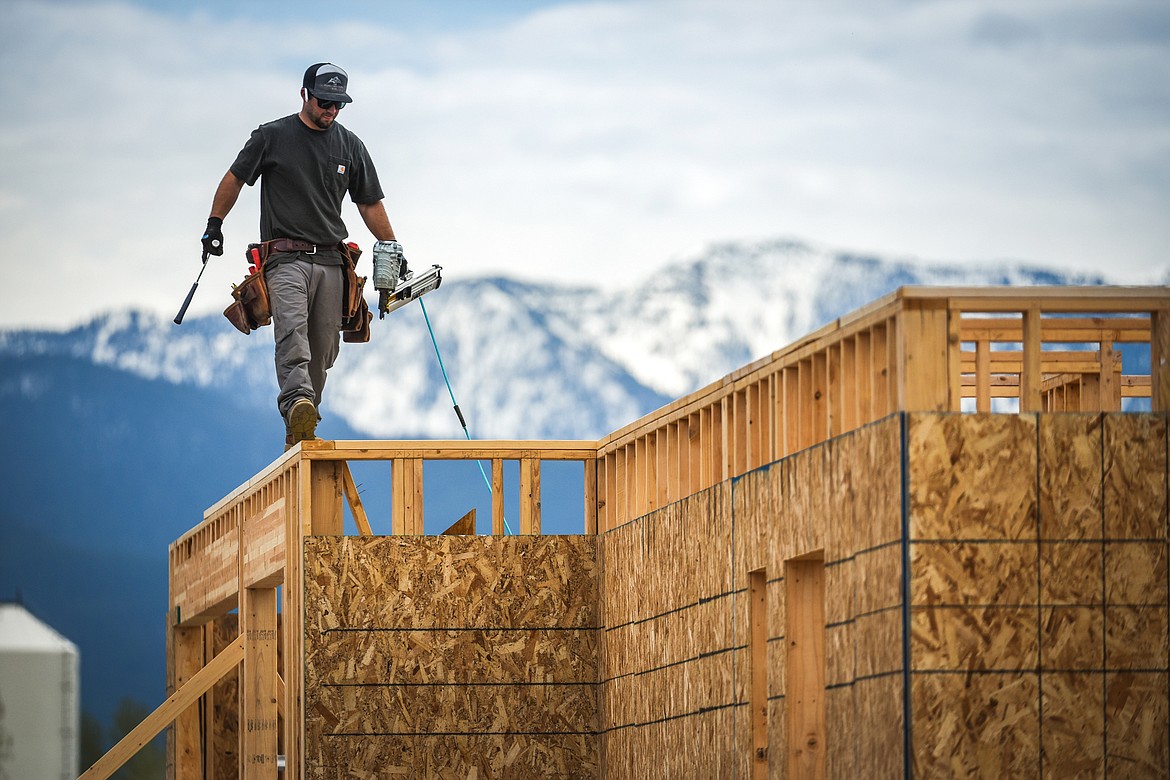 A construction worker works on a house under construction along Montford Road in this May 11, 2021, file photo. (Casey Kreider/Daily Inter Lake)
by
BRET ANNE SERBIN
Daily Inter Lake
|
June 14, 2021 12:00 AM
The contentious topic of accessory dwelling units returns to the spotlight Monday at a Kalispell City Council work session.
The council first began discussions about the possibility of allowing secondary dwelling units on properties in various residential zones last fall, with the primary goal of increasing affordable housing options.
Earlier this year, the council held a work session and three meetings on the topic. An ordinance was drafted that would have allowed accessory dwellings as a permitted use in the following city zones: R-4, R-5, RA-1, RA-2, H-1, B-1, B-2, B-3, and B-4.
But in an unanticipated turn of events, the ordinance was scrapped in February when three council members withdrew their earlier support for the ordinance.
Opponents were troubled by the possibilities that these structures would overload neighborhood density and change the character of the permitted zones. As the conversation around accessory dwellings wore on in January and February, additional concerns arose about the process of drafting the ordinance and the details it contained.
The proposed ordinance required new accessory units to provide at least one parking spot for the structure; meet the same setback requirements as the principal structure in the case of new construction; be limited to a maximum height of one story if the principal structure doesn't meet current setback requirements; and consist of no more than 1,000 square feet.
IN OTHER business, the council will revisit historic design standards for downtown Kalispell.
In 2020, the Downtown Business Improvement District hired a consultant to develop design standards for historic downtown Kalispell, with grant funding through the Montana Main Street Program.
Consultant A&E Design came up with a text amendment for a layered set of requirements for different downtown areas.
Under the new standards, all of the buildings in the designated Downtown Historic District Overlay would be required to meet requirements for pedestrian-friendly urban site design.
Additionally, buildings in the Main Street Historic District would be required to follow guidelines for the historic architectural form, material and colors of buildings, in order to reflect "Kalispell's period of significance," identified as 1891 to 1960.
The council met to review the proposed standards on April 26, and the current version of the text amendment reflects changes that resulted from that conversation.
"Changes include allowing stained and leaded glass, clarification on the use of appropriate synthetic materials, revision to massing standards of large buildings, and various amendments to clarify language," according to the agenda.
A timeline has yet to be specified for the possible adoption of the text amendment regarding the historic design standards.
The work session is open to the public and starts at 7 p.m. in the City Council Chambers, 201 First Avenue East.
Reporter Bret Anne Serbin may be reached at 406-758-4459 or bserbin@dailyinterlake.com.
---