Glacier Park visitors share video of grizzly chasing black bear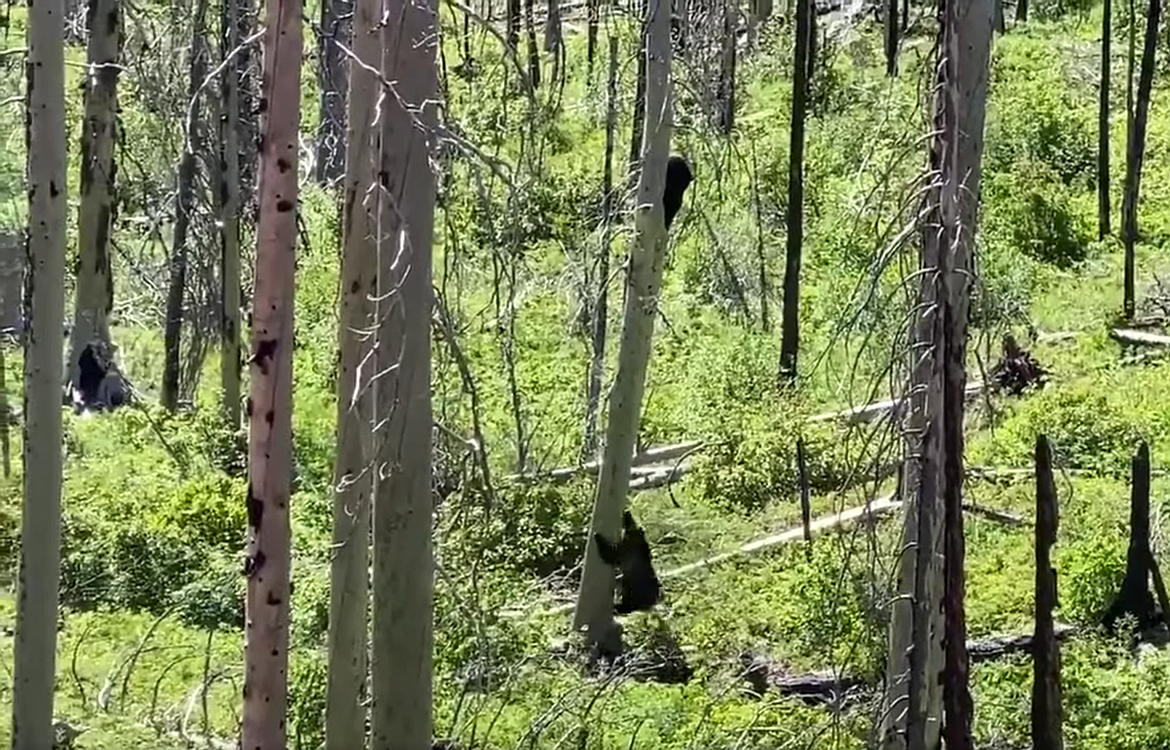 A grizzly bear is seen at the base of a tree in Glacier National Park after chasing a black bear up the trunk in this image from a visitor's video shared by the park on Tuesday, June 15, 2021.
by
SCOTT SHINDLEDECKER
Daily Inter Lake
|
June 17, 2021 10:20 AM
Some recent visitors to Glacier National Park had the rare experience of watching a grizzly bear chase a black bear up a tree at St. Mary Lake.
The park on Tuesday shared a video on its Facebook page recorded by one of the visitors, Mollie Meiches, who was visiting the park with her fiance.
"I took this video while visiting Glacier National Park with my fiance, Anthony. We'd been camping in the Many Glacier area and drove into St. Mary along Going-to-the-Sun Road the morning of Sunday, June 13. It was a quiet morning with little traffic on the road, even though it was already 9:30 a.m. or so," Meiches wrote.
"We were surprised to see people gathered on the south side of the road just east of the St. Mary Fall's shuttle stop — something towards the lake had caught their attention," she wrote. "We pulled over and caught someone saying, 'It's a black bear and a grizzly,' which sounded ridiculous to me. But when we looked, that's exactly what appeared to be before us. The black bear was already up in the tree and the grizzly was digging in the ground near a fallen log."
A park official said on Facebook that two species of bear typically get along.
"Normally agreeable when food is abundant, grizzly and black bears run into one another more often when food is scarce, like early summer," the official wrote. "While grizzly bears are larger and typically stronger than black bears, this black bear displays its powerful exit strategy: climbing!
"The short, sharp claws of the black bear are ideal for tree climbing. The grizzly's longer, duller claws are great for digging, but poor for climbing — especially because an adult grizzly is substantially heavier than a black bear."
Meiches wrote at length of the experience.
"Stunned by the sight of two different species in such close proximity, we lingered as dozens more visitors cycled in and out around us. After about 45 minutes, the grizzly meandered up a small ridge and appeared to be leaving the area, so we watched as the black bear descended the tree," she wrote. "However, a few minutes after the black bear got comfortable on the ground, the grizzly bear turned and soon sprinted toward the black bear, who rapidly reascended the tree while the grizzly attempted to follow. I happened to film this 'interaction.'
"Though I'm remiss to live behind a camera, it was shocking to see the bears so close to each other, so I'd been shooting continuous short clips any time either bear moved at all. And then to experience--and capture--the moment of the chase was truly incredible, awe-inspiring, and a once in a lifetime moment."
Meiches wrote that a park ranger who was present speculated the grizzly could have been digging for ground squirrels or ants.
"We finally tore ourselves away around 11:30 a.m., went on a hike, and when we came back later in the afternoon, the bears were in largely in the same positions: black bear higher in the tree and grizzly under the same log.
"We're pretty humbled and awestruck to have witnessed this encounter," she wrote.
Home range sizes of both grizzly and black bears vary in relation to food availability, weather conditions and interactions with other bears. Individual bears may extend their range seasonally or from one year to the next.
Reporter Scott Shindledecker may be reached at 406-758-4441 or shindledecker@dailyinterlake.com.
---