Study underscores economic significance of Montana hospitals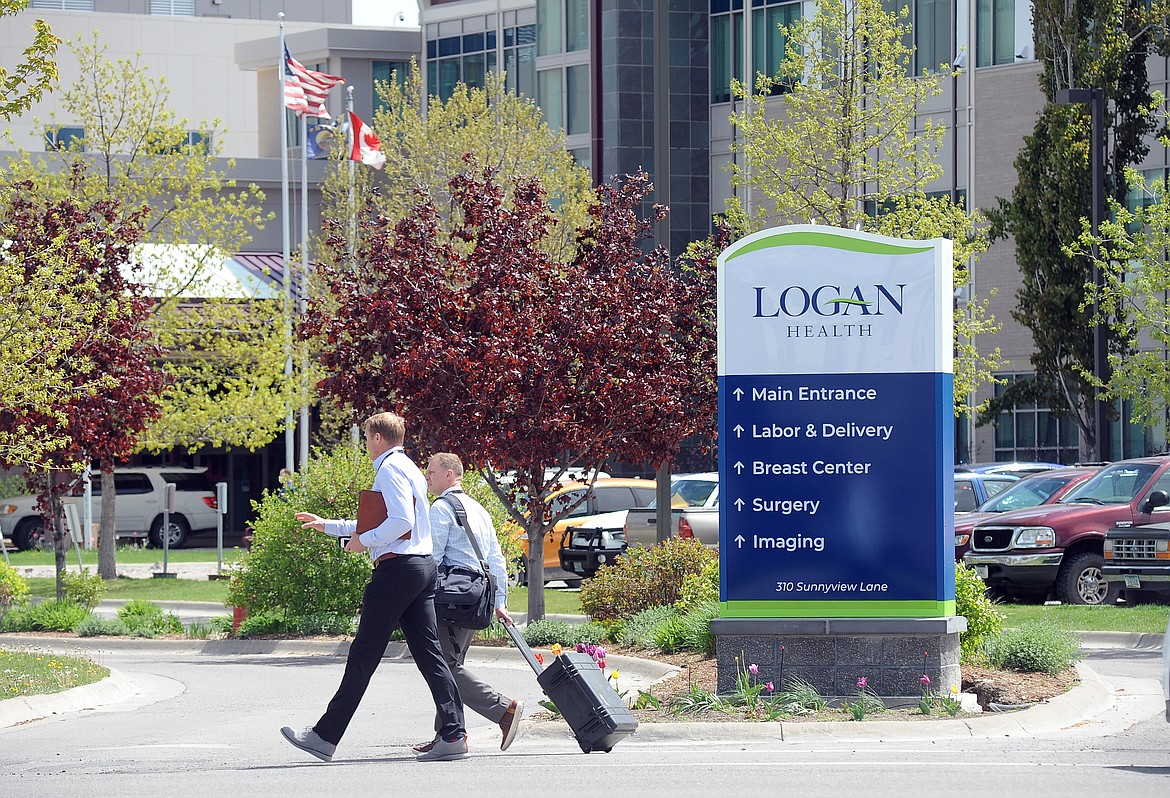 People walk past a new sign for Logan Health at the entrance to the hospital in Kalispell on Tuesday, May 19, 2021. (Matt Baldwin/Daily Inter Lake)
by
KIANNA GARDNER
Daily Inter Lake
|
June 20, 2021 5:00 AM
A new study that outlines the significant role Montana hospitals play as leading economic drivers for the state shows Logan Health paid its Flathead County-based workforce more than $300 million in combined total payroll and employee benefits in 2019.
As part of the study, known as "The Economic Impact of Montana's Hospitals," researchers looked at data for Kalispell Regional Healthcare and North Valley Hospital — entities that now operate under the Logan Health brand. The hospitals are just two of Montana's 60 non-governmental hospitals that were observed for the study, which was created by University of Montana Bureau of Economic Research and funded by the Montana Hospital Association.
The purpose of the project was to observe measurable economic activity supported by the hospitals across the state, including employment data, payroll expenses, benefits, economic outputs, state tax and nontax revenues and geographical trends in billing. The 71-page report provides county-by-county breakdowns for a handful of those research categories.

In Flathead County, Logan Health paid its nearly 3,800 employees a total payroll of roughly $254 million in 2019 — an amount that accounted for nearly 9% of the county's total earnings that year. According to the report, the "earned labor income" among Flathead County residents that year was $3 billion.
THE REPORT also offers insight into the counties served by Logan Health.
In-county billing accounted for approximately 73% of services billed that year, while Lincoln, Lake, Glacier and Sanders counties combined were billed for approximately 20% of services.
According to the report, it is not unusual for counties with larger hospital facilities to bill a relatively large percentage of services to out-of-county patients. As one other example, Yellowstone County billed 40% of its services elsewhere in 2019.
The cross-county billing findings underscore efforts by Logan Health to establish itself as a regional provider in the state — a goal that has become more realized in recent months after the organization expanded to include facilities in Shelby and Conrad, two areas officials say have been long-served by Flathead County-based entities that offer a wider array of specialized services.
According to Logan Health spokeswoman Mellody Sharpton, the network's total number of employees is now up to 4,138, a figure that includes all facilities and locations in all service areas. To put that into context, Sharpton said the system's Directory of Services shows the system had 2,656 employees in 2012, though that is not necessarily an apples-to-apples comparison considering the network expanded considerably from 2012 to 2019, the year that was analyzed for the new report.
Sharpton was unable to provide specific projections regarding the percentage of employment growth officials anticipate Logan Health will see in the coming years. However, the study notes health-care employment has grown in Montana by roughly 2% each year, a trend that suggests the industry as a whole will continue to outpace other major industries in terms of economic contribution.
"With the exception of the most recent pandemic-related downturn, where health-care jobs were impacted by social distancing, the sector has proved to be resilient in economic downturns," the study notes. "And thanks to steadily rising demand for health-care services, its job growth over the last two decades in Montana has been among the highest of any major industry."
According to the study, the employment share of health care exceeds the share of the next largest industry, retail trade, by more than 3 full percentage points. And when the top 20 major industries are ranked by total wages paid, health care accounts for nearly 18%, while public administration, the second-highest ranking industry, accounts for nearly 10%.
THE STUDY emphasizes how Montana hospitals generate "considerable economic prosperity," not only for the communities in which they are located, but for the state as a whole.
Researchers found that 56 of the state's 60 non-governmental hospitals accounted for approximately 83,900 permanent, year-round jobs and over $6.3 billion in annual, recurring income received by Montana, roughly $5.7 billion of which is considered disposable, after-tax income. Those entities also supplied, on an annual basis, roughly $1.5 billion in state tax and nontax revenues and over $16 billion in added economic output.
"Hospitals in particular, and health care in general, are labor intensive services that have a large locally produced component. Therefore, a comparatively large fraction of spending on hospitals is paid out as wages and thus remains in the local economy. These connections give communities an important stake in maintaining the economic viability of local hospitals," said Patrick Barkey, director of the Bureau of Business and Economic Research. "Looking forward, the continued accessibility of high-quality hospital services is fundamental for the vitality of any region. Areas which lack such access can face serious hurdles in attracting and retaining businesses and investment that can sustain their economic livelihoods and, more importantly, maintain the health of residents."
The study highlights two recent events to demonstrate the importance of those economic connections.
First is the COVID-19-related swings in elective surgeries and other procedures that have prompted cutbacks and curtailments, adding to the overall economic challenges currently posed by the pandemic in ways that were unanticipated by leaders.
Second is the Montana Legislature's decision to participate in the expansion of eligibility for the federal/state Medicaid program. That allowed more low-income families to qualify for the program and gave those receiving benefits better access to care.
All told, researchers hope the new study offers insight into the importance behind such decisions.
"By understanding the share of the Montana economy that Montana hospitals are responsible for, the potential ramifications of changes in health care brought to the forefront by legislation passed in 2016 and extended in 2019, may be better understood," the document states.
According to data from the Montana Department of Public Health and Human Services, nearly 100,000 adults were enrolled in Medicaid Expansion as of May 1, 2021, or about 9.5% of the state's population. In Flathead County alone, nearly 9,700 adults are enrolled.
Reporter Kianna Gardner may be reached at 758-4407 or kgardner@dailyinterlake.com
---