County vaccination effort saved lives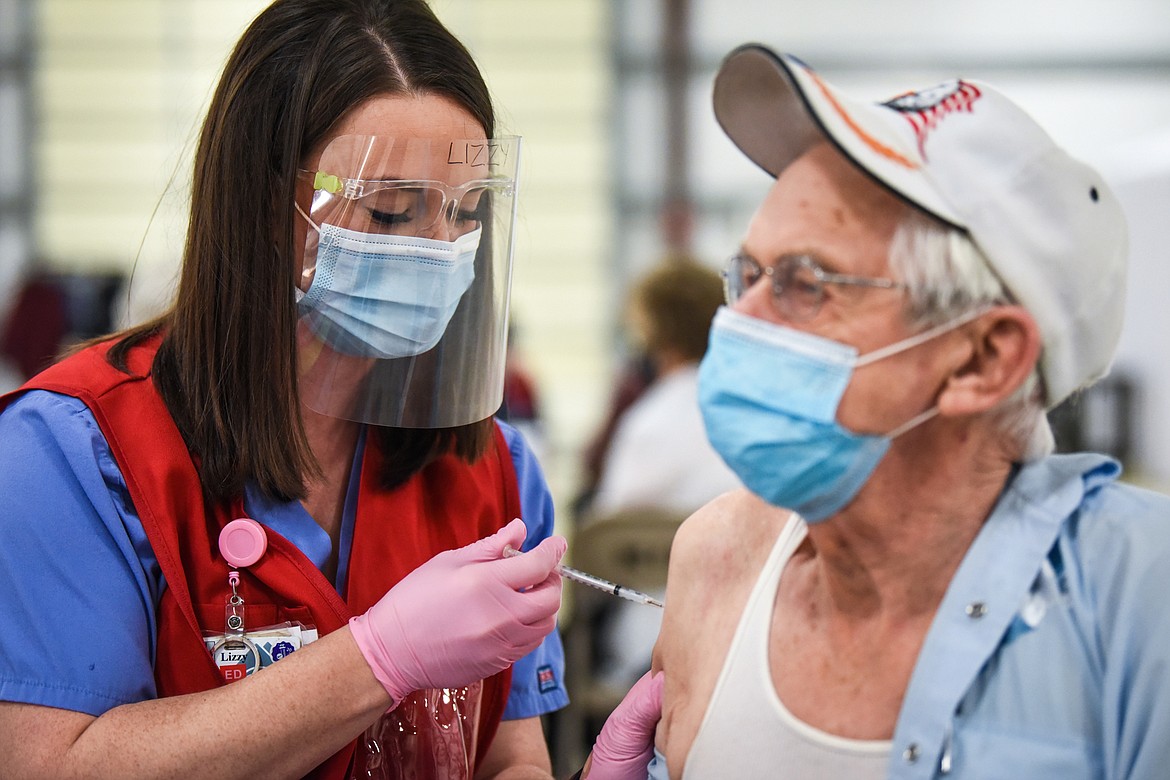 Lizzy Dwyer, left, an emergency room nurse with Kalispell Regional Healthcare, administers the COVID-19 vaccine to Norbert Tombarge, of Kalispell, at the Flathead County Fairgrounds on Thursday, Jan. 21. (Casey Kreider/Daily Inter Lake)
by
Daily Inter Lake
|
June 27, 2021 12:00 AM
Flathead City-County Health Department last week wrapped up its large-scale community immunization clinic at the Flathead County Fairgrounds. The effort to coordinate and administer as many shots as possible, as efficiently as possible, was nothing short of heroic.
All totaled more than 2,000 hours of work was put toward the local response thanks to the health department staff and hundreds of volunteers, along with additional assistance from Logan Health.
And let's not forget Flathead County Health Office Joe Russell, who returned to his role in a time of crisis and led the charge with an even hand.
To everyone involved, thank you.
The statistics are impressive. Between Jan. 7 and June 14, nearly 39,000 vaccinations were administered at the fairground clinics. At the peak, the site was running up to 10 lanes going 5 minutes apart from 9 a.m. until 4 p.m. every day. Everyone we heard from offered nothing but high praise about minimal wait times and the friendly staff.
The importance of the health department's response shouldn't be downplayed. Lives were saved, and the county has fully reopened because of this effort.
Still, there is work to be done.
Flathead County's vaccination rate of 37% lags behind Montana's four most populous counties (Yellowstone 44%, Missoula 59%, Gallatin 52%), while nearby Lake County has hit 51% and Glacier County is at 50%.
Unfortunately, the Flathead continues to post one of the highest active case loads in the state, and Covid-19 related hospitalizations remain at concerning levels.
Nationwide, the unvaccinated account for the vast majority of virus-related hospitalizations and deaths, and new variants are now spreading more easily.
The good news is that the vaccine appears to have good results against these new strains, and the shots are readily available for free.
If you're on the fence, talk to your physician or a health care professional for the most accurate information.
Although the county's mass vaccination site is closed, vaccines will continue to be available to individuals 12 and older at the Flathead City-County Health Department Immunization Clinic. Local pharmacies, health-care providers and pop-up clinics throughout the county also are administering vaccines.
Every shot counts as a step toward putting Covid behind us.
---