New Soroptimist president focuses on nonprofit's future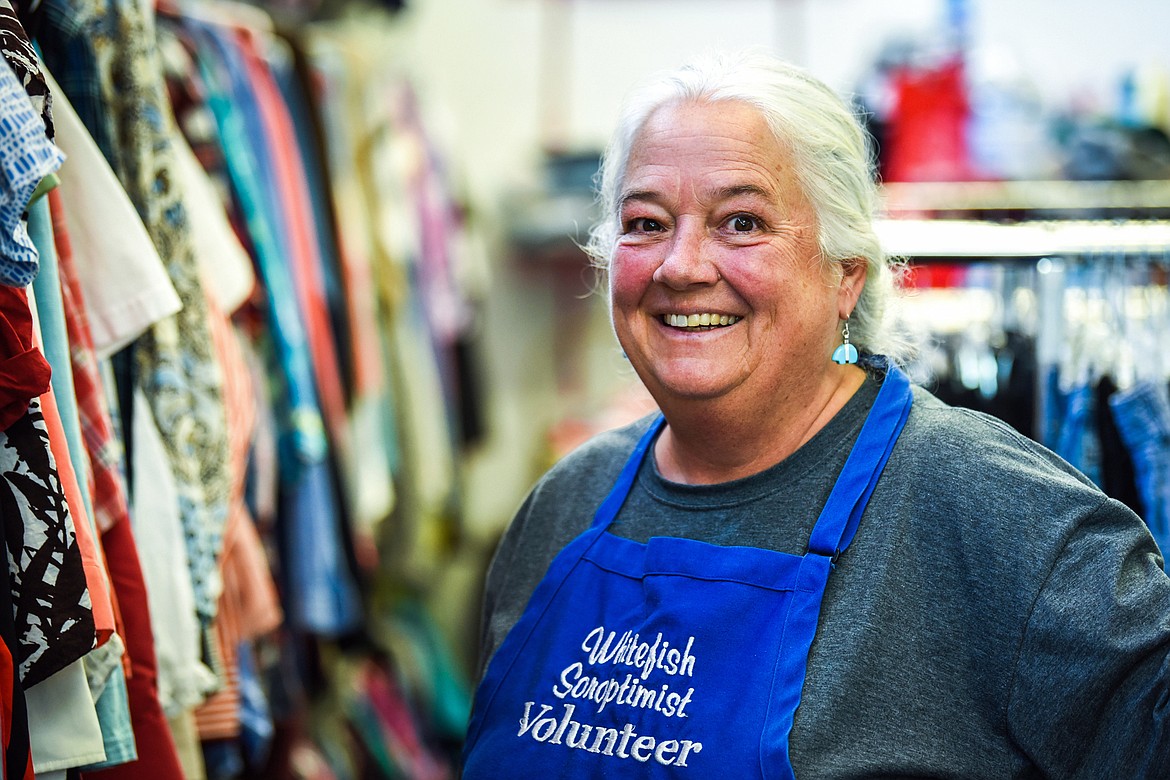 Betsy Kohnstamm at the Whitefish Thrift Haus on Friday, June 25. Kohnstamm is the incoming president of Soroptimist International of Whitefish, which operates the thrift store to raise money to meet the nonprofit's mission of improving the lives of women and girls. (Casey Kreider/Daily Inter Lake)
by
BRET ANNE SERBIN
Daily Inter Lake
|
June 28, 2021 12:00 AM
Soroptimist International was founded in 1921, shortly after women gained the right to vote in the United States. Betsy Kohnstamm, the incoming president of Soroptimist International of Whitefish, is making it her No. 1 priority to ensure the local group doesn't fade into history.
"My most important focus will be on the future of the club," Kohnstamm said. She'll officially take over the presidency on July 1.
Soroptimist's mission is "improving the lives of women and girls."
What might seem like a straightforward goal is, in practice, no easy feat. Kohnstamm is focused on making sure the Whitefish organization is effective and sustainable so it can improve lives for many years to come.
"What impact could that have 20 years from now? That's what I'm trying to get people to think about," Kohnstamm said of her approach to leading the club.
She knows a thing or two about longevity. Kohnstamm has maintained a commitment to civic engagement for many decades.
It all started during her childhood, watching her mother champion housing issues in her home state of New Jersey.
"I think my parents' generation after World War II was very good at civic engagement," she recalled.
That model fed Kohnstamm's lifelong support for social causes.
She worked as an educator in different rural communities throughout the Western United States, first in New Mexico, then Colorado and finally, Columbia Falls.
"I gradually worked my way up the Rockies," she said.
KOHNSTAMM MOVED to Whitefish in 1987, and she retired four years ago from the Columbia Falls School District, where she taught reading and literacy. In her experience, education and activism go hand in hand.
"Being a teacher, it just feels natural," she said.
Nonetheless, her advocacy extends far beyond the reaches of a traditional classroom.
She founded the Columbia Falls Bookmobile, a mobile literacy program, and also helped create the North Valley Music School, in addition to working full time. She has served on the Whitefish School Board and has participated with groups such as Soroptimist International.
This summer, Kohnstamm's focus will be trained on Soroptimist, which finds itself at a bit of a "crossroads."
The Whitefish chapter of the international nonprofit is primarily geared toward the operation of the Thrift Haus on First Street in Whitefish. It's the group's key fundraiser that allows the organization to contribute financially to causes that help women and girls.
Members staff the shop Tuesday through Saturday, and profits generated fund projects such as providing dental care to single mothers, educating communities about human trafficking and giving scholarships to female students.
But funding, membership and the Thrift Haus itself are all facing an uncertain future. In a plight familiar to everyone in the realm of retail during the pandemic, the Soroptimist thrift operation saw decreased sales over the past year.
The thrift store brings in more than $200,000 in an average year, and Kohnstamm said the entrepreneurial fundraising makes the Whitefish organization one of the most successful of all Soroptimist clubs.
But this year, Kohnstamm said, "revenue is really down."
The store was especially hard-hit because it had to close twice as COVID-19 infiltrated the community. It's a misfortune that highlights another fundamental challenge to the future of the club: most members are aging, and there isn't much new blood coming in.
Soroptimist counts somewhere between 50 and 70 volunteers, but many of them are retirees. Kohnstamm hopes to find ways to bring in a younger generation of Soroptimist members, and soon.
She frequently asks, "would your daughter want to be a part of this?"
In recent years Soroptimist chapters in Kalispell, Bigfork and Polson have folded, largely due to declining membership.
AGE IS getting to the retail space, too.
The Thrift Haus building originally was a gas station that was relocated long ago to its current location.
History is catching up with the building, and at the same time, Kohnstamm wants to expand its footprint. There's growing debate about whether the store should relocate or rent another space while renovations are put into place.
Kohnstamm anticipates the group will reach a decision this fall. She hopes the group will be able to come together with a shared vision.
But Kohnstamm worries that civic virtues like reaching consensus are falling out of fashion, too.
In general, she said, community engagement and volunteerism have dropped off since the halcyon days when her parents' generation spearheaded charitable causes.
In the wake of the COVID-19 pandemic, that situation only appears to be getting worse.
Social isolation has bred a "me-focused attitude," at the same time that organizations like Soroptimist had to limit many of their activities.
As president of Soroptimist, Kohnstamm hopes to be able to inspire others to take up the mantle she's been carrying for so many years.

"The world goes on, and there are still people who need Soroptomist funds out there, more than ever," she said. "I just think we've got to stick our necks out again and rejoin the world and figure out how to keep civic life going."
Reporter Bret Anne Serbin may be reached at 406-758-4459 or bserbin@dailyinterlake.com.
Recent Headlines
---