The Pack has a Price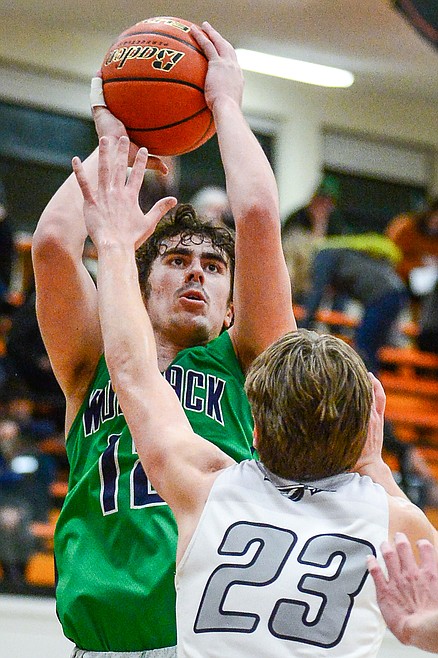 Glacier's Weston Price (12) shoots over Flathead's Luca Zoeller (23) at Flathead High School on Tuesday. (Casey Kreider/Daily Inter Lake)
by
FRITZ NEIGHBOR
Daily Inter Lake
|
March 1, 2021 10:00 PM
The Glacier Wolfpack has had an up and down boys' basketball season, but three wins in four games have it trending up and senior Weston Price feeling confident.
"Honestly the game against Flathead gave us a little bit of a spark," Price said. "I think we're hot and that we can beat anybody. I'm excited to go down there. It kind of sucks that we had that coin flip to get the seventh seed and stuff, but I think we're ready for the challenge."
The Pack plays at Missoula Hellgate today at 6 p.m., with the winner heading to next week's State AA tournament in Great Falls. It is a tough draw. The Knights own two wins over Glacier, including a 54-40 win in Kalispell in which leading scorer Josh Wade (13.9 points per game) did not play.
But that was then. Glacier followed up with wins over Missoula Big Sky and Helena, then a lopsided loss at Capital, then the 52-42 win over Flathead in last week's final crosstown game.
In all three wins Price, a 6-foot-5 forward, led the way. He's the Pack's leading scorer (11.5 ppg) for a second straight season -- a known commodity who drew added focus this time around.
"I think he drew a lot of attention and I think he wasn't used to it," Glacier coach Mark Harkins said. "He needed a couple games to get used to being the focal point of other teams. He's settled into that."
Harkins adds: I"ve been a big fan of Weston since he came into our program."
It helped that Price went from being a 5-11 (or so) eighth-grader to 6-4 as a freshman.
On a travel team with Glacier teammates Tyler Haussman, Keifer Spohnhauer and Jaxson Olsen, Price wasn't the tallest player, though he still mixed it up inside. We can trace that little floater in the paint, released behind his head, back to those days.
"My dad was my coach growing up and he always put me in the post," he said. "Then when I get taller I could use my height and those moves to get around people."
"In hindsight that kind of worked in his favor," said Tim Price, Weston's dad. "He was never the tallest kid, and he was never going to jump the highest. For him to be a scorer, he had to work on other things, like his jump shots. Then when he was inside, I think he learned to be a little more crafty with the ball. He wasn't going to just shoot it over the taller guys.
"Then all of a sudden he's 6-4, and he has that shooting and those crafty moves."
Tim Price is a Corvallis native, and was a freshman with the then-Class B Blue Devils when Doug Hashley coached there. He ended up starting his junior and senior years.
"But I never accomplished what he's accomplished," Tim Price said, then laughed. "He's also about six inches taller than me."
The younger Price has the size and ability to be just about anyone's forward. "He checked all the boxes there, for sure," Harkins said. He has an idea that he'll followed his dad into physical therapy and plans to visit some Frontier schools that have shown interest.
"When he first started playing varsity, he saw himself as a jump shooter that had a post-up game. His driving game -- he's really worked on it this past year," Harkins said. "He's helped us a lot with that."
Price one again is second on the team in free throw attempts (Drew Engellant led last year and Glacier's "pocket center," the 6-1 Olsen, leads this year). Last year's team drove and kicked its way to over 20 3-point attempts a game. That number, and the percentage of makes, has dropped this season. The Pack has gone more inside, including Price, who has also been one of the more vocal players..
"He was chosen to be a captain for us," Harkins said. "His leadership has been phenomenal this year. He's done a great job of getting kids organized.
"I just really appreciate the effort he put in in the offseason. Not just on the court, but also the weight room. Not just basketball skills. His decidicaitotn to the program and team has been pretty amazing."
The seventh seed is a bit of a downer: Glacier owns wins over 7-7 Butte, 8-6 Capital and 6-8 Flathead and Big Sky. All those teams are seeded higher.
The adage is that it's hard to be a good team three times, and Glacier has been a good team. The Flathead win, a 23-point turnaround from their first matchup, is encouraging.
"Right before that, we kind of had a letdown game against Capital," said Price, who had his fourth 20-point game of the season against the Braves. "We said, all right, we need to figure out who we are. I think that win showed people around the state that they don't want to play us right now."
Sports writer Fritz Neighbor can be reached at 758-4463 or at fneighbor@dailyinterlake.com
---