Montanans 60 and older to get vaccines starting Monday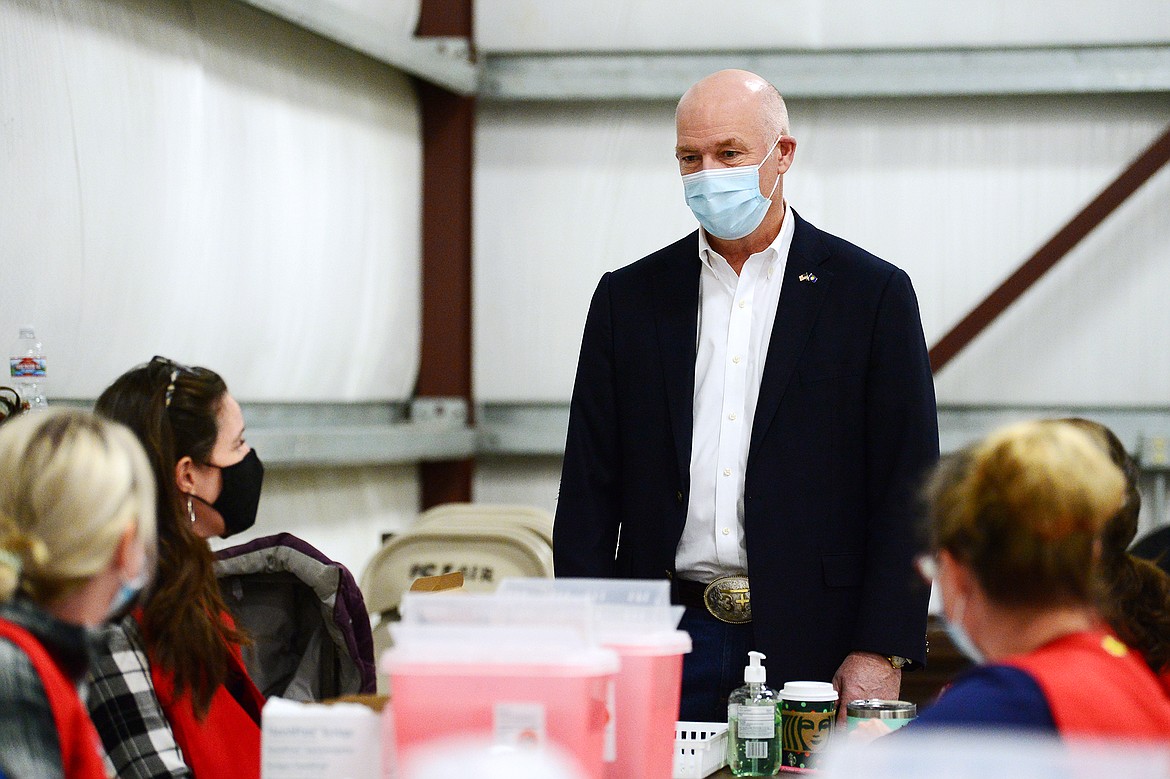 Gov. Greg Gianforte speaks with a group of nurses during a tour of a COVID-19 vaccine clinic at the Flathead County Fairgrounds in Kalispell on Friday, Feb. 12. (Casey Kreider/Daily Inter Lake)
by
CHAD SOKOL
Daily Inter Lake
|
March 2, 2021 3:50 PM
Montana Gov. Greg Gianforte is expanding Phase 1B of the state's COVID-19 vaccine distribution. Starting Monday, vaccines will be offered to people 60 and older, and those ages 16 to 59 with high-risk medical conditions such as asthma, cystic fibrosis and liver disease.
During a news conference Tuesday, Maj. Gen. Matthew Quinn, who leads Montana's COVID-19 task force, said the new Phase 1B+ is expected to cover between 100,000 and 140,000 Montanans who aren't currently eligible for vaccinations.
While he maintained Montana has not received its "fair share" of vaccines compared to other states, Gianforte said the decision to expand Phase 1B was made possible by "encouraging increases" in supply, including a shipment of 8,700 doses of the just-approved Johnson & Johnson vaccine that is expected to arrive later this week.
The expanded distribution, Gianforte said, will target those shown to be most vulnerable according to data from the Montana Department of Public Health and Human Services.
"With this expansion, we are prioritizing the population groups that account for nearly 90% of Montana's total deaths and more than 70% of Montana's hospitalizations during this pandemic," he said. "Through this thoughtful, data-driven, commonsense approach, we will continue to minimize hospitalizations and deaths from this virus."
Gianforte last month lifted a statewide mask mandate over objections from public health experts, though he has continued to wear a mask in public and emphasized it's an important tool in fighting the pandemic. On Tuesday, the governor cited falling case numbers as evidence the vaccine distribution has been effective.
"As we've been getting shots in arms, hospitalizations and deaths are on the decline. So are positive cases," he said. "Our efforts to protect the most vulnerable are working."
Gianforte said more than 260,700 vaccine doses have been administered statewide, and 200,000 of those have been administered under Phase 1B, which covers people 70 and older and those ages 16 to 69 with high-risk medical conditions. And he said a survey conducted last week indicated most of Montana's health districts have administered vaccines to a majority of residents who fall into that category.
"The majority of jurisdictions estimate they are more than 50% of the way through 1B in their communities," he said, "Fourteen of the 52 jurisdictions estimate they're even farther along — more than 75% of the way through their estimated 1B populations."
The Pfizer-BioNTech and Moderna vaccines currently in use in the United States each require two doses, while the new Johnson & Johnson vaccine requires only one.
Data from the Centers for Disease Control and Prevention showed Montana had received more than 342,000 doses as of Tuesday. The data showed nearly 95,000 Montanans, about 9% of the state's population, had received two doses to become fully immunized — far below the high double-digit percentage range that public health experts say is needed to achieve herd immunity.
Gianforte said the expansion of Phase 1B will not affect the timeline for Phase 1C, which will cover all frontline essential workers. Phase 1C is expected to begin in late spring or early summer, he said.
"Montanans have been remarkably patient as we wait for more supply from the federal government," Gianforte said. "While I wish every Montanan who wanted the vaccine could get one today, the reality is that our supplies are very limited. The best thing we can do for our neighbors is prioritize Montanans who are most at risk of serious complications or death from this virus."
Flathead County residents currently eligible can find vaccine clinics and schedule appointments through the Flathead City-County Health Department at flatheadhealth.org/covid-19-vaccine. Additional information is available from DPHHS at dphhs.mt.gov/covid19vaccine.
Reporter Chad Sokol can be reached at 758-4434 or csokol@dailyinterlake.com
Recent Headlines
---