MSU robotics event energizes K–12 students in rural Montana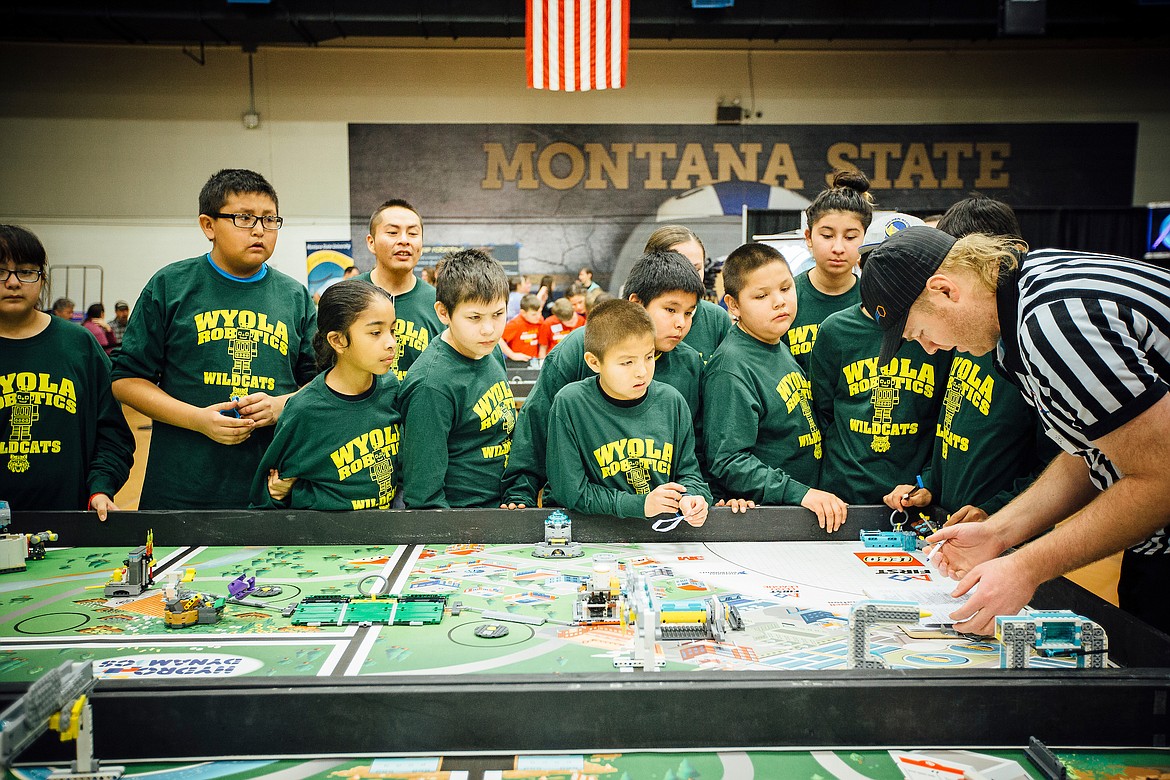 An archival photo from 2018 shows the Wyola Robotics team competing in the FIRST Lego Event on MSU's campus. The team participated remotely from Wyola this year. MSU Photo by Adrian Sanchez-Gonzalez
by
Marshall SwearingenMSU News Service
|
March 2, 2021 12:00 AM
BOZEMAN — Like many Montana communities, tiny Wyola, a smattering of buildings tucked off Interstate 90 on the Crow Reservation southeast of Billings, has had its share of hardships during the coronavirus pandemic.
The Wyola School, a fixture of this town that reported 215 people in the 2010 census, had to shut down in January because of COVID-19. The Crow Tribe declared a state of emergency in February. Sporting events were canceled. Yet a group of students kept working on a robot so they could compete in a statewide event hosted by Montana State University.
In the days leading up to the FIRST Lego League competition, held remotely via videoconference on Saturday, the team of fourth- through eighth-graders that calls themselves Wyola Robotics was fine-tuning their creation — a nimble, wheeled bot programmed to navigate a pool table-sized mat.
"COVID set us back a bit, but these boys have stuck it out," said Wyola teacher and team coach Dorcella Plain Bull. "I think it's been really good for these boys, because we know kids are getting depressed when they've had to stay home."
After the school shut down in January, the all-male team continued to meet once per week, wearing masks and taking other precautions. When classes recently resumed, the team started "going full blast," Plain Bull said, so they could finish the project in time for the competition, which normally brings dozens of teams to Bozeman for face-to-face matches on the MSU campus.
Event organizer Loribeth Evertz, outreach coordinator in MSU's Norm Asbjornson College of Engineering, said Wyola isn't alone as a small, rural community that has rallied around FIRST Lego League this year. Eureka, Twin Bridges, Lustre and Ronan were among the 27 teams competing on Saturday.
"Holding the tournament remotely may have actually opened some doors for teams in the far corners of state, because normally they'd have to travel to Bozeman and stay here overnight," Evertz said. "As long as the teams have access to internet, they can participate this year." For judging purposes, the teams submitted videos of their robot navigating the assigned course.
Plain Bull started the FIRST Lego program in Wyola about seven years ago. "We needed something STEM for the kids to do," she said. "Since then, we've been going strong."
Introducing K-12 students to science, technology, engineering and math is a main goal of the international nonprofit organization FIRST, which stands for For Inspiration and Recognition of Science and Technology. The kit for the Lego League comes with a set of the plastic building bricks and a controller that can be programmed using a basic computer code.
"When I was a newbie, I didn't know what I was doing. I just watched the older kids," said Wyola eighth grader Kymani Jupiter, who started with FIRST in fourth grade. By his second year he was starting to help with the computer programming, he said, and he also bought his own Legos for fun. Now he leads the programming for the team. "I'll be in high school next year, but if I have time, I'll come back and help out."
On Saturday, teams also did a live video interview with judges and presented a project they'd completed in addition to their robot. This year's assignment was for teams to design a way to encourage people in their community to be more physically active. The Wyola team showed a wellness facility, made of Legos, that they are proposing for the school's grounds.
Throughout the competition, students earn points for what FIRST calls "gracious professionalism," which includes working together and showing respect for other teams, according to Evertz, assistant teaching professor in the Department of Mechanical and Industrial Engineering. "We focus on giving the kids a positive experience," she said. "FIRST is really about a sense of community and allowing students to explore."
In addition to FIRST Lego League, students from grades 7–12 compete in the FIRST Tech Challenge with more complex robots in a larger arena. That event was held remotely in the week preceding Saturday's Lego League competition. FIRST Lego Junior is for students in grades K–4. MSU has been involved with the Montana chapter of FIRST since 2007, and MSU's engineering college has hosted the event and coordinated the Lego League events in recent years.
Plain Bull said the Wyola team will be back next year, when they can hopefully once again travel to the MSU campus for the event. "The kids love this engineering stuff," she said.
Recent Headlines
---