Bigfork Brewfest returns to Electric Avenue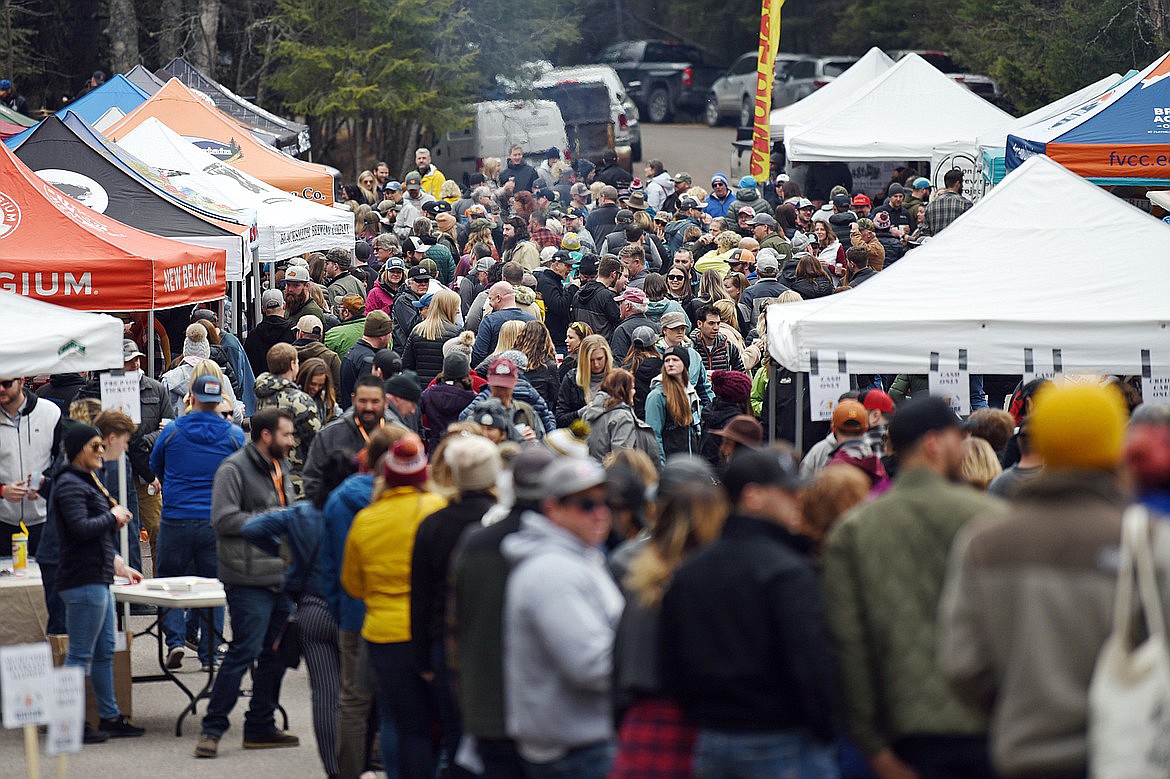 Attendees enjoy the Bigfork Brewfest at the Harry Horn Day Use Area of Wayfarers State Park last March. This year's Brewfest returns to downtown Bigfork. CASEY KREIDER | Daily Inter Lake file photos
by
MACKENZIE REISS
Daily Inter Lake
|
March 4, 2021 12:00 AM
Bottoms up Bigfork — Brewfest is back.
This Saturday, March 6, from 1 to 5 p.m., 20 Montana brewers will dispense their finest pours along Electric Avenue at the 12th annual Bigfork Brewfest, rain or shine. Food trucks will be on site.
The festival is the largest fundraiser of the year for the Bigfork Innovations Group, a nonprofit organization focused on community improvement through events and charitable contributions.
In addition to sampling a variety of Montana beer, attendees can enjoy the sounds of the Mike Murray Duo from 2 to 4 p.m., followed by an after-party show featuring Pedactor Project at the Garden Bar from 5 to 9 p.m.
The festival is back on Electric Avenue this year after moving to Flathead Lake State Park - Wayfarer's last year. Organizers said the park location had its pros, but the festival belongs downtown.
This year's event will also be limited to Montana beer only — that means no kombucha, cider or beer. Vendors include Katabatic, Conflux Brewing, Highlander Beer and Jeremiah Johnson, among others. With just 20 producers' featured this year, booths and guests will be able to spread out.
Masks won't be mandated, although guests are encouraged to wear them while in line at the entrance gates. Social distancing will be also be encouraged.
Multiple outdoor heat-sources will be on hand if needed.
Two big changes this year include the discontinuation of brew buses, which in previous years transported guests from outlying areas like Whitefish and Polson, to and from the festival in Bigfork; and the use of disposable eco-friendly cups.
While parking in downtown Bigfork can be a challenge, there are a number of spaces available at Bigfork High School and the new parking lot located at the intersection of Grand Drive and Electric Avenue.
Cash will not be accepted at the event — only credit cards. Festival merch — such as shirts, hats and commemorative cups — will also be for sale online, and can be shipped directly to the buyer's home or picked up on site the day of the event.
Passes are available now, and presale ticket holders will get access to the event beginning at 1 p.m., a half-hour before gates open to the general public. There are 1,000 presale tickets available at $25, while admission at the gate is $35, space allowing.
For more information and to purchase tickets, visit www.bigforkbrewfest.com.
---