New Flathead wildfire plan a 'roadmap' for homeowners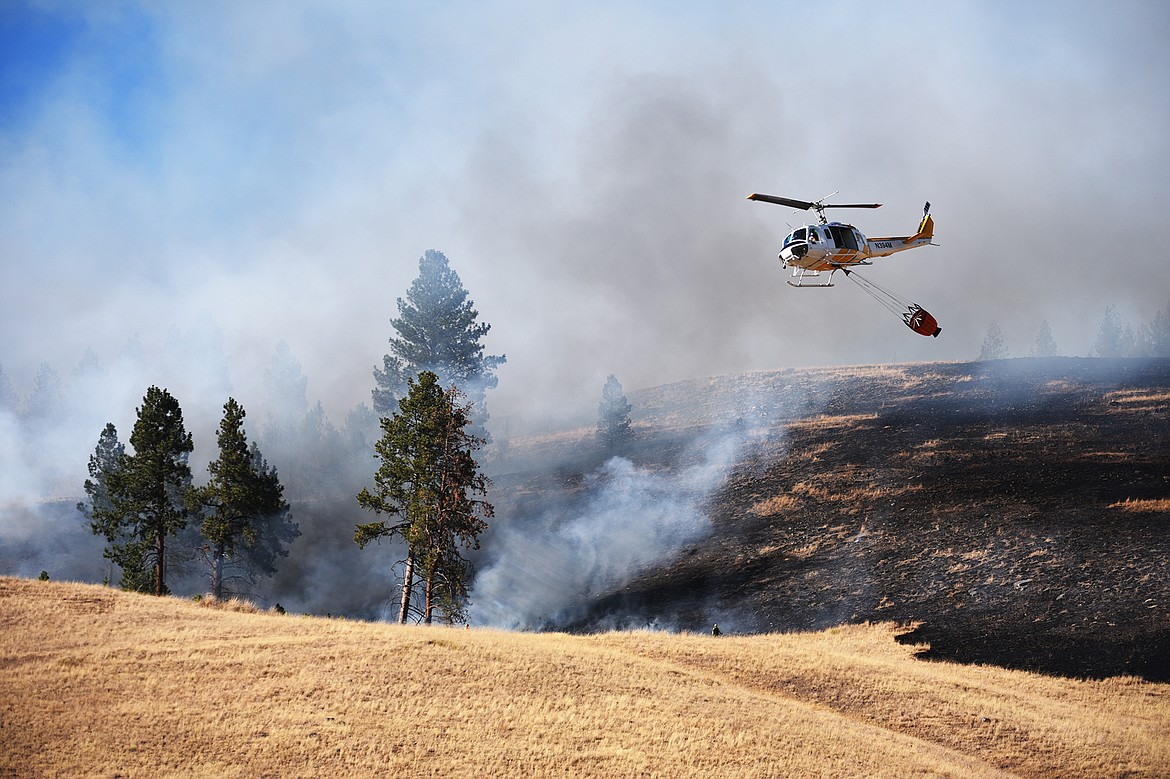 A helicopter makes bucket drops near a group of firefighters at the Valley Creek Fire at Lost Trail National Wildlife Refuge near Marion on Tuesday, Sept. 8. (Casey Kreider/Daily Inter Lake)
by
CHAD SOKOL
Daily Inter Lake
|
March 5, 2021 12:00 AM
Winter isn't over yet, but it's never too early to think about fire safety and prepare for the warmer, drier months ahead.
The third iteration of Flathead County's Community Wildfire Protection Plan, which is nearing a final stamp of approval, offers tips and information about wildfire risks throughout the county, from the forested mountainsides to the shrubby valley floor. It also describes public and private lands within the county slated to be thinned of trees and other fuels to prevent fires from spreading into communities.
Unlike the county's first two wildfire plans written by consultants in 2005 and 2011, the current draft plan was created by an eight-member committee of Flathead County landowners and local, state and federal wildfire experts.
Lincoln Chute, the county's fire service area manager, said the goal was to transform the plan from a dense, jargon-heavy document into a simple how-to guide that's accessible to the average homeowner.
"What we really wanted this document to be is a roadmap for homeowners that want to try to make their home and their land safer, and mitigate some of the dangers if a fire does start," he said.
AT JUST over 100 pages, the new plan is about 50% shorter than the first two.
In addition to featuring a map that indicates wildfire risks across the county, the plan delineates six distinct areas that require different safeguards because of their vegetation, topography and proximity to emergency services. Those areas are labeled as the Flathead Valley Floor, Flathead West, the West Side Whitefish Divide, the North Fork, Bigfork/Ferndale to Marias Pass, and Glacier National Park.
Chute said homeowners should get all the information they need by reading about the area where they live.
"And if they want to get more in-depth on a subject, we gave the links and the information on where to go into more depth," he said.
The plan also revises the definition of the "wildland-urban interface" to include the valley floor, and it includes a new chapter on wildfire evacuations — how to prepare, what to bring along, how to coordinate with relatives, how to identify evacuation routes, and what to do upon returning home.
"There will always be homes constructed in rural, wildland areas, and the associated risk tends to be acknowledged by homeowners in those particular locations," the document states. "However, the unprecedented expansion of urban areas over the past 50 years has greatly increased the opportunity for homes to be damaged by wildfire activity due to their location near high wildfire risk areas."
Add to that hotter and drier conditions brought about by climate change, which scientists say will continue increasing the scale and intensity of seasonal wildfires across the West.
Chute emphasized the importance of protecting the so-called "home ignition zone" — the area immediately surrounding a home that can be especially vulnerable to flying embers. Homeowners can mitigate risk, he said, through simple tasks such as caulking gaps on their exterior walls and raking out tree needles and other debris that gathers at the bases of trees and underneath decks.
"When a tree burns rapidly, it throws off a lot of embers," Chute said. "And research has shown about 65%-plus of homes lost in the wildland-urban interface are lost because of ember showers, and not from direct flame impingement — a fire front."
AT-RISK COMMUNITIES are required to adopt wildfire protection plans under the Healthy Forests Restoration Act of 2003, which also streamlined the permitting process for logging in national forests over objections from some conservation groups.
The committee that drafted Flathead County's new plan includes representatives from the U.S. Forest Service, the Montana Department of Natural Resources and Conservation, Glacier National Park, Big Mountain Fire and Rescue, and the Northwest Montana Hazardous Fuels Program.
Chute said the committee held around two dozen public hearings last year, and the plan was mostly completed by last June, but the pandemic interrupted the team's work and the project has been on hold for months.
A final public hearing is scheduled from 5 to 7 p.m. March 12 at the Flathead County Office of Emergency Services, 625 Timberwolf Parkway in Kalispell. Public comments will be accepted through March 26 before the plan goes to the county commissioners for final approval.
While the wildfire plan is not a regulatory document on its own, the committee wrote that its recommendations "should be coordinated with planning mechanisms, such as county growth policies and pre-disaster mitigation planning."
The plan can be found at flathead.mt.gov/fireservice.
Reporter Chad Sokol can be reached at 758-4434 or csokol@dailyinterlake.com
---