James Andrew 'Andy' Grundstrom, 84
|
March 11, 2021 12:00 AM
It is with great sorrow that we announce the passing of our dear father and husband, James Andrew "Andy" Grundstrom, 84, of Columbia Falls, Feb. 25, 2021. Andy was a beloved husband, father, grandfather, great-grandfather, son, brother, uncle, cousin and friend. He enjoyed genealogy, fishing, yard and garden work, and spending time with his family. Andy also had itchy feet and loved to travel.
Andy was born on June 16, 1936, to Charles John and Jane Brunett (Akridge) Grundstrom in Oakland, California. Andy attended elementary school grades first through eighth at various public schools in California. He attended ninth through 12th grades, taking night classes at Poly Tech High School and earned his GED through the U.S. Air Force Institute.
At age 6, Andy started selling newspapers in Hermosa Beach, California, and then at age 11 he delivered newspapers until 1947 in Long Beach, California. Andy mowed lawns, pulled weeds for spending money, and shined shoes. On Navy Day in 1946, he was proud to have earned $35 in one day shining shoes. At age 15 he worked in a car wash and washed dishes at Thrifty Drug. At age 16 he worked at Metlox Pottery and Artware in the shipping department in Manhattan Beach, California.
Andy served in the U.S. Army from March 7, 1954, to Feb. 27, 1957. He completed basic training at Fort Ord, California, and then served 30 months in Puerto Rico, where he met and married his first wife Maria Eneida Rodriquez, and became a stepfather to her daughter Maggie. From this union they had two daughters, Sandy and Tamy. They divorced after 11 years. Three years later they remarried and were married a total of 25 years.
After the military he moved his family to Long Beach where he returned to work at Metlox. Andy then hired on with General Telephone Company as a telephone cable splicer's helper from May 1957 through May 1962, during which time he became a journeyman telephone cable splicer. In 1962 he went to work for his brother Ed as a deep-sea diver's tender in the Gulf of Mexico. He absolutely loved the work, but brother Ed was so popular with all the oil companies in the Gulf that he was in constant demand. Reluctantly, after six months and very few days off, Andy quit for the sake of his wife and three daughters at home.
From October 1962 until his retirement from Alamon Telco, Inc. in 1997, Andy worked for various telephone contractors, which took him all over the United States and Canada. Andy had a good reputation for getting the job done right and on schedule. He instilled the same, teaching his children to work hard and be proud of their work.
In 1983 Andy moved to Columbia Falls on contract to the local telephone company and fell in love with Sylvia "Bubbles" Owens and the beautiful surrounding area. She returned his feelings and he felt accepted by her many friends. They were married on Sept. 17, 1983, and he became stepfather to her three children, Tanna, John and Dave. Andy said he found heaven on earth and peace and was forever grateful.
Andy was a member of the North Valley Eagles no. 4081 for 32 years and a charter member of the American Legion, Columbia Falls Freedom Post no. 72. He served as honor guard his first three years. He was preceded in death by his parents, his twin brother Jackie Grundstrom (drowning accident in 1942 at age 6 years, 11 months), brothers, Leroy Gates 1985, Edward Gates 1991 (both World War II veterans), younger brother Jimmy Grundstrom 1998 (retired U.S. Marine Corps), sisters, Dorothy Hanson, Betty Richardson 2002, Jane Smith 2011, Gladys "Bubbie" Frazier 2006, and Dolly Jones 2019; as well as his first wife Eneida Johnson 2011.
Andy is survived by his wife Bubbles at the family home in Columbia Falls, sister Alice Frazier of Portland, daughters Sandra "Sandy" Von Behren (husband Bill) of Coeur d'Alene, Idaho, Tamy Baszler (husband Dan) of Roseburg, Oregon, and four stepchildren, Magda "Maggie" Vargas Fremstad (husband Greg) of Eugene, Oregon, Tanna Speed of Columbia Falls, John Owens of Marion, and Dave Owens of Kalispell, four grandchildren Jason Stacy, U.S. Army Retired Special Ops (wife Jennifer) of Huntsville, Alabama, Eric John Von Behren (wife Jennifer) of Coeur d'Alene, Lindsay Von Behren of Coeur d'Alene, LaVina Stacy of Springfield, Oregon, and three stepgrandchildren, Jason Speed, U.S. Marine Corps (wife Michelle) of Kalispell, Nicholas Tyler Baszler of Creswell, Oregon, John Owens Jr. of Marion; and four great-grandchildren, Alec Brendon Stacy of Medford, Oregon, Eric "EJ" John Von Behren Jr. of Coeur d'Alene, Parker Ryan Andrew Stacy and Ashton Harper-Lee Stacy, both of Huntsville, Alabama, and two stepgreat-grandchildren, Noah Tarr of Davis, California and Justin Tarr of Coeur d'Alene, and last but not least, many, many, many nieces, nephews and cousins throughout the United States. He "loved them all."
We will miss you, Dad. Thank you for continuing to look out for all of us — now as our guardian angel.
At the request of Andy there will be no services. Memorials may be made to the Columbia Falls Food Pantry or the donor's choice.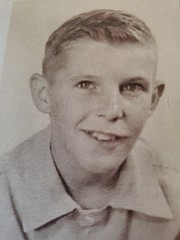 ---