'Radiant Vermin' is a Black Curtain biting satire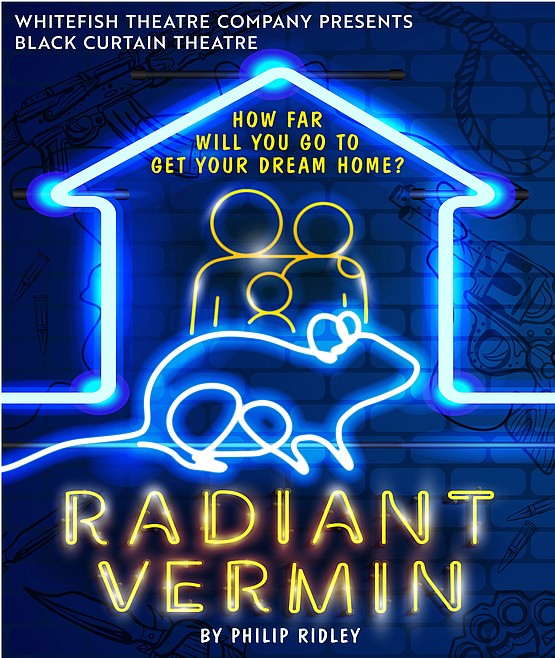 |
March 11, 2021 12:00 AM
The Whitefish Theatre Co. presents the clever, funny and provocative cautionary fable "Radiant Vermin" March 17 and 18. There will be two ways to view this show on each night: limited, socially-distant seating at 7:30 p.m. at the O'Shaughnessy Center (doors open 7 p.m.), and online in a pre-recorded version of the play. Online viewing can occur anytime March 17 and 18.
How far would you go to get your dream home? Jill is expecting her first baby and she and her husband Ollie are desperate to find a home of their own. When a stranger offers the young couple an ideal house, it prompts the question: at a time of crisis in the housing market, how far would you compromise your principals?
Be prepared to be appalled for laughing at the horrors revealed in "Radiant Vermin" about consumerism, gentrification and inequality.
"It's a witty, biting satire on many levels," said director Kim Krueger. "With the housing market what it is here in the valley, let's just say there are some relevant themes."
Cast members include Matt Strool, Caitlyn Goeman and Nicki Corne. Viewers are reminded that as a Black Curtain production, there will minimal staging, no set or props, and actors may reference their scripts.
Masks are required at all times in the O'Shaughnessy Center. Tickets are $12 for adults and $10 for students and can be purchased at the box office 11 a.m. to 3 p.m. Monday through Friday, by calling 862-5371, or online at www.whitefishtheatreco.org. Click the correct ticket link for either the live performance or the recorded version.
---