'Tuck Everlasting' is a beloved tale immortality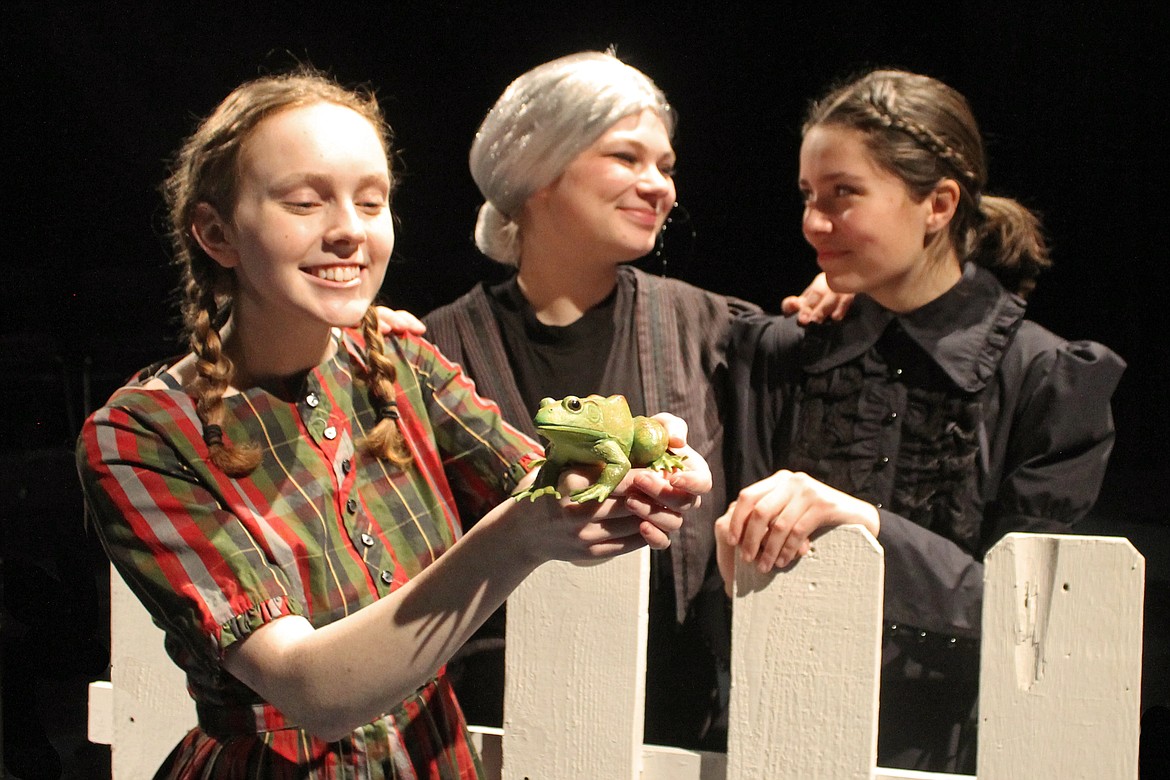 Characters in Glacier High School's "Tuck Everlasting" include Winnie Foster, played by Ashley Bruce; Nana, played by Sydney Barcus; and Mother, played by Aryana Allred.
|
March 11, 2021 12:00 AM
The Wolfpack Theatre Company and Glacier High School Music Department present the charming, family-friendly musical, "Tuck Everlasting," March 16, 17, 18 and 19 at 6:33 p.m. at GHS. Tickets, available at the GHS Main Office and Photo Video Plus, are $12 for adults and $10 for children, students and senior citizens. Seating is limited; masks are required.
Adapted from the award-winning children's novel by Natalie Babbitt, this nostalgic musical tells the story of young Winnie Foster who yearns for a life of adventure beyond her small world. When Winnie has an unexpected meeting in the woods with the friendly Jesse Tuck, she soon becomes entwined with the entire Tuck family.
The Man in the Yellow Suit has spent his life trying to find the Tucks and the mysterious elixir that makes them eternal. As Winnie fights to protect the Tuck family and the secret that brought them eternal life, she faces an extraordinary choice — return to her life, or continue with the Tucks and have eternity on earth.
With a message about making the most of your time here on Earth, "Tuck Everlasting" explores the questions about life and death and whether immortality a blessing or a curse.
"Tuck Everlasting" features a magical score from songwriters, Chris Miller and Nathan Tysen including "Time," "Live Like This," "Top of the World" and "Everlasting."
The Wolfpack Theatre Company follows all covid safety protocols. The cast is masked at rehearsals and off-stage at all times, and will be without masks on-stage. Absences due to contact quarantines have also been a challenge.
"For the first time in our theatre every character has an understudy," said director Ivanna Fritz. "This has added more work for each actor because they are essentially learning two roles and may never go onstage for one of them. I am so proud of these students."
The cast includes Derek Smith, Alexa Wilton, Dresden Allred, Avram Bingham, Ashley Bruce, Ty Espeseth, Aryana Allred, Sydney Barcus, Alden Lamson, Jarrod Wutke, Yayne Myers, Kerraline Bemis, Kaelin Holt, Bella AuClaire, Brenna Ernst, Paul Cornish, Zach Hall, Benjamin Moore and Alice Motley.
The orchestra pit, led by David Barr, features Alexis Peck, Danner Rourke Kelly, Jazmyne Richey, Alexa Schmalz, Aidan Walker, Jack Bruce, Alexandra Houseworth, Calvin Schmidt Zachary Lapke, Carson Keim, Emma Ferguson, Ethan Purdy, Kjell Sandler, Ryan Webster, Nick Barr, Nathan Connell, Jacob Inabnit, Caleb Bernhardt and Chesney Wheeler.
Sydney Fletcher, Fiona Fuller, Zephy Hanson, AnnaBeth Henke, Lane McKoy, Kassidy Murphy, Kait Giffin, Madeline Crandall, Elise Plum, Mac Adkins, Mayleen Hoover, Anastacia Wood, Kyle Nelson and Elle Plum make up the sound, lighting and stage crew. The set design and props were designed and built by Sara Menssen's Theatre Arts classes.
---