Theater enthusiast finds leading role as teacher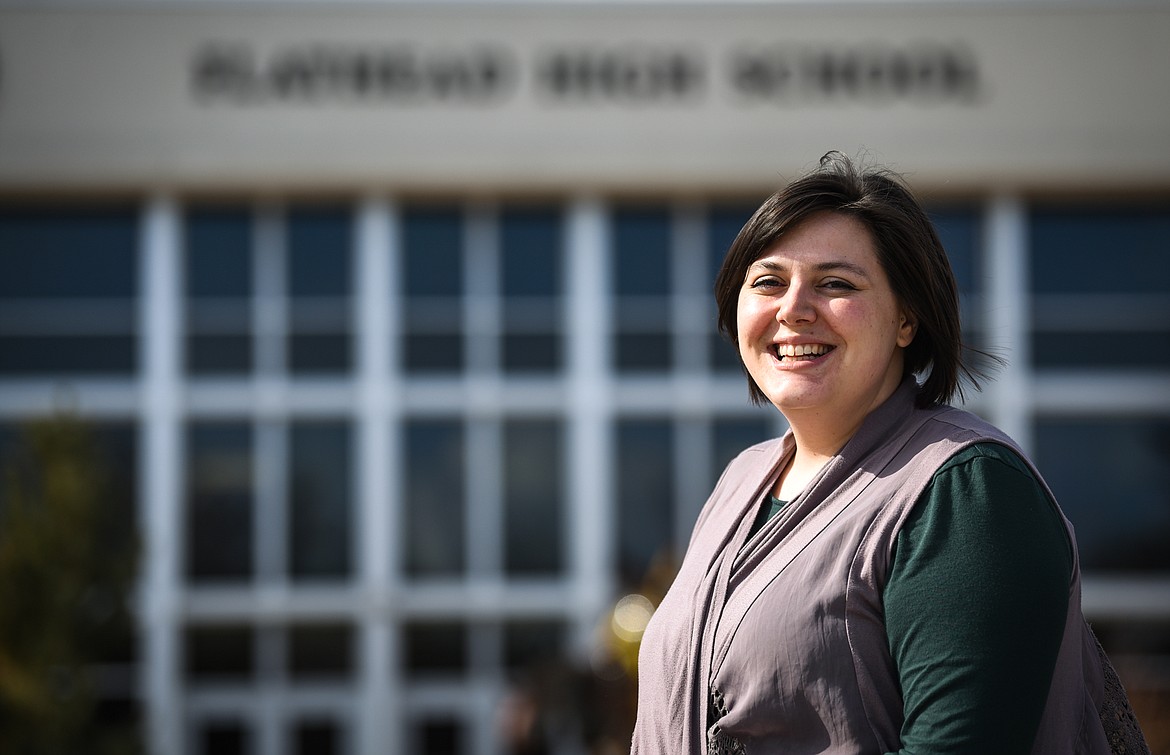 Kyla Niva outside Flathead High School on Tuesday, March 9. (Casey Kreider/Daily Inter Lake)
by
HILARY MATHESON
Daily Inter Lake
|
March 15, 2021 12:00 AM
Life's a stage for Flathead High School social studies teacher Kyla Niva whose outgoing personality and affinity for theater and speech and debate make for a lively classroom environment.
Although she's taking a break from working as an assistant in the Flathead theater department to devote more time with family, she hopes to make an eventual return because the performing arts have been a part of her life in one way or another since she was a child.
"I started doing theater in kindergarten with the Missoula Children's Theatre," Niva said.
Growing up in Bigfork, she became involved with Bigfork Playhouse Children's Theatre, and from then on, "every opportunity I could get I would do a show," Niva said.
By high school, she added speech and debate, band and choir to the mix, the latter of which is probably why she has a penchant for musicals.
"I love a good musical," Niva said.
She continued with choir when she started college at East Oregon University, which gave her a chance to perform abroad in China, sparking an interest in Asian culture.
"I think it was two and a half weeks where we traveled to different cities where we would perform and watch other groups," Niva said. "That was probably one of my favorite trips that I've taken."
In her freshman year of college, she set out to continue a path in performance but learned her leading role would be as a teacher.
"I had a theater major and a psychology minor. What do you do with that?" Niva said, with a shrug and a laugh.
She knew she always wanted to be a teacher and returned to Montana to obtain a teaching degree.
"I just like getting to share and I think that's why I love teaching so much. There's a lot to share and to tell and to show," Niva said.
At first, she thought she wanted to be a kindergarten teacher, having worked in preschool programs and day-care centers.
"The first year back, I kind of wandered into a kindergarten class to do observations and very quickly realized, oh no, this is not my energy level," Niva said.
She ended up student teaching at Flathead in 2012 and has remained there ever since.
"I like the level of discussion you can have," Niva said about teaching high school students. "When you get a really good group of really interested [students] you can just go so far, which is really neat."
In addition to teaching social studies, and previously psychology, at Flathead, Niva is the HiSET Options program coordinator at Linderman Education Center. Through the options program, Niva helps students obtain a high school equivalency diploma by demonstrating academic skills in a battery of tests. At Linderman, students who are not scheduled to graduate within four years because they are deficient in credits may enroll in the semester-long program. Achieving success means a lot to the students who enroll in the options program for a variety of reasons.
"Maybe they did not try when they were a freshman, sophomore, junior," Niva said. "They failed classes and now they're behind. Or, you've got the kid that got pulled from school for a year because they had some sort of medical thing — or, the kid who bounced around between five different high schools because their parents kept moving, you know, and by the time they get to us they have 10 credits," which happens often, she said.
"Anytime we get kids through HiSET Options — you know it's a big win," Niva said.
PERFORMING REMAINS a part of her life as an assistant speech coach, working with the junior varsity Impromptu Speaking and Extemporaneous Speaking squad. She is also the judge coordinator for Flathead and Glacier, a role she's had since 2015. This last season, that role expanded to include schools throughout the state when the season went virtual due to COVID-19. Instead of being responsible for 300 to 500 judges at two home tournaments, it became eight, almost back-to-back tournaments. While coordinating judges statewide was quite a feat, Niva had her organizational skills to bring calm in the midst of chaos.
Whether it's coordinating judges or directing theater productions, Niva takes an organized approach.
"So, I have this master Excel document when I direct," Niva said, using theater as an example. "All the cues, anytime lights happen, music happens, props, who is in the scene.
"I think I just like figuring out things, systems. I guess it's almost like a puzzle," she said about her spreadsheet approach.
Virtual speech and debate competitions meant battling connectivity and bandwidth issues.
"We couldn't connect sometimes, or the video or audio would be really bad, or would drop mid-speech, or the judges would drop mid-speech," Niva said, however, teams were thankful to have a season despite the technical difficulties.
"This taught our students really valuable lessons that are completely valid. How do you conduct yourself over a video call? How do you use the technology to make sure you're seen and heard? You know they're still working on those speaking skills. You still have to make sure you're appealing to the judge and doing all the good things, but that loss of in-person competition we'll build next year," she said.
With two toddlers at home, Niva said her family takes 98% of her time outside of school. She and her husband Cory have two children, Adelind, 4, and Arabell, 2, both budding performers.
Adelind is in dance and Arabelle loves to sing, Niva said.
"I always said Addie could be a debater. I mean that girl will not give up," Niva said giving an example of an exchange between them:
"Mom, what was that sound? Don't worry about it. No mom, I heard a sound. What was it? I don't know. You have to know what the sound was mom. I'm like, I don't know," Niva said with an exasperated sigh.
Yet, Niva said about her life, her eyes lighting up —
"It's never dull."
Reporter Hilary Matheson may be reached at 758-4431 or hmatheson@dailyinterlake.com.
---