All Montanans will be eligible for COVID-19 vaccine April 1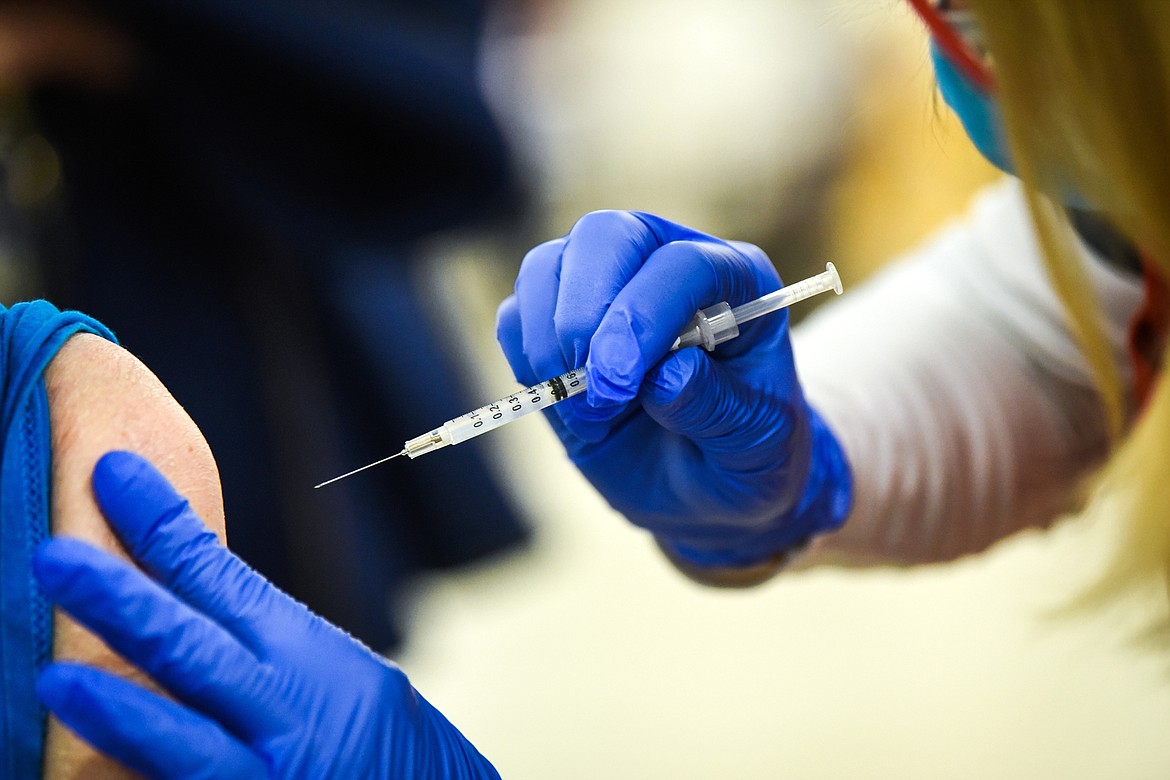 The COVID-19 vaccine is administered during a clinic at the Flathead County Fairgrounds on Thursday, Jan. 21. (Casey Kreider/Daily Inter Lake)
by
IRIS SAMUELS Associated Press
|
March 16, 2021 2:00 PM
HELENA (AP) — Montana residents ages 16 and older will be eligible for the COVID-19 vaccine on April 1, Gov. Greg Gianforte announced Tuesday.
Vaccines are currently available to residents 60 or older, health care workers, people of color and those with certain medical conditions. Educators are eligible through a federal partnership with several pharmacies in the state, but remain ineligible for the vaccines through the state's distribution plan.
Gianforte's announcement comes after President Joe Biden said last week the vaccine would be available to all U.S. adults by May 1.
"A few months ago, projections estimated Montanans 16 and older would be eligible for the vaccine as late as mid-July," Gianfote said at a press conference Tuesday in Helena. "Today, I'm pleased to announce that we're moving up that timeline.
"As more Montanans get the vaccine, we will continue to approach the time when we are no longer in a state of emergency and we can remove our masks and throw them in the trash can," Gianforte added.
The Biden administration announced Tuesday that more than 22 million doses of COVID-19 vaccines will be distributed in the next week, a new record in the U.S. fight to contain the coronavirus.
White House COVID-19 coordinator Jeff Zients informed governors on a Tuesday call of their allotments. Most of this week's doses will be from Moderna and Pfizer, but some supply of Johnson & Johnson is beginning to ship.
The supply is set to accelerate even further next week when the federal government expects J&J to begin shipping 4-to-6 million doses per week.
Gov. Gianforte encouraged Montanans to get a vaccine and said he'll be "getting the vaccine when my name is called, and I encourage all Montanans to consider doing the same. Getting one of these safe, effective vaccines will protect you, your loved ones, and your neighbors from this virus. It will help us get back to a more normal life," Gianforte said.
Over 142,000 Montana residents, or 13% of the state's population, have received the vaccine doses necessary to become fully immunized to the virus, according to the health department.
Over 100,000 residents of the state have recovered from COVID-19 after contracting the virus, state health department figures show.
The state health department reported fewer than 900 active cases of COVID-19 in the state on Tuesday, the lowest number of active cases since July.
Flathead County residents interested in being vaccinated may fill out a scheduling request form on the Flathead City-County Health Department's website at https://www.flatheadhealth.org/vaccine-request-form/
Health department officials said in a news release Thursday that an online form is the easiest way for residents to be added to the local list to receive the vaccine. However, individuals may also call the COVID-19 Vaccine Line at 406-751-8119.
Once an online form is submitted, a health department staff member will contact individuals via a phone call to schedule an appointment when enough vaccines become available.
Schedulers are calling seven days a week from several different phone numbers. Therefore, health department officials are encouraging those on the waiting-to-be-scheduled list to answer calls from unknown callers with a 406 area code.

---