Glacier coach named Montana AA Speech Coach of the Year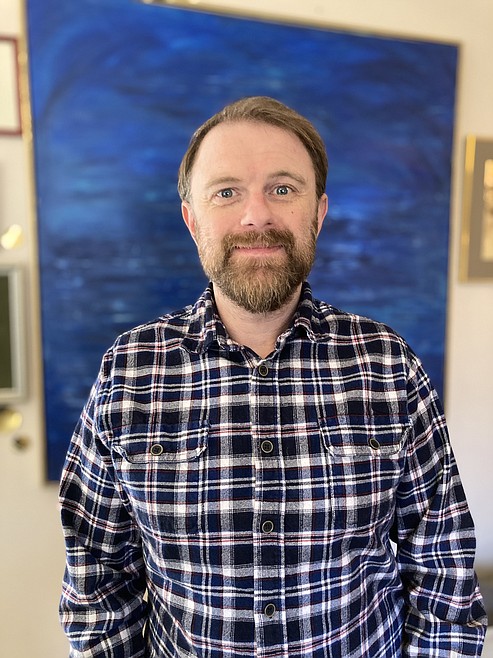 Glacier High School Speech and Debate assistant coach Seaghan Herron shares the title of 2021 Steve Reardon AA Speech Coach of the Year Award with a coach from Billings West High School. (Photo courtesy of Seaghan Herron)
by
HILARY MATHESON
Daily Inter Lake
|
March 18, 2021 9:14 AM
Seaghan Herron's dramatic approach to coaching speech and debate at Glacier High School has earned him the title of 2021 Montana AA Speech Coach of the Year.
Herron, who has been an assistant speech coach at Glacier since 2013, shares the title with colleague Tom Smithlin of Billings West High School following a vote by their peers, which resulted in a tie at the Montana Forensic Educators Association conference.
Herron currently coaches Original Oratory and Program Oral Interpretation. Since 2013 he has coached four state champions, four state runners-up and more than 20 national qualifiers. He also teaches English to both Flathead and Glacier high school students enrolled in Kalispell Public Schools' Remote Education Center.
"It means a lot to be recognized by your peers in any profession," Herron said. "To have even your competition acknowledge you have been successful, and you've proven yourself, is humbling."
Herron first became involved in speech and debate as a high school junior at Loyola Sacred Heart High School in Missoula, from which he graduated in 2001. In high school, he competed in an event now called Dramatic Interpretation and found success with the Class B speech and debate powerhouse, which at the time achieved its 19th consecutive state championship title, a legacy that would continue on to total 37 state titles.
PRIOR TO getting involved in speech, Herron was into theater and wasn't sure if the activity involved much performance.
"I had grown up in the Missoula Children's Theatre and the head coach of the Loyola Speech and Debate team, Matt Stergios, saw me give a performance in [a high school] drama class and recruited me," Herron said, finding out there was a place for drama in speech.
When he joined the English teaching staff at Glacier, Head Coach Greg Adkins brought him into the fold of another powerhouse team and he started out coaching the junior varsity Dramatic Interpretation and Humorous Interpretation squads. He eventually took on Original Oratory and then Program Oral Interpretation when the national event was adopted as a competitive event in Montana forensics about five years ago.
Although different, Original Oratory and Program Oral Interpretation share a common language.
"The one thing these two events have in common is they are really the two best events for students to compose their own message and deliver that," Herron said.
Arriving at that message is also similar in that they entail reading and research on important topics, but the focus and intent is where the events diverge.
"Original Oratory is about researching and writing a speech that is persuasive and is intended to get people to think about things. It deals with current events and societal issues," he said.
IN COACHING Original Oratory, Herron said he reads a lot, pays attention to the news and listens to podcasts to build a bank of timely topics and themes students might be interested in researching. Herron said the issues or discussions that "form big questions in my mind," is when he knows it will make a great student speech.
This year, one of the timely topics Glacier sophomore Mac Adkins broached was police reform in the U.S., he said, a speech that garnered second place at state and qualified for nationals.
The message a student delivers in Program Oral Interpretation (POI) is also intended to get audiences thinking, but through a more personal approach of a student's own interpretation of different pieces of literature. Usually interpretative events involve one piece of literature.
"POI is a collage between a lot of literature — poetry, prose and drama. It's a mashup of art. Students have to read different published poetry, prose, and drama, and splice it up, and create their own message," Herron said.
"This collage is a lot more personal. It's really interesting," he said, giving a few examples of past student performances, including Sierra Riley, who graduated last year.
" Her speech was about people who put on a happy face even though they are sad beneath — the happy/sad clown concept. She sang 'Put on a Happy Face,' read an interview with Billy Crystal about Robin Williams' suicide and spliced it to make her own statement about feigning happiness for the sake of other people when they are sad or depressed on the inside," he said, describing her as an exceptional competitor.
In coaching Program Oral Interpretation, students typically come up with their own ideas and Herron assists them with finding relevant pieces they may not be familiar with. As a coach, his role is to help students tackle such complex and profound topics in an understandable way to an audience.
"The question [is] how do you get a sophomore in high school to talk about adult issues — about an important issue that is also a hot-button issue? The student will write the speech and I might push them in the direction of research, or things to look at in their research. I may have them edit things that would be interpreted by their audience as being tone deaf or offensive even if it doesn't seem so to the student," Herron said, all while remaining true to a student's message.
ADKINS SAID Herron is very deserving of the award.
"Seaghan is an incredible coach, and I am so glad that he is being recognized by the state for his amazing achievements," Adkins said.
This is the second year in a row that a Glacier coach has been named speech coach of the year. Last season, assistant coach Sara Menssen was given the award.
Herron, who graduated from the University of Montana, said he is proud to be part of speech and debate in the Flathead Valley where the activity is considered as relevant as athletics.
"The Flathead Valley embraces this activity more than most school districts across the nation," Herron said. "I think that is a real positive for the students who come out of both high schools here and go on to do amazing things because they were speech and debate students."
Reporter Hilary Matheson may be reached at 758-4431 or by email at hmatheson@dailyinterlake.com.
Recent Headlines
---