New Whitefish food bank director brings international experience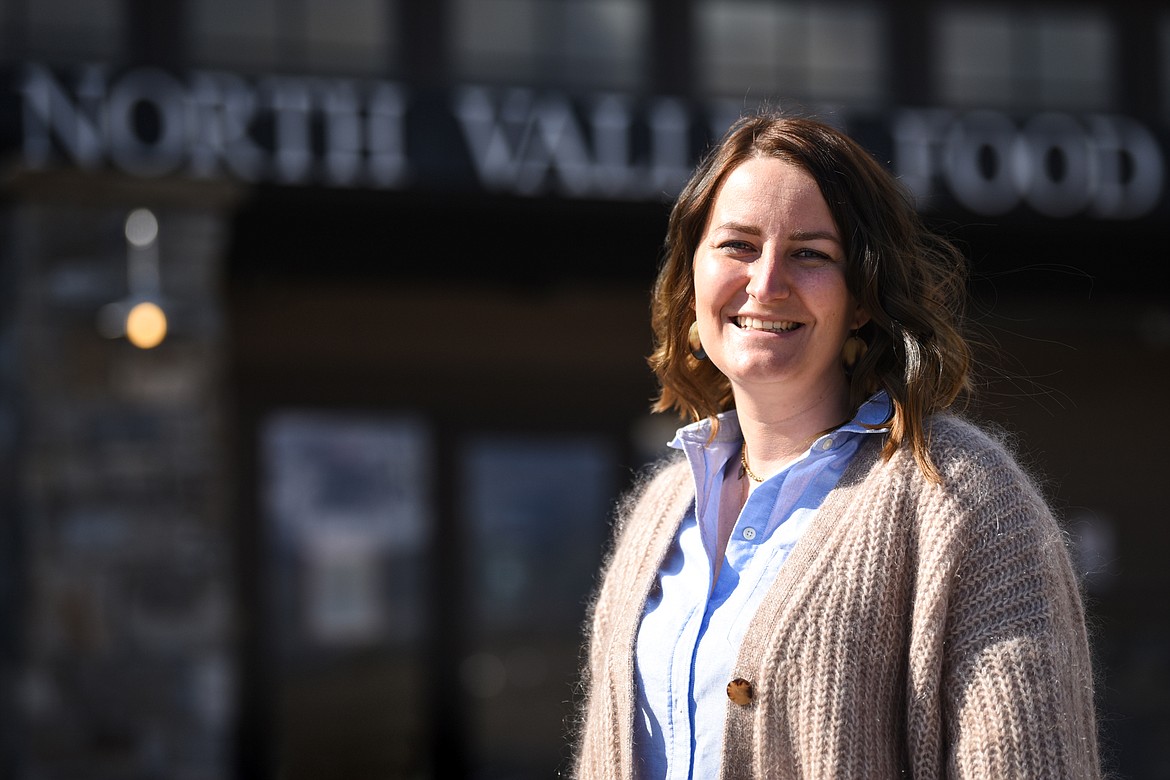 Sophie Albert outside North Valley Food Bank in Whitefish on Tuesday, March 23. (Casey Kreider/Daily Inter Lake)
by
CHAD SOKOL
Daily Inter Lake
|
March 29, 2021 12:00 AM
A volcanic eruption in Indonesia prompted Sophie Albert to take a pause from teaching and get involved in humanitarian work.
A decade later, Albert is applying lessons from that experience — including a focus on local decision-making and a holistic approach to caring for people — to her new role as executive director of the North Valley Food Bank in Whitefish.
"Our mission is always feeding people, and it will always be feeding people," the 31-year-old said.
But as the food bank undergoes a $1 million expansion and grapples with unprecedented demand, Albert is looking to provide an expanded array of services to address the root causes of poverty and food insecurity.
"I think doing those more holistic services — providing housing assistance applications, helping with food stamp applications, and then also referring to the many other great organizations in the area — it's really a goal of mine as well and has always been in my work," she said. "So I'm really excited for that."
ALBERT, WHO was born and raised in Germany, was pursuing a career in linguistics and working as a research assistant in the Indonesian city of Yogyakarta when nearby Mount Merapi began spewing lava and ash in late October 2010.
As eruptions continued for more than two weeks, Albert's university was forced to close, so she set to work assisting a friend who ran a nonprofit health center in the city, helping pregnant women find refuge from the choking volcanic smog.
"There was a lot of ash rain for days, so it was really, really dangerous and really unhealthy," Albert recalled. "So you wanted to be in a closed environment."
Afterward, Albert continued studying Arabic and taught German in Egypt and Pakistan, where she first met her American husband. But in 2018 she shifted gears and completed a master's degree in disaster management at the University of Copenhagen.
"Having that volcano eruption happening, and seeing how these immediate needs must be met, I think that has been my formative experience," she said. "And that's why I went on to study disaster management, to really learn how you can provide dignified services to people."
ALBERT AND her husband relocated to the United States, and in 2019 she began working at a nonprofit called The Alliance in Houston, assisting immigrants, refugees and asylum seekers with everything from housing to mental health care.
Then another disaster struck.
"A lot during the last year was COVID response," she said. "And I think that's when I realized how food insecurity is one of the major challenges and how it is connected to so many other challenges."
Problems such as food insecurity, shortages of affordable housing and the skyrocketing costs of health care and higher education are all interlinked, Albert said. And with long lines at food banks and heightened demand for social services across the country, the pandemic demonstrated how many Americans were living on the edge.
"One thing happening to a family can totally tip an entire family off into poverty," Albert said. "If one person gets sick, he loses his income and can't pay the bills for his health care, so that family may need to come to a food bank. It is really a system that's not very stable — like you don't have a buffer, a cushion to fall into in our society here."
Locally, Albert said, many individuals and small families struggle to put food on the table because of the housing squeeze in Whitefish, and surrounding rural areas are "food deserts" without easy access to grocery stores or fresh, healthy offerings.
Coming from Germany, she said, "it's really shocking to me how many people need food assistance in this country."
THE NORTH Valley Food Bank has been undergoing significant changes over the past year, expanding its distribution window from 2 hours to 14 hours per week, doubling weekly food deliveries, launching mobile pantries in Trego, Olney, Essex and Evergreen, and supporting smaller food banks in Browning, Eureka, Libby, Troy and the Yaak.
To continue serving people amid the pandemic, the food bank began offering drive-thru distribution and scheduled seniors-only hours to keep the older and more vulnerable at a safe distance from other clients. The organization distributed more than 518,000 pounds of food and rendered nearly 30,500 individual services in 2020, a 40% increase in services over 2019.
In January, after two years at the helm, former executive director Jessy Lee relocated to Missoula to start a family. And just as Albert settled into the role, the food bank broke ground on a remodel and expansion that will transform how the organization operates and caters to those in need.
The first phase of the project, Albert said, will add about 800 square feet of walk-in refrigeration and freezer space to the east side of the building at Flathead Avenue and 15th Street. That also will free up space to store more dry goods and nonperishable items. And a new heavy-duty scale will be installed in the floor to make weighing food easier.
When the project is finished, the food bank will begin handing out fewer pre-packed bags and boxes of food and switch to a "choice model," allowing clients to peruse and select their own items from the shelves. That, Albert said, will result in less food going to waste and provide "a more dignified approach to services."
"It's more like shopping," she said.
Later, Albert hopes to renovate a kitchen area where staff and volunteers can host classes on food preparation. Such classes would help people learn to cook for themselves, train potential employees of local businesses and bring in community members to help preserve large amounts of food that might otherwise go to waste — for example, by turning fresh apples into applesauce.
The idea, Albert said, is to get the wider community involved in efforts to fight hunger.
"Rather than us doing it for people, we're all doing it together."
Reporter Chad Sokol can be reached at 758-4434 or csokol@dailyinterlake.com
Recent Headlines
---