Slick sophomore season continues for Johnston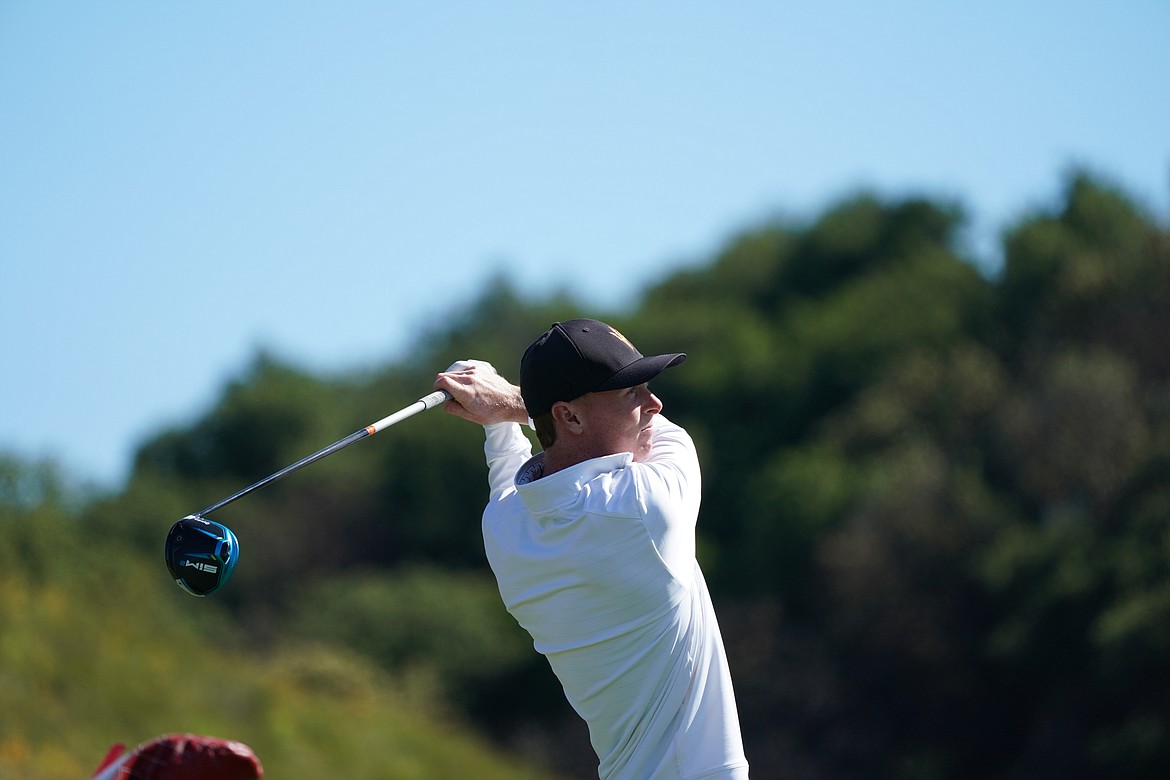 Libby's Ryggs Johnston is pictured at the Pac-12 golf championships Mayacama Golf Club in Santa Rosa, CA. The Arizona State sophomore tied for fourth place and helped his team to a second-place finish. (Photo courtesy Doug Tammaro/ASU)
by
FRITZ NEIGHBOR
Daily Inter Lake
|
May 1, 2021 9:50 PM
Four really good shots had Ryggs Johnston, a sophomore at Arizona State, on the cusp of the Pac-12 men's golf championship last week.
That it didn't pan out — the Libby High graduate finished in a tie for fourth, four shots behind champion Brad Reeves of Arizona and Henry Shimp of Stanford — is no crime. For 54 holes he'd taken Mayacama Golf Club in Santa Rosa, California, to task.
"There are five par-5s on the course," Johnston, who'd never played the course before the conference meet, said Friday. "The par-5s were pretty gettable if you hit it in the fairway. But if you don't hit a good drive, you can make a bogey pretty easy."
There was plenty of good stuff. During a first-round 67 Johnston made eagle twice, on Nos. 4 and 15. He went a shot lower in the second round, getting seven birdies on the way to a 66, and led the tournament at minus-11.
Things got tougher in the third round, but when Johnston holed out a bunker shot on No. 9 for one eagle and then knocked his approach stiff on 15 for another, he still led. A bogey on 16 left him at 12-under and tied for first.
"I wasn't very surprised," Johnston, who won the Montana State Amateur the summer before his senior year at Libby, said. "I knew how I was playing and how I was feeling. I was feeling pretty good about my swing."
On Wednesday, for the second straight day, Johnston teed off in the final group: Reeves, who would eventually win the championship in a two-hole playoff; and Oregon's Yuki Moriyama, who ended up alone in third at 15-under.
"It was pretty consistent," he said of the course. "Maybe a little bit windier the third round. Maybe the greens got a little firmer and a bit faster, but nothing crazy. But there were circumstances."
Then he added: "It's so hard to play four rounds really well — hit the ball really well for four rounds. Especially in the final group."
On Wednesday, after birdies on 2, 8 and 10, Johnston was 15-under. Then he double-bogeyed the par-3 11, and after a birdie on 14 saw the momentum completely switch on No. 15.
"Fifteen was one of those par-5s," he said. "The drive was really tough and if you hit in the fairway you have a really good chance to make eagle or birdie. If not, you're going to be grinding.
"I just hit a really bad drive and ended up making double. I think I was only one or two shots back."
By Friday Johnston had completed a couple finals that he'd gotten pushed back because of the Pac-12s. On May 5 the Sun Devils — who finished second to team champion Arizona, four shots back — will see at which regional they'll compete.
This is both a) heady stuff and b) unsurprising. Johnston recalled being in fifth or sixth grade when ASU, which has produced pros Phil Mickelson, Paul Casey and Jon Rahm, among others, became his golfing goal.
"They've always been known as one of the best golf schools," he said. "The weather. All the courses. Now we have this amazing practice facility that I'm sitting in, right now. Not much of a downside here."
He landed at the Tempe, Arizona campus in 2019 and ended up ranking sixth among NCAA freshmen with a 71.04 scoring average. Along the way he ended up with the handle, "Big Slick," earned a 4.0 grade-point average, saw the season end prematurely because of the pandemic and nailed down a spot in a premier program.
"I prepared for this growing up and through high school maybe more than others," Johnston allowed. "I competed around the nation and played against the best in the world pretty often. I was pretty ready when I got to college to compete with all these guys."
The "Big Slick" is harder to explain.
"I didn't have any nicknames coming in and now I have a lot," he mused, then laughed. "It's just kind of a nickname that evolved and somehow got to Big Slick. I'm not sure how, but it's there and it's pretty stuck.
"Which is all right — I might have set the record for most nicknames on the team. I answer to everything."
A March Madness-like selection show on Golf Channel approaches on May 5. The top five teams at regionals advance to the NCAA Championship May 28-30 (stroke play) and March 31-June 2 (match play) in Scottsdale, Arizona.
Grayhawk Golf Club is almost literally the Sun Devils' backyard.
"We play that course quite a bit," the 20-year-old said. "We've got to go take care of business at regionals and make sure we get there."
---