Christine 'Chris' Hanson, 77
Christine Hanson passed away April 25, 2021, due to complications of cancer.
She was born on Nov. 12, 1943, at a Naval base in Norman, Oklahoma. After World War II, her family returned to California, living in the San Jose area and eventually ending up in Kings Beach at Lake Tahoe. She graduated from Tahoe Truckee High School in 1961 and from California State University - Chico in 1965. There, she met her husband Neil Hanson, who had started his first insurance position in Chico. Afterwards they lived in Spokane for a short time and then moved to the Flathead Valley, eventually settling in Lakeside (Neil's hometown) in 1968. They were married for 55 years.
Over the years, she was involved with the Kalispell Jayceens, a Scouting den mother, a Sunday school teacher at Lakeside Chapel, and active in other community activities. She enjoyed hiking and fishing with her family. She found a talent for weaving, knitting, rug hooking and became an avid gardener and quilter. She always looked forward to her Thursday afternoons with her quilting group that has been active for many years.
She was a loving mother and grandmother and enjoyed family gatherings while being around her kids and grandchildren. She is survived by her husband Neil, son Doug (Lakeside) and wife Danae and their children Sierra and Kyren, and son Eric (Kalispell) and wife Brenda and their daughters Emily and Brynn. She is also survived by her sister Sally Prouty of Escondido, California, sister Gretchen Figueroa of Fort Collins, Colorado, and brother Jeff Gruendemann of Chico, California.
A memorial is being planned for later this summer.
In lieu of flowers, please consider donating funds to Wings Regional Cancer Support in Kalispell.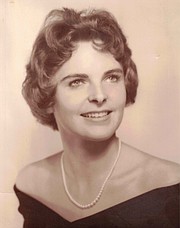 ---