Home Ranch Bottoms has new owners, new aspirations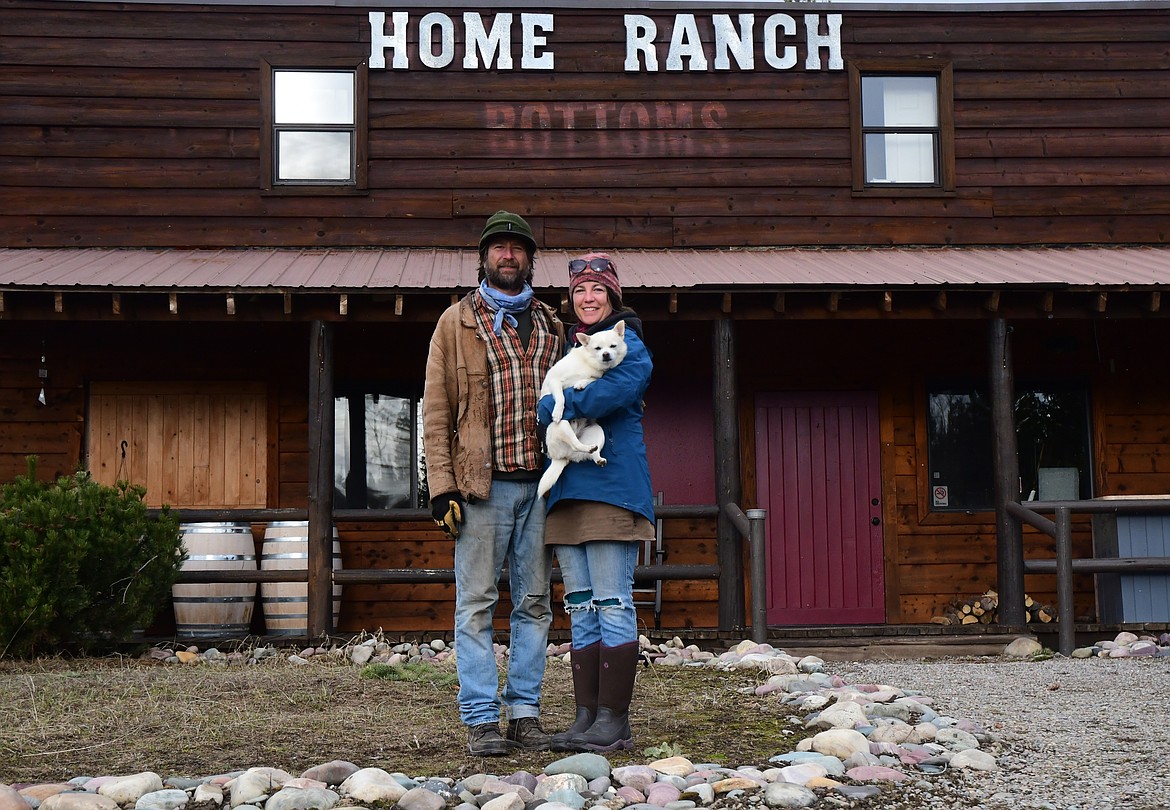 Dan Freund and Flannery Coats with dog Freaky stand in front of the Home Ranch Bottoms up the North Fork as the business' new proprietors. (Teresa Byrd/Hungry Horse News)
by
TERESA BYRD
Hungry Horse News
|
May 2, 2021 12:00 AM
After passing through a string of different landholders throughout its 40-year history, the ownership of Home Ranch Bottoms, a rustic restaurant located 30 miles up the North Fork Road, has once again changed hands.
This time, however, its new proprietors — longtime North Fork residents Flannery Coats and Dan Freund — hope their grand opening next month will ring in a revitalized era for the establishment, one that stays rooted in promoting the eclectic culture of North Fork locals, even as it reaches out to embrace what seems to be the inevitable flood of ever-increasing visitors to the area.
While the variety of services offered by Home Ranch Bottoms has waxed and waned over the years, Coats and Freund will be emphasizing the business' restaurant and bar, hoping to create a space for families, recreationists and road warriors to unwind with food and drink after a long day on the river, in the backcountry or after a dusty drive.
The log-cabin style eatery will be open for lunch and dinner and will feature a menu offering traditional American fare with "flair," dressed up by sauces and spices inspired by Freund's upbringing in the food-culture hub of St. Louis, to bring diners some "home runs and heavy hitters," Coats said.
In keeping with their mission to promote local products, Coats and Freund will be working with Purple Frog Gardens of Whitefish to source much of the restaurant's produce.
"There will be something for everyone," Coats said. "Whether you're gluten-free or vegan or vegetarian or love meat or you just love eating fried food."
One of the most frequent questions the new owners have been getting is: "Will there be baked goods?"
The query, directed at Coats, is in reference to her skills as a pastry chef, which first drew attention in the area from her time spent as head baker at the Polebridge Mercantile from 2009-2014 when she was co-owner of the historic shop. Her skills were further honed after she went on to open her own bakery in Livingston for a time.
While Coats affirms she is still in love with baking, she said the aim is to keep things simple for now by focusing on one type of pastry — pie.
"And it will be the best pie you've ever had in your life," Coats promised. "...If nothing else, come for the pie."
THE RESTAURANT, which was closed all last year due to COVID-19, will still be very "pandemic aware" this summer, and dine-in meals will be offered in shaded outdoor seating. Customers also will have the option of takeout, with the ability to even pre-order over the phone.
Those choosing to stay and relax can enjoy a full bar featuring historically themed cocktails made with locally distilled spirits and the "freshest" of ingredients.
Patrons will be able to take advantage of the large space on the 5-acre establishment dedicated to lawn activities.
"Our yard-game 'game' is going to be real strong," Coats said.
Diners also may find themselves enjoying live music along with their meal.
Freund, who's lived in the North Fork for 20 years and is a musician himself, has been instrumental in curating the Polebridge music scene, including helping build the large North Fork Saloon stage that hosts popular guests from all over the region.
They're keeping mum on the musical details at this point.
"When it does happen, it will be special and it will be memorable," Coats said.
The couple is excited to take the business in a new direction as a local hangout where everyone is welcome, and where the unique value of the North Fork region is actively cultivated and celebrated.
"We have a great crew with a historical perspective of the area joining us this summer who are going to help us bring back the North Fork to the North Fork," Coats and Freund said.
They invite everyone to check out the new Home Ranch Bottoms at its grand opening on May 28, the Friday before Memorial Day.
---