Longtime real estate broker opens Lakeside office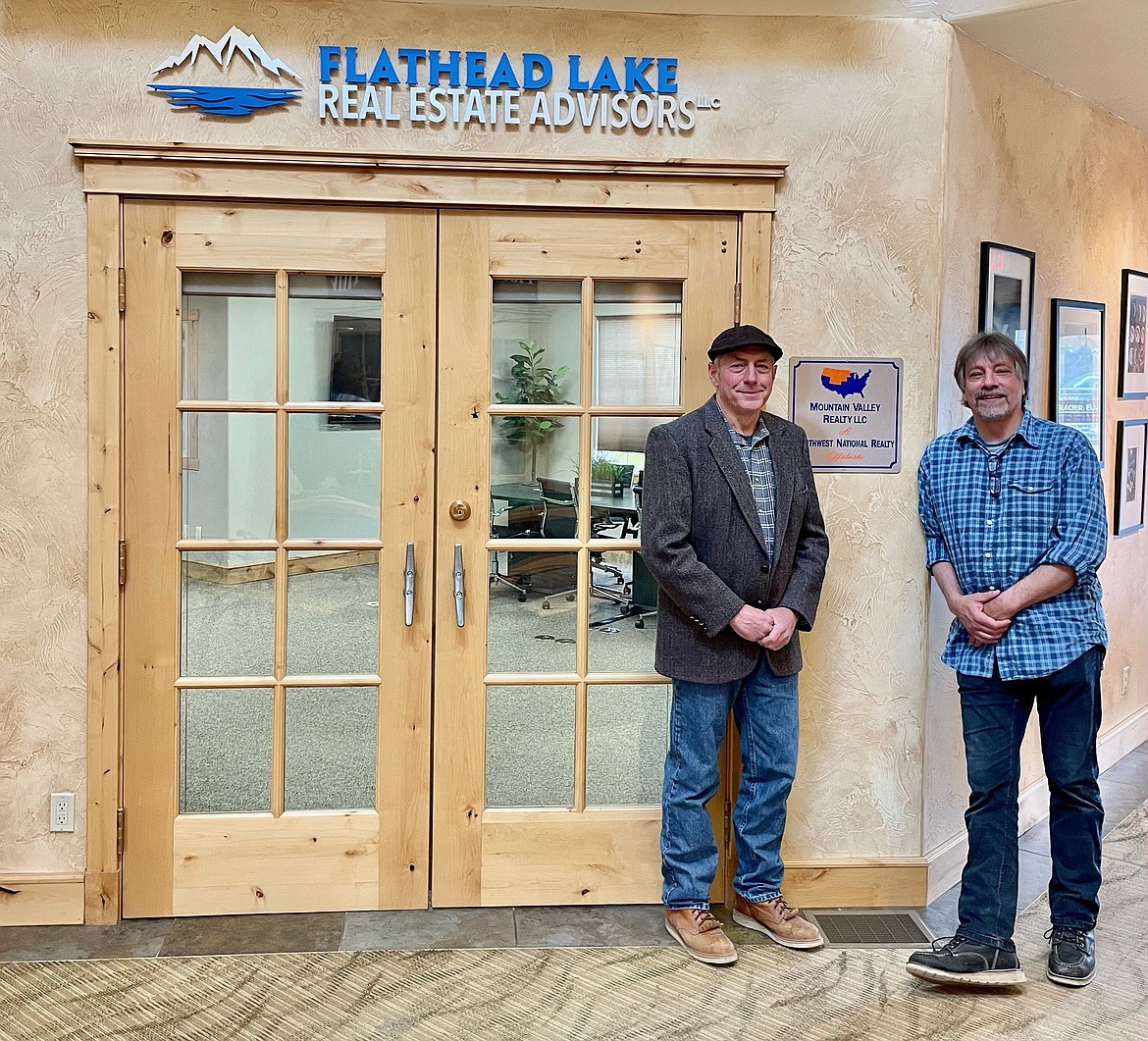 Bobby Roshon, left, and Ken Sederdahl at their new office (courtesy photo).
by
BRET ANNE SERBIN
Daily Inter Lake
|
May 2, 2021 12:00 AM
Northwest National Real Estate has a new home in Lakeside.
Broker Bobby Roshon opened the office at 7100 U.S. 93 in March after spending almost 20 years in the area's real estate market.
The office's lone agent, Ken Sederdahl, brings a similarly lengthy resume to the business.
"We're not new at this game," Roshon pointed out.
The pair opened the Lakeside office in order to have a brick-and-mortar presence in the region they serve. Bucking the trend in many other industries, the booming real estate landscape motivated Roshon to move away from an exclusively online format to set up an in-person office.
He hopes putting down roots demonstrates his commitment to serving clients throughout Northwest Montana.
Keeping it local is one of his top priorities.
Roshon, who lived in Rollins for many years, partnered with Northwest National Real Estate in part because the franchise is based in Montana.
The company has its headquarters in Helena and locations in almost a dozen Montana towns.
"It's a franchise but it's based in Montana," Roshon explained. "It has bigger resources, but it's homegrown."
The money from Northwest National transactions stays in the Big Sky state. "That's a big attraction," Roshon said.
The company's reach extends far from home. Roshon said the website sees more than 200,000 hits per day. It was Northwest National's robust online marketing program that originally drew Roshon's attention, at a time when utilizing the internet was still an avant-garde strategy.
Northwest National's digital presence helps Roshon connect with potential buyers, but he said it's the personal approach that really sets his office apart.
He and Sederdahl pride themselves on taking a respectful approach to clients; they prefer not to be overly persistent in trying to get a new owner into a property.
Roshon said he'd rather a client choose his office "because of our abilities and our merits and the way that we treat our customers."
"We want to be utilized and recognized on what we bring to the table," he said, not how many times he calls a prospective buyer. "It is about that the customers' interests come first."
Another way to serve those interests is through Flathead Lake Real Estate Advisors, Roshon's sister agency co-located with Northwest National in Lakeside.
The neighboring business includes two buyer's agents who specialize in Flathead Lake waterfront properties. Since Roshon is the broker for both agencies, buyers with Northwest National can easily take advantage of the services at Flathead Lake Real Estate Advisors.
For added convenience, buyers can even reach a property by boat directly from the lakefront office.
In the future, Roshon said he'll likely bring on more agents, but he's focusing on starting small for now.
With the pace of real estate, however, it seems like only a matter of time before the new office expands.
"The market is just so brisk right now," Roshon said.
Reporter Bret Anne Serbin may be reached at (406)-758-4459 or bserbin@dailyinterlake.com.
---