Self-guided Forestry Expo kicks off Friday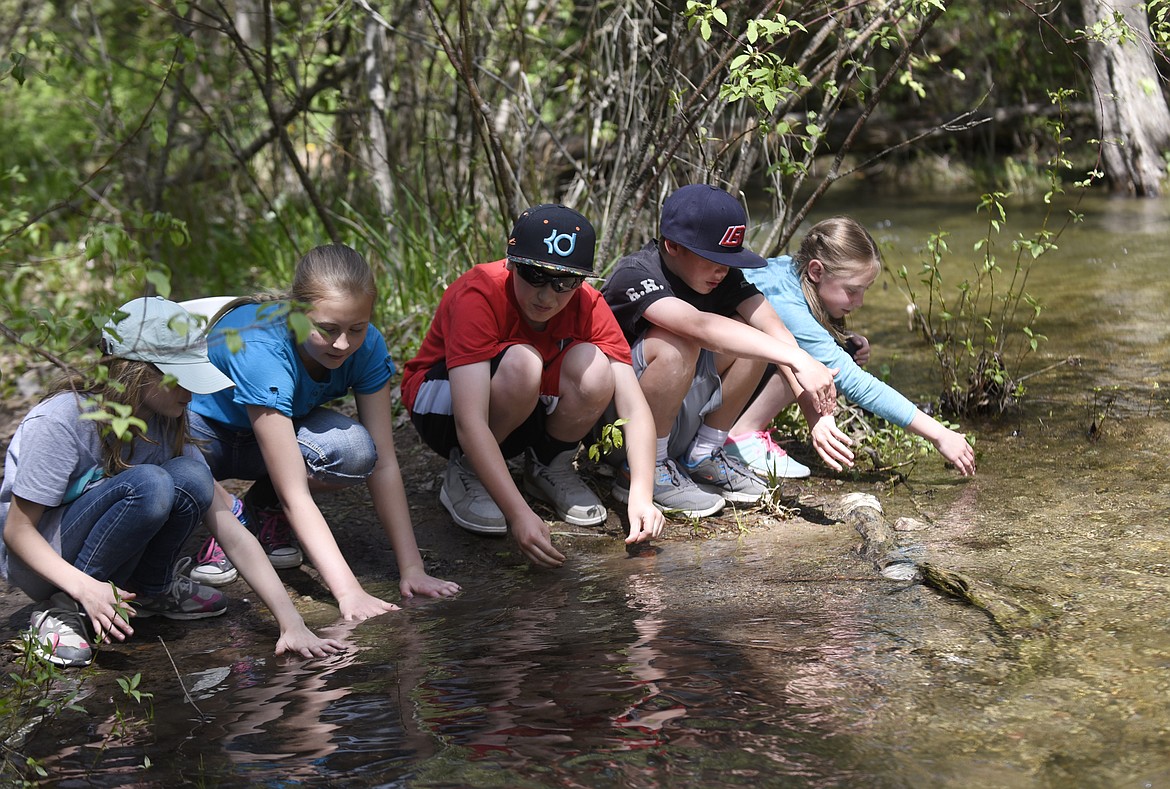 Whitefish Middle School fifth-graders Mary Whitt Carlos, from left, Avree Richardson, Jackson Kemm, Logan Kunz and Mollie McCarthey put their hands in Trumbull Creek during a lesson about riparian areas and aquatic health during the Forestry Expo at Trumbull Creek Educational Forest on Wednesday. (Aaric Bryan/Daily Inter Lake)
The annual Family Forestry Expo returns this year after the event was canceled last spring due to the pandemic, Flathead Forest officials announced Tuesday.
This year in place of the traditional all-day, in-person event, organizers have planned a self-guided experience for the weekends of May 7-8 and May 15-16.
Families are invited to visit the Trumbull Creek Educational Forest and take part in a short, self-guided forest walk to explore and learn about our area forests. The site is located about 2 miles north of the junction of U.S. 2 and Montana Highway 40, just west of Columbia Falls. At the trail entrance, visitors can pick up a trail map with forest scavenger hunt activity and follow the marked stops along the half-mile wood chipped trail that follows Trumbull Creek.
Visitors are encouraged to bring their smartphone and tap into the posted QR codes for a deeper dive into learning about the many parts of a forest, with videos about fisheries, wildlife, forest management, fire, backcountry camping ethics, archeology, riparian areas, plant identification and logging operations. The videos can also be viewed on the Forestry Expo website or the Family Forestry Expo YouTube channel.
During their walk, families can discover the names of common forest plants, investigate the updated forestry and forest practices signs, do some in-depth exploring on how to camp in a low-impact way, get a unique view of Trumbull Creek, find and learn about forest birds, and walk the 'riparian path' along the creek.
Forestry Expo organizers ask that visitors "leave what they find" and make sure to pack-it-in, pack-it-out. During these two weekends, organizers ask that you leave your dog at home.
The Family Forestry Expo event takes place through the dedicated involvement of over 30 diverse organizations such as local service clubs, forest industry, government natural resource agencies, conservation groups, professional societies, local businesses, many interested individuals and numerous local donations.
---