State drought conditions worsen during dry April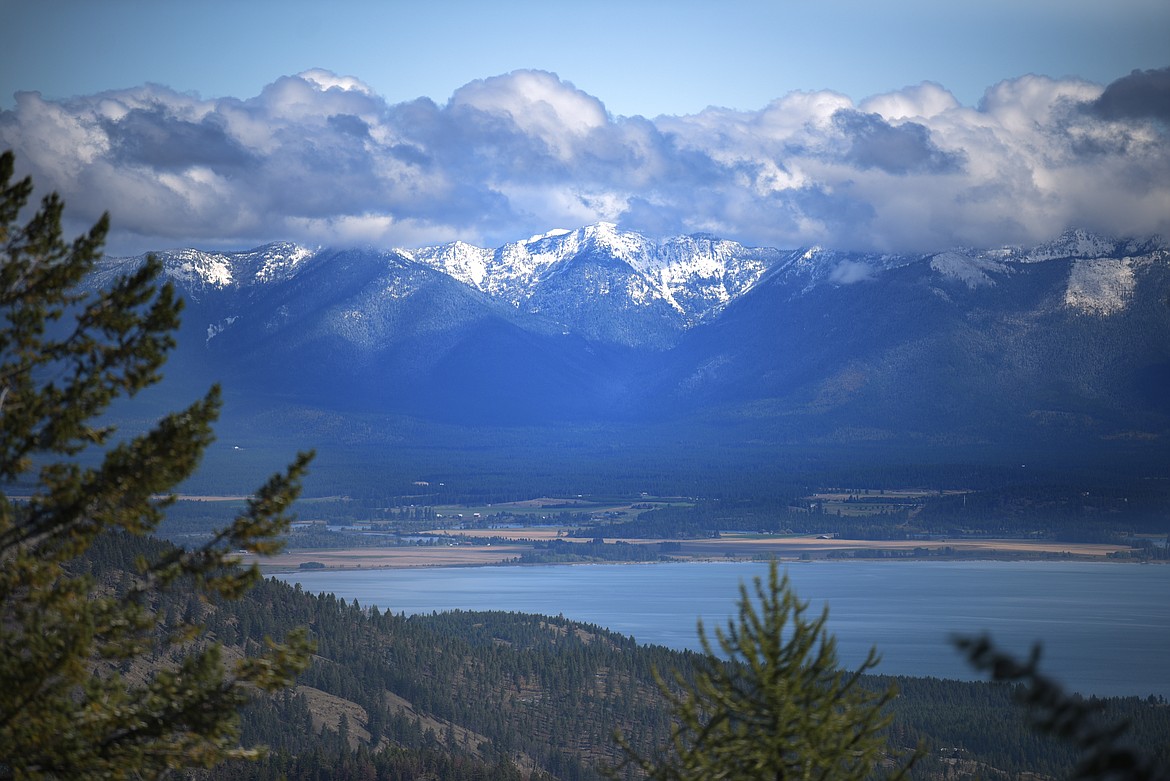 Flathead Lake is seen from a perch in Lakeside in this file photo. (Daily Inter Lake)
by
MATT BALDWIN
Daily Inter Lake
|
May 4, 2021 1:00 AM
April showers were few and far between in Northwest Montana, exacerbating an already parched spring for the region.
According to National Weather Service data, Kalispell recorded just 0.69 inches of precipitation last month, which is more than half an inch below average. Only a trace of snowfall was reported, as well, making it the 36th driest April on record for Kalispell.
The March and April time period combined was the driest on record since 1973 — 48 years ago.
Temperatures in Kalispell were a bit cooler than average, with a mean of 43.4 for the month.
The Missoula valley saw even less precipitation, recording just .45 inches in April. It was the 16th driest April ever for the Garden City.
Mountain snowpack across Northwest Montana is just slightly below average for this time of year, with the Flathead Basin at 90% of normal.
A weather station in Noisy Basin in the Swan Range shows 84 inches of settled snowpack holding 38.8 inches of snow water equivalent — about 5 inches below average.
Meanwhile, Flattop Mountain in Glacier National Park is holding 94 inches of snowpack with a snow water equivalent of 46.7 inches — 4.5 inches higher than normal.
Statewide, all basins are below average except for the Sun, Teton and Marias, and St. Mary and Milk basins east of Glacier Park.
The driest spot is around Helena where mountain snowpack is 65% of normal. The Kootenai is at 77% of normal.
REFILL OPERATIONS for Flathead Lake began earlier than normal this spring due to the dry conditions across the Flathead Basin.
According to Energy Keepers, Inc., the Confederated Salish and Kootenai Tribes corporation that oversees the SKQ Dam, refill operations began on March 28 rather than the typical start date of April 15.
April water supply volumes for the Flathead River measured at SKQ Dam was only 64% of normal, a press release from Energy Keepers notes.
As of Monday the lake was at 2,886.96 feet. It's anticipated that the lake level will reach 2,890 feet by the end of May, and into the top foot of its operating range by June 15.
The rate of mountain snowpack runoff will partially depend on spring temperatures. Currently, the Flathead River at Columbia Falls is at about 9.25 feet. Flood stage is 13 feet.
IT'S NOT just Western Montana that's been left high and dry this spring. Last week the Montana DNRC issued a water supply and drought outlook that warns of "extreme drought" conditions in eastern portions of the state.
According to data in the report, 42 percent of the state is classified as abnormally dry, with another 18 percent of the state in severe to extreme drought conditions.
For comparison, in April 2020, the U.S. Drought Monitor indicated that only 15% of the state was abnormally dry.
Drought conditions are most severe in Phillips, Daniels, Sheridan, Valley, Roosevelt, McCone, Wibaux, Prairie, Dawson, Richland, Fallon and Carter counties.
"Following an unusually mild winter, the conditions we see for the next eight to ten weeks are going to be critical as we head into growing season in Montana," Montana Gov. Greg Gianforte said in a press release about the report. "I am tasking state agency directors to begin reviewing authorities and options to support our agricultural producers as some battle extreme drought conditions."
Luckily, water elevations at state reservoirs across Montana are mostly average to above average.
"The near average snowpack and strong carry-over storage from last year suggests that most of Montana's reservoirs should fill this year," the report notes.
However, if spring precipitation remains below average, some producers in eastern Montana may face challenges ensuring adequate water supply for livestock throughout the summer, the Governor's Office warned.
Wildfire danger will be a rising concern, as well, according to Amanda Kaster, director the Montana DNRC. "We're keeping a close watch on fuel conditions throughout the state as we continue our preparations for the 2021 fire season," Kaster said.
The report notes that drought conditions can change rapidly, with May and June historically the two wettest months of the year in Montana.
"The question at this point in the season is whether the rains of April, May and June bring some comfort and prosperity or fail giving way to worry and hardship," the report states. "As we enter the spring with moderate to extreme drought conditions across nearly half of the state, chances for improved conditions between now and the Fourth of July are about 50/50 and will likely vary widely depending upon the specific locale."
---