The goose is loose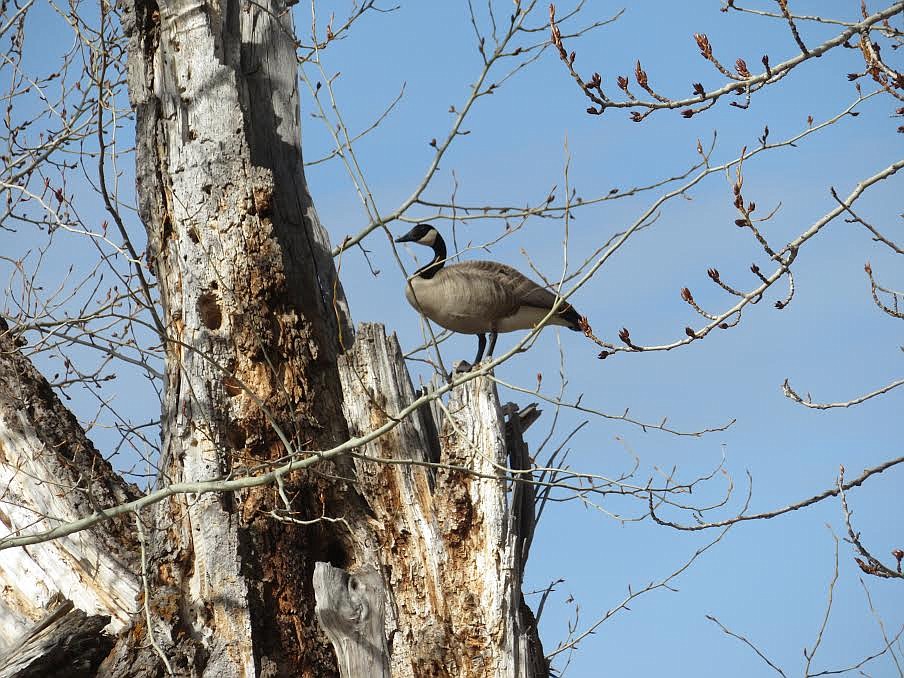 Many people think of Canada geese as ground nesters, but some will take advantage of abandoned osprey nests to lay their eggs. (Warren Illi/Daily Inter Lake)
Earlier this week I took my own advice from my column two weeks ago and did a little multi-tasking in the great Flathead Outdoors.
Actually, using the word "tasking" is not quite the right word since I had no intention to do any hard work, but just enjoy a nice spring day outside.
After overnighting at my cabin, my day started with a stop at Happy's Inn for a breakfast of biscuits and gravy. Then with a full thermos of coffee, I headed north on the ACM Road toward Island Lake where I own some property.
I was curious to see how my property survived the winter. For those of you not familiar with the ACM road, the ACM road was a private gravel log haul road built by the Anaconda Copper Mining Company to transport logs from their timber lands in Northwest Montana to the railroad along the Clark Fork River.
The Anaconda Company used lots of timbers in their Butte underground mines. This was a relatively high-speed road designed to accommodate large logging trucks that were too wide and heavy to drive on the Montana highway system.
The ACM road runs from Libby to the railroad along Montana 200 and the Clark Fork River. The ACM road is now a mix of private, county and Forest Service jurisdictions. Part of it follows the old original Great Northern Railroad grade in Lincoln County.
Along with me in the front seat of my pickup was my .17 HMR rifle in case I saw some gophers that needed to be thinned.
It is always a fun outing to plink a few gophers. As a big game and bird hunter, I don't like to shoot anything I can't eat. But obviously I don't eat gophers.
So, I justify shooting gophers as just doing some advance killing for local coyote and aerial predators. I've never found a dead gopher the day after I've shot one. Mother nature provides plenty of clean-up critters.
I also had a shotgun in case I saw any wild turkeys. As I drove past some wetlands along the Pleasant Valley Fisher River, I saw some sandhill cranes.
I suspect they were nesting in those local prairie wetlands. I have a special story about sandhill cranes. As a young man in 1961, I was working for the Bureau of Land Management in Alaska as a forest fire fighter.
In early September, I went duck hunting near the city of Fairbanks.
My hunting partner that day was a local friend. We shot a few ducks and then I had my first encounter with sand hill cranes.
Cranes have a very distinctive call that you can't confuse with any other bird call. My older friend said I would never forget the sound of a Sandhill Crane. He was absolutely right.
It was 10-12 years later, while antelope hunting with my wife and friends on the prairie of Eastern Montana, when we heard this strange noise. What was this noise? I listened a moment and said, "those are cranes!"
We looked up in the sky and there were many waves of cranes flying south for the winter. My Alaskan friend was right when he said I would never forget the call of a crane.
One of my stops on my trip to Island Lake was at the south end of the lake, where the old Great Northern Railroad trestle crossed some wetlands.
Last year I spooked a couple of geese out of an old broken cottonwood tree by this trestle. I suspected they might be nesting in that old tree. They were there again this year.
Most people think of geese as ground nesters, where they normally nest. But some time they will nest high off the ground in abandoned osprey nests.
Several years ago, I was fishing on Lower Thompson Lake when we observed a Canadian goose sitting on her nest in an old osprey nest, at least 60 feet off the ground.
So, I was not surprised to see a goose nesting in the crotch of this old cottonwood tree. That old crotch must have had enough of a level spot or shallow depression to hold a goose nest.
I am always amazed at the adaptability of wildlife. As I passed the Lost Trail Wildlife Refuge, I glassed the greening hills for elk, but none were seen.
But there were lots of deer along the road. The rest of the morning I enjoyed hiking my property and cleaning up garbage left by campers using my property.
I also took pictures of an old ponderosa pine tree that is a true giant. It has a diameter of 60 inches or five feet.
It was probably a large tree when Lewis and Clark journeyed through Montana. What a magnificent tree!
Then I began the drive back to my cabin to do some spring clean-up. One thing about a cabin, there is always work to do. But it is usually fun work.
Have a good week in the Flathead Outdoors.
Recent Headlines
---