Sun Road reservation system in full swing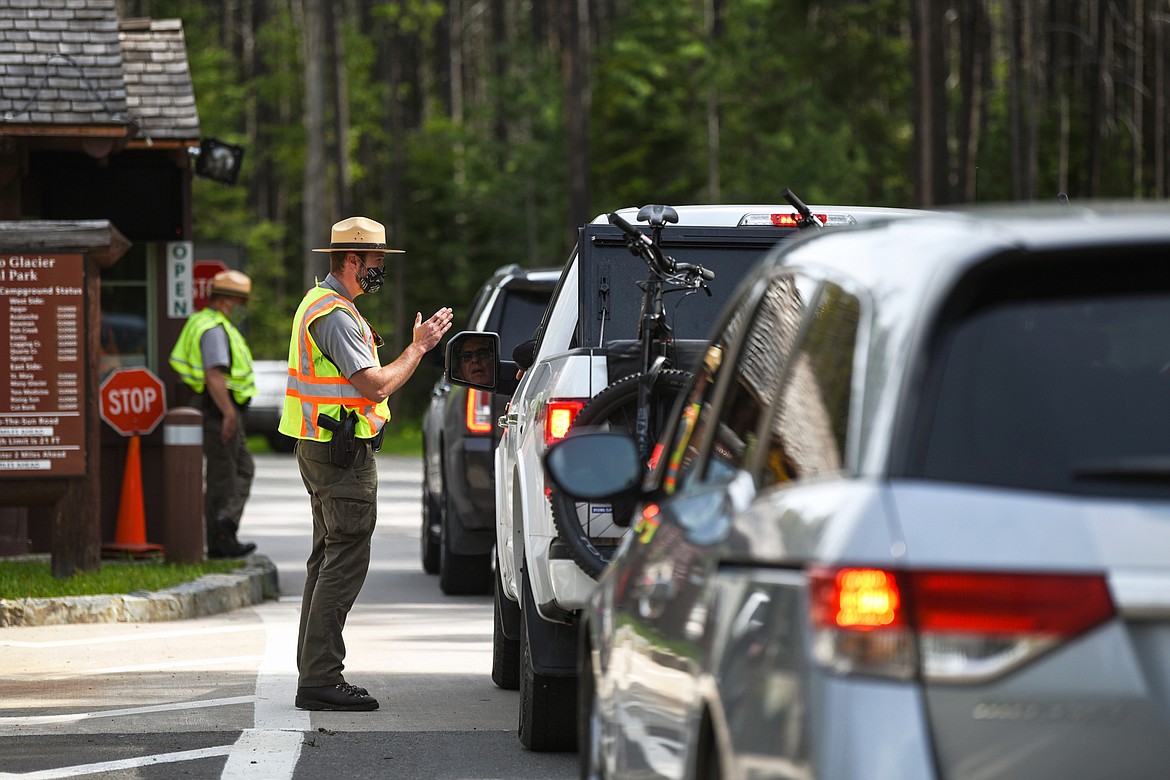 Park rangers speak to visitors at the West Glacier entrance to Glacier National Park on Friday, June 12, 2020. (Casey Kreider/Daily Inter Lake)
by
CHAD SOKOL
Daily Inter Lake
|
May 7, 2021 4:14 PM
Managing the number of vehicles on the Going-to-the-Sun Road is a tricky balancing act, and Glacier National Park officials say they're constantly evaluating numerous factors to determine how many tickets to make available under the park's new reservation system.
Tickets are being released on a rolling basis at 8 a.m. Mountain time each day at recreation.gov. The price is $2, and a ticket is required in addition to a standard park pass for any visitor or group looking to drive a car, truck or motorcycle along the Sun Road corridor.
Park officials are testing the reservation system, which went live on April 29, to help alleviate traffic congestion as they anticipate a record number of visitors this spring and summer. Rocky Mountain, Yosemite, Acadia and Zion national parks are using similar systems to manage crowds and traffic this year.
Sun Road reservation slots open 60 days in advance, and most are scooped up within minutes or hours each morning. But the reservation calendar on the website might appear more complicated, as the park also is releasing some tickets two days in advance, as conditions allow.
The park on Wednesday also released additional tickets after it became apparent the whole road would be plowed and passable by July 1.
Visitors still can drive the Sun Road without a ticket before 6 a.m. and after 5 p.m. They also can hike or bike along the road without a ticket, though cyclists aren't allowed on the west side of the road between 11 a.m. and 4 p.m. during the summer months.
Visitors might be able to get a ticket at the entrance the same day, if any are available. Officials plan to post updates along U.S. 2 so visitors can get a sense of ticket availability before they get to the entrance.
Glacier officials aren't disclosing precisely how many tickets they release in each batch, but park spokeswoman Gina Kerzman said the goal is to limit the number of vehicles on the road to about 4,600 at any given time.
"That's our target," Kerzman said. "That's how many cars we feel can be in the corridor without major congestion issues."
But consistently hitting that target — maximizing the number of visitors throughout the day without creating long traffic jams at the west entrance — is not as simple as it may seem, Kerzman said.
"There's a lot of information that goes into determining how close we get to that number," she said.
Park officials are monitoring how many motorists arrive outside of reservation hours, how many arrive with seven-day passes and return on multiple days, and how many are landowners or employees of businesses inside the park who aren't required to make reservations.
Then there are unpredictable factors such as springtime avalanches that carry trees and rocks onto the road.
It's a lot of educated guesswork that determines how many tickets the park makes available each day.
Kerzman said Glacier officials will compare traffic counters along the road with the number of tickets issued and adjust accordingly, so anyone wanting to see the park this summer should check in regularly at recreation.gov.
"Starting Memorial Day weekend, when tickets start to be required, we're going to be monitoring it every day to see if our calculations for how many tickets we've made available are looking like that's how many people are coming through the gate," she said. "And if it looks like we have more capacity than we estimated, then we'll make more tickets available."
Reporter Chad Sokol can be reached at 758-4439 or csokol@dailyinterlake.com
---