Sunshine Factory to offer respite for families using Montana Children's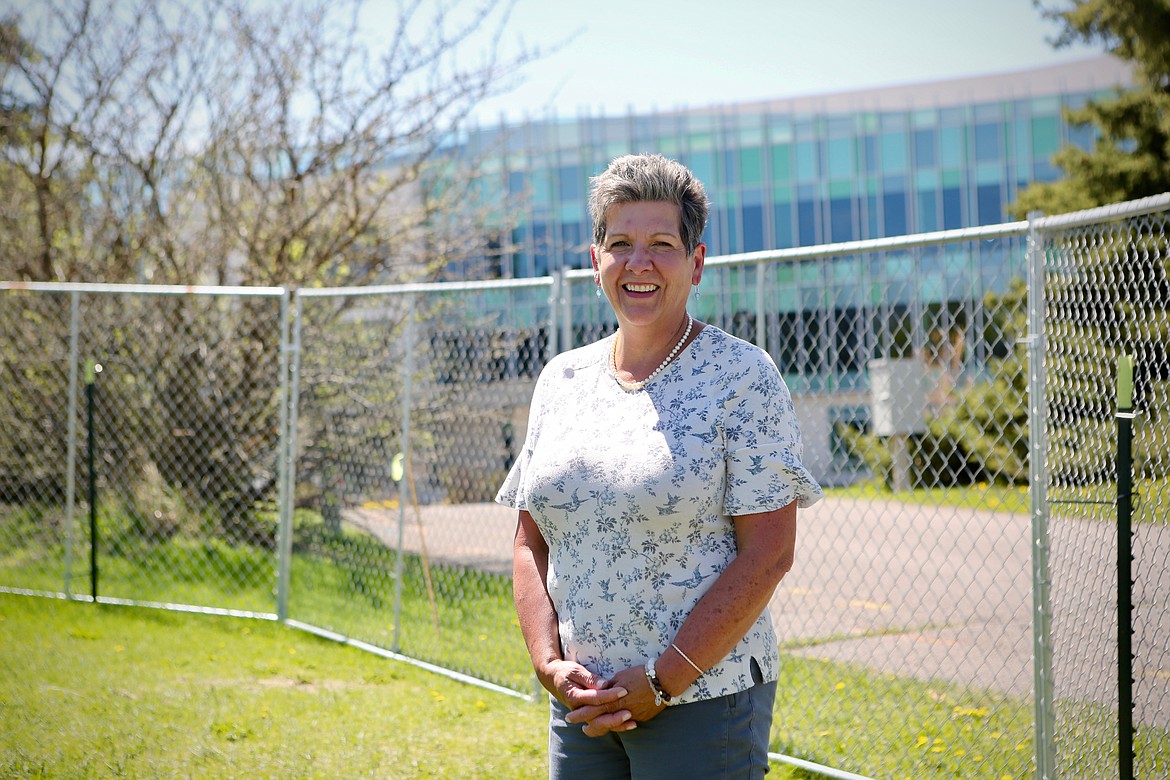 406 for Kids founder Lori Williamson stands on the future site of the Sunshine Factory - a 4,300-square-foot respite home for families with children undergoing treatment at Montana Children's in Kalispell. (Mackenzie Reiss/Daily Inter Lake)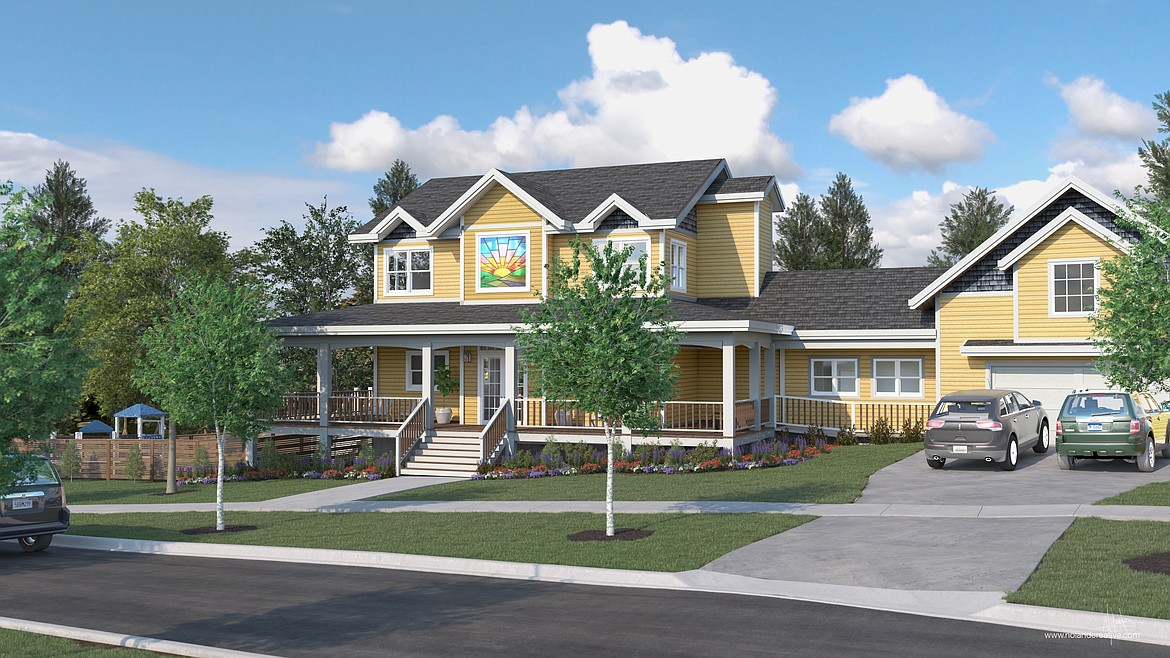 The exterior of the Sunshine Factory is pictured in a rendering. The home will be open from 9a.m.-9 p.m. for families with children at Montana Children's. Construction is expected to be complete in the spring of 2022. (Courtesy of Lori Williamson)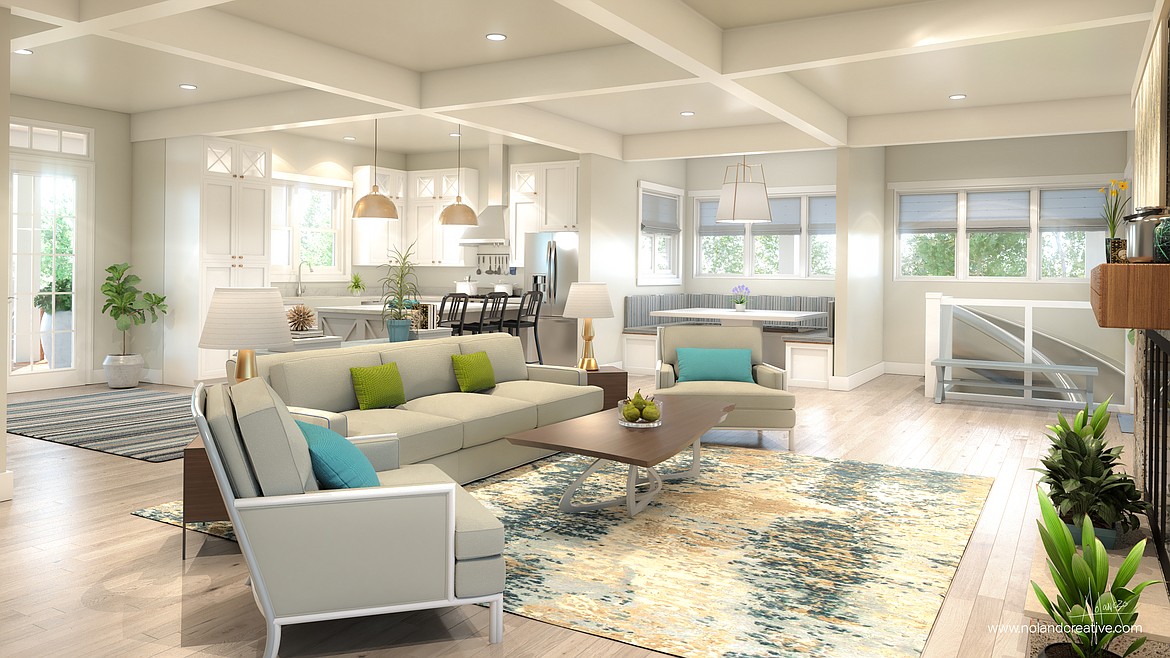 A rendering shows the grand room inside the Sunshine Factory, which features a large sitting area, kitchen and dining room, plus a slide leading to the downstairs play rooms. (Courtesy of Lori Williamson)
Previous
Next
by
MACKENZIE REISS
Daily Inter Lake
|
May 9, 2021 1:00 AM
The vacant lot behind Montana Children's in Kalispell might look like just another patch of grass to some, but to Lori Williamson, it represented possibility.
The Cut Bank native had a vision five years in the making to bring a respite home to fruition and on Tuesday, workers will break ground on the Sunshine Factory, a 4,300-square-foot residence that will be open to families with children undergoing treatment at Montana Children's. Williamson and her husband Terry are self-funding a portion of the $1.5 million project to get the wheels in motion, but will be launching a capital campaign later this month through their nonprofit, 406 for Kids. They hope to have the project constructed by the spring of 2022.
"They spend hours and hours and hours in a stressful situation," Williamson said of the families at the children's hospital. "I wanted a place where they could just come and relax for a couple of hours, get a hot meal, take a hot shower …. Just re-energize, so when they go back across the street to the hospital they can be positive."
The home, to be located on Glacier View Drive, will include two primary suites, a spa, a meditation garden, an outdoor playground and a downstairs play area and video room. Families will have access to the home from 9 a.m. to 9 p.m. with one family on-site at a time.
The main floor will be dominated by an open grand room with lots of window light and a large kitchen and dining area. The home will also be Americans With Disabilities Act accessible with amenities such as an elevator, and it's Williamson's goal that upon entry, guests of the Sunshine Factory will be greeted with the smell of freshly baked cookies.
Upstairs, each of the suites comes with an 8-foot deck overlooking the Swan Range and behind a large stained-glass window will be the spa where nail technicians and massage therapists will perform relaxing treatments on family members. In the majority of cases, Williamson said, it's the mother or another female guardian who is present during a child's hospital stay so it was important for her to cater to them.
The home also will feature a fireplace and a state-of-the-art air filtration system donated by Lighthouse, but the cherry on top to this unique home is the slide that transports both children and adults to the downstairs play areas. The indoor play area will be modeled like a miniature city, complete with its own pint-sized hospital.
"Siblings like to play hospital when their brother or sister are over there," Williamson explained. "We find it's therapeutic for them to be able to do that."
OUTSIDE, OPPOSITE from the meditation garden, which also will be open to hospital doctors and nurses, will be a play area with climbing structures and fruit trees.
"This is a beautiful house, but who it serves are the beautiful children and their families," she said. "I think it's so important to always stay grounded with what the work is."
Williamson will identify families that would be served by Sunshine Factory through her own volunteer work and via referral from Montana Children's. But this is far from a one-man operation — Williamson said Sunshine Factory will rely on a pool of volunteers who will be responsible for tasks ranging from baking cookies and preparing meals to playing with children so their parents can rest.

The home is a work of art in the making, but perhaps most importantly, a work of love.
Williamson knows the toll the hospital can take on families first-hand. She spent two and a half years volunteering with New York City's Candlelighters, an organization that helps families traveling to Memorial Sloan Kettering Cancer Center navigate the city. It was during that time that she first had the idea to create a home designed for families of sick children.
"To me it's about living a life where you're constantly growing and I don't ever want to stop," she said. Growth has been a constant theme in Williamson's life. After 25 years in human resources, Williamson decided to get her master's degree at NYU, which led her to discover Candlelighters and her passion for helping families affected by childhood illness.
IN 2018, she moved back to the Flathead Valley to care for her mother and learned about the developments at Montana Children's. She was drawn in by the top-tier physicians who had been recruited and the fact that the hospital would serve youths from across the state. Williamson decided to volunteer her time at Montana Children's to get a start on helping families locally and to assess whether or not her vision would be the right fit for the area.
"I knew I wanted to do something big, but I didn't want to build something if it wasn't going to be utilized," Williamson said.
For a time she considered buying an apartment that would serve families, but that plan flew out the window once she came across a pair of lots just 100 steps from the hospital door — according to her husband's calculations.
"It was like the universe was calling me," she said.
Williamson's next course of action was to establish a nonprofit, 406 for Kids. She also came up with the name Sunshine Factory, chosen in honor of Sunny, a rainbow teddy bear she had custom-made for the children at the hospital.
"I designed a teddy bear that I hand out to all the children. He's a rainbow bear named Sunny," she said, "It's just one of those things, no matter who sees it, they automatically smile. It's just a ray of hope — a ray of sunshine during a dark storm."
And that's exactly what she hopes to create with the Sunshine Factory — a place that offers a reprieve from the stresses of the medical environment, even just for a few fours.
"I'm from a large family — seven children — and we're all super healthy. And we all have very healthy children. I feel blessed because that just doesn't happen anymore," Williamson said. "While a lot of times things like this come out of tragedy, this comes out of a place of love ...I haven't done my greatest work yet — this is it."
Reporter Mackenzie Reiss may be reached at 758-4433 or mreiss@dailyinterlake.com
Learn more, donate to or volunteer with 406 for Kids by visiting www.406forkids.org.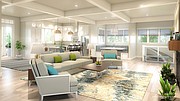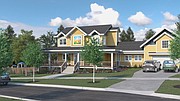 ---