Kalispell Chamber's Kate Lufkin working to strengthen Flathead workforce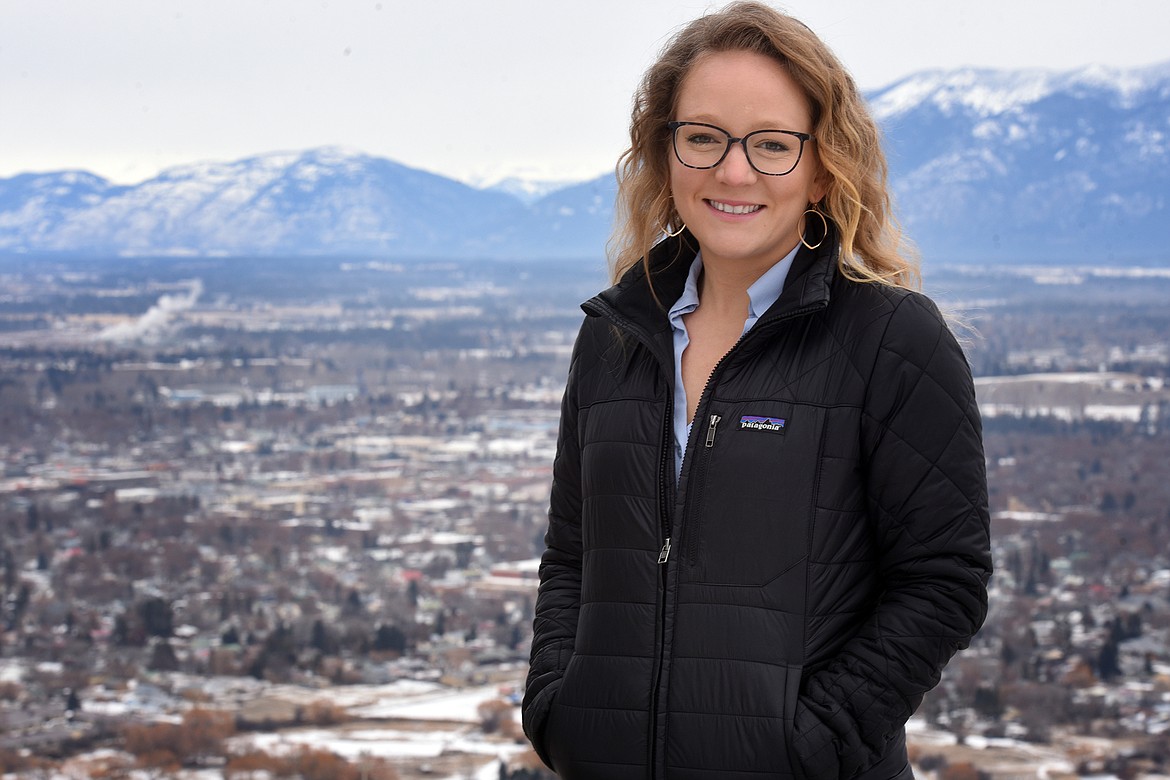 Kalispell Chamber of Commerce Director of Education and Workforce Development Kate Lufkin is working to help build cooperation between local students and Flathead employers. (Jeremy Weber/Daily Inter Lake)
by
JEREMY WEBER
Daily Inter Lake
|
May 10, 2021 12:00 AM
Kate Lufkin is working to change Kalispell's workforce through education and cooperation.
Lufkin, who joined the Kalispell Chamber of Commerce as marketing and communications specialist in 2015 before becoming the marketing and communications manager in 2017, has been working hard to bring area students and employers together since taking over as director of education and workforce development in September 2019.
A native of Redmond, Washington, and a 2013 graduate of the University of Montana's College of Business Administration, Lufkin said she was reluctant to move to an even smaller city, but quickly fell in love with the area and the opportunities her new job presented her.
"As I attended a lot of meetings in my role with the Chamber of Commerce, it quickly became apparent just how much the local businesses had a need for workforce development, whether that be retaining workers, attracting new ones or expanding areas of growth for current workers," Lufkin said. "Sometimes there is a disconnect between what students are being told about how to have a successful career and what it truly takes to have that kind of career. We are working to bridge that gap both at the K-12 and post-secondary school levels."
IN HER work to help strengthen Kalispell's current and future workforce, Lufkin has helped develop several programs and events that help Flathead businesses showcase to area students the types of jobs and careers that are available to them here in the valley.
What began with Manufacturing Day just a few years ago quickly grew into an annual Manufacturing Week and then Month and continues to expand each year.
The Kalispell Chamber, Job Service Kalispell, FVCC, and the Daily Inter Lake recently partnered to present the first-ever Workforce Flathead Opportunity Fair, bringing together dozens of area employers with prospective employees with a number of presentations each week in the month of April, including manufacturing and the trades, tourism, hospitality, retail, health care and bioscience, and business, finance, and other workforce opportunities.
Lufkin said one of her main goals with the program is to help students learn there are a number of career opportunities available to them that they may have never considered.
"A successful career is not necessarily the ones that have a single word to describe them. Kids always hear the words, 'doctor' or 'lawyer' or 'engineer,' and those are all important white-collar positions, but there are so many other careers out there that help make the world go around," she said. "These are the jobs that would leave us all lost if no one was doing them. We try to showcase to kids what opportunities are out there before they make the most important financial decision of their lives."
In addition to the Workforce Flathead Opportunity Fair, Lufkin said she and Workforce Flathead will continue to work with local businesses to help organize opportunities for area students to get firsthand experience through career exploration days.
"Students can get so much more from getting into these places and talking to the people that work there than they ever could reading about jobs in a textbook. There are so many things you can only learn from being there, talking with people and seeing what it is like," Lufkin said. "Kids need to know that if they like to work with their hands more than sitting through math class, there is still a viable, really successful career out there available for them."
For more information about Workforce Flathead and its programs, visit the website at www.https://workforceflathead.com.
Reporter Jeremy Weber may be reached at 758-4446 or jweber@dailyinterlake.com
---