Virus strains from India, Brazil reach Montana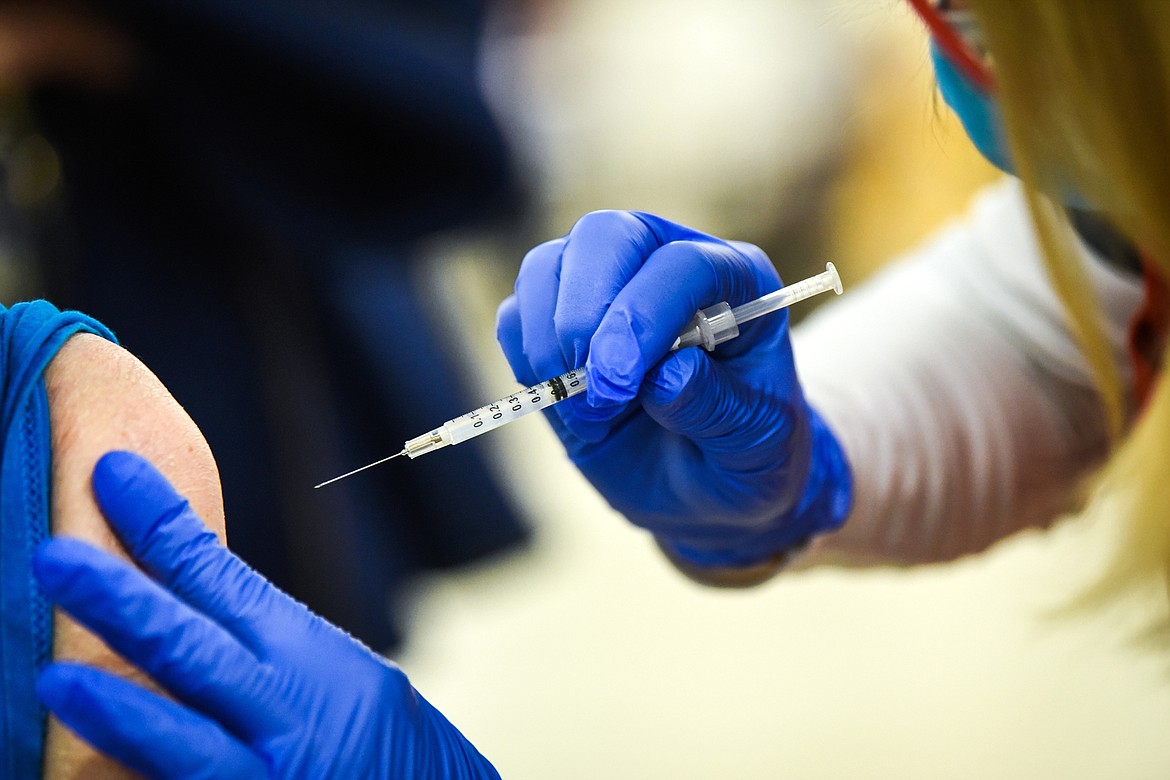 This Jan. 21, 2021, file photo shows a Covid-19 vaccine being administered during a clinic at the Flathead County Fairgrounds. (Casey Kreider/Daily Inter Lake)
by
CHAD SOKOL
Daily Inter Lake
|
May 16, 2021 12:00 AM
The coronavirus variants linked to deadly waves of infection in India and Brazil have been spotted in several Montana counties, but the message from Flathead County's health officer remains the same: Get vaccinated.
"I think right now the vaccines align pretty well with the variants," Health Officer Joe Russell said. "They may not be as effective, but they're going to still be more effective than other vaccines toward disease."
And now that the Pfizer-BioNTech vaccine has received federal approval for children ages 12 to 15, Russell said that age group can receive shots at the mass-vaccination clinic at the county fairgrounds in Kalispell starting next week.
Thousands of variants of the coronavirus that causes COVID-19 are circulating around the world. They arise as the virus develops mutations. Some of those mutations are inconsequential, and some even harm the virus. But others can make it more infectious and transmissible, more resistant to vaccines and antibodies, or more likely to cause serious illness or death. Those qualities make some variants more dominant than others.
The Montana Department of Public Health and Human Services reported one case of the India variant, known as B.1.617.2, as well as three cases of the variant from Brazil, known as P.1, in a document quietly posted on the agency's website on May 7. Those numbers were unchanged on Friday.
The India variant turned up in Lewis and Clark County, while the Brazil variant, which has been on the rise in many parts of the U.S., was detected in Big Horn, Gallatin and Meagher counties.
The World Health Organization has classified both strains as "variants of concern," though the U.S. Centers for Disease Control and Prevention still was still classifying the India strain as a "variant of interest" this week. Research indicates both are more transmissible than previous versions of the virus, though it's not yet clear whether either is more deadly or causes more severe symptoms.
AS OF Friday, state health officials had identified 216 cases involving variants of interest or variants of concern in 33 of Montana's 56 counties. Of those, 114 were the B.1.1.7 variant of concern from the United Kingdom, and 80 were variants of concern from California.
But those figures don't represent comprehensive counts of each variant in circulation, nor are they used in local contact tracing efforts. Russell said the state's genetic surveillance program relies on local health departments sending in samples collected while testing people for the disease.
"We're sending in like every fifth specimen to be typed," Russell said. "And it's really good information. But it's not patient-specific, and we're not using it to do the investigation."
ABOUT A quarter of Flathead County residents have been vaccinated against COVID-19, which is lower than the state's average of 33% and the national average of about 35%, Kaiser Health News reported this week.
As daily vaccination rates slow to a trickle in Flathead County and nationwide, Russell hopes about 40% of county residents will overcome hesitancy and choose to get the shots. Experts believe a rate of 70% to 80% is needed to achieve so-called "herd immunity" and prevent outbreaks in unvaccinated pockets of the community.
While he anticipates the vaccination effort will eventually migrate to local doctors' offices, Russell said there are still plenty of doses available at the clinic at the fairgrounds.
"Our delivery system at the clinic at the fairgrounds is so, so effective … and we have so many second doses that we're going to be open there for a while, and we still encourage people to come in," he said.
Reporter Chad Sokol can be reached at 758-4439 or csokol@dailyinterlake.com
Recent Headlines
---