Logan Health union nurses deliver strike notice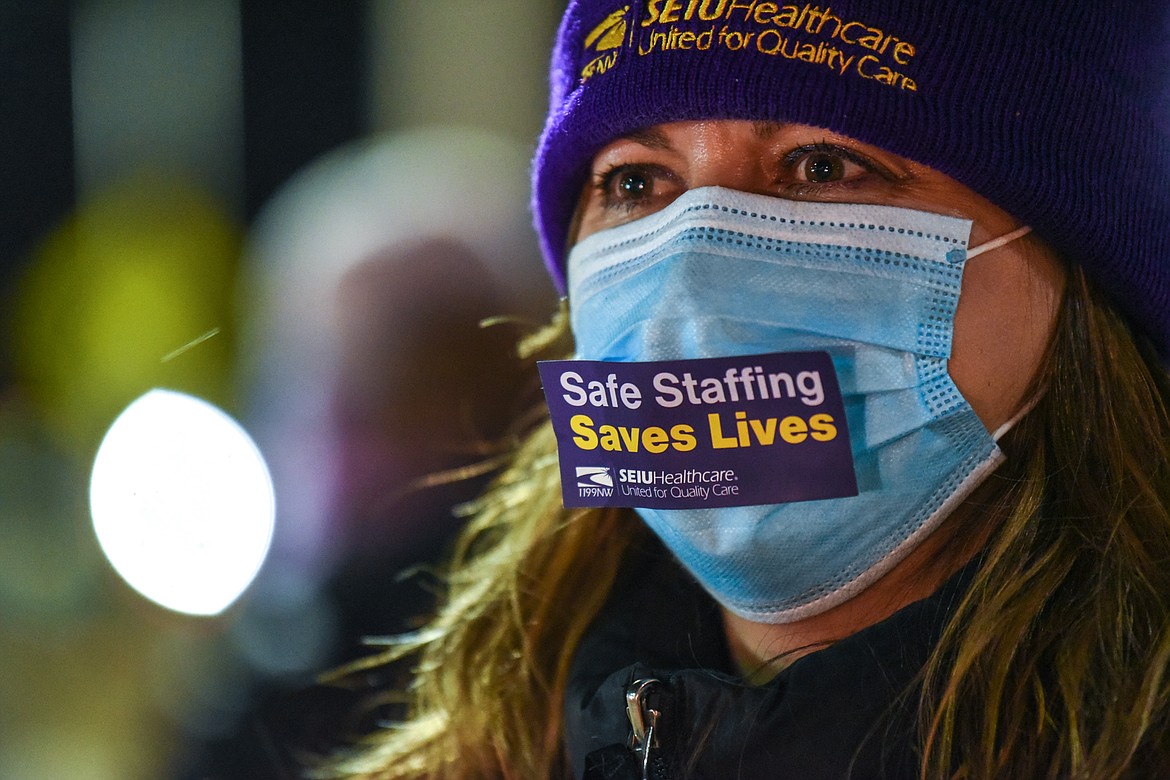 Julie Anderson, a registered nurse with Logan Health, wears a sign on her mask during a "Solidarity Drive" car caravan for a fair contract outside Kalispell Regional Medical Center on Friday, Dec. 11, 2020. (Casey Kreider/Daily Inter Lake)
by
Daily Inter Lake
|
May 21, 2021 4:00 PM
The union representing nurses at Kalispell Regional Healthcare, which rebranded this week as Logan Health, announced Friday they plan to strike from June 1 to June 3 "unless Logan Health bargains in good faith."
Nurses voted 372-199 in July 2019 to unionize as SEIU Healthcare 1199NW and have been negotiating for a union contract for the last year and a half. The union is calling for increased staffing, reinstating a charge nurse on every unit, a nurse staffing committee, and improvements to wages and benefits.
"A strike is the last thing we want to do, but Logan Health has been unwilling to listen to our voices," Donna Nelson, a registered nurse and member of the union's bargaining team, said in a statement. "We're here for our patients, and that means taking action to hold Logan Health administration accountable to patient needs and to bargaining in good faith."
Nurses previously voiced their intent to strike on Tuesday as they headed into a bargaining session but did not specify when the walkout would occur. In response, Logan Health management issued a statement seeking to assure patients they would not be abandoned.
"Should the SEIU force a strike, we are prepared to continue operations and have plenty of nurses who will step in to take care of those who need them," the hospital system said Tuesday.
In a news release Friday, the union blasted Logan Health for spending money on property acquisitions and rebranding instead of investing more in frontline medical workers.
"Our work caring for the Flathead Valley community is what makes Logan Health a great hospital," said Sue Sweigart, a registered nurse at The Health Center and member of the bargaining team. "But if our wages stay behind every other major Montana hospital, many of us will have to find different work in order to support our families. That hurts our patients."
The union also alleges the Logan Health administration has engaged in "union-busting activity" and refused to bargain in good faith.
"Nurses say they have experienced retaliation for union organizing, endured intimidation tactics and illegal limits on permitted speech, and that management has stalled at the bargaining table by refusing to respond to the nurses' proposals and information requests, among other tactics," the union said.
Meanwhile, Logan Health has accused SEIU of using its own pressure tactics against the health care system during negotiations, including undermining patient relationships, using legal pressure, making life difficult for management and costing the employer money.
Hospital officials also assert staffing ratios are above "industry norms" and that RN turnover at Logan Health is at 16%, lower than the national average of 18.7%.
"SEIU will focus on personal management attacks, outlandish claims and misinformation," Logan Health CEO Craig Lambrecht said in a March 28 letter. "We will be continually working to set the record straight. Our focus will remain on patients even while being constantly forced to clarify the SEIU spin on everything we say. Patients should never be a bargaining chip for SEIU."
Recent Headlines
---