Decision to strike not made lightly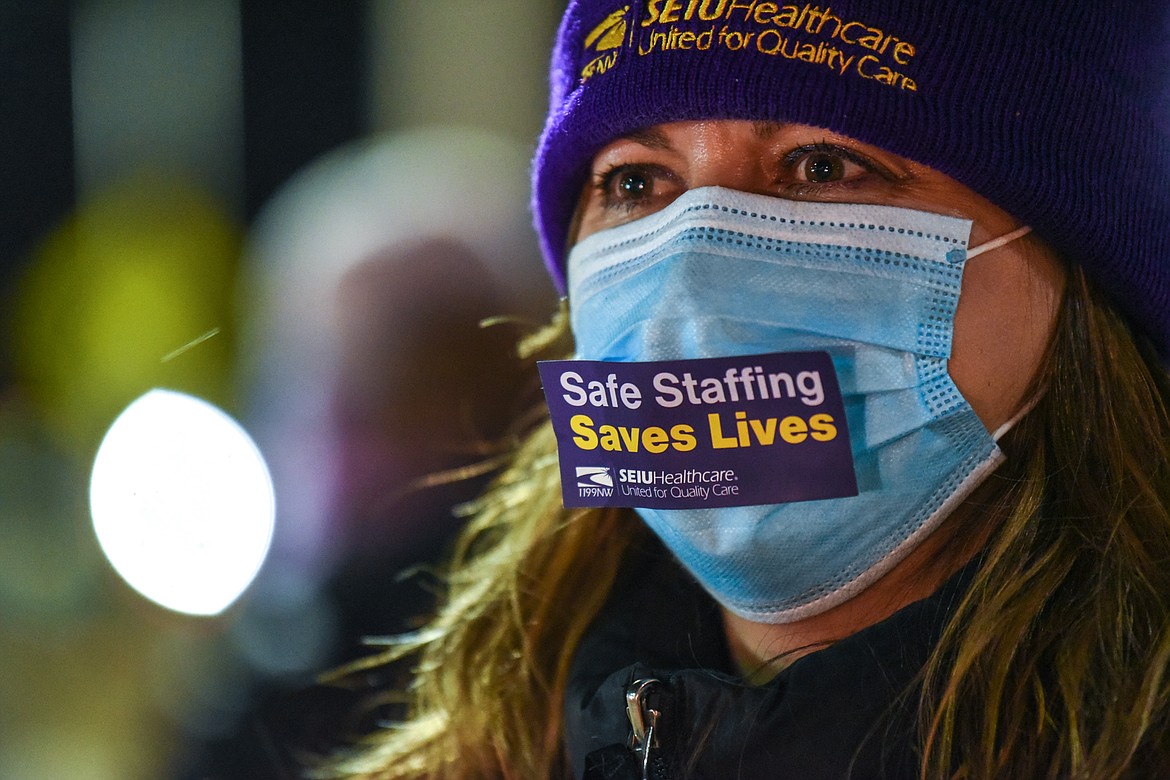 Julie Anderson, a registered nurse with Logan Health, wears a sign on her mask during a "Solidarity Drive" car caravan for a fair contract outside Kalispell Regional Medical Center on Friday, Dec. 11, 2020. (Casey Kreider/Daily Inter Lake)
by
Sarah Hartig
|
May 30, 2021 1:00 AM
To strike or not to strike, that is the question. Truly a moral decision for the dedicated nurse.
What do you want to be when you grow up? This is a question that nearly every person is asked throughout different stages of their life. For me, the answer was always a nurse. Granted, it would vary through different stages of my life. In young adulthood, I tried going a different direction, and found myself very unhappy.
There I was, 23 years old, registering for nursing school. This was it, this was the right thing to do for my life. I was registering myself for a lifestyle, not a trade or learning a skill set to make money. This was my virtue, and I would earn money to take care of myself and my family.
As a new nurse, I worked with experienced nurses, nurses that still remembered washing their own patients' linens and sharpening and sterilizing needles. This was a completely different world from how I was being taught as a nurse. These are nurses that I will never forget, still tell stories about, and even use the things they taught me to teach other new nurses. When the newly experienced nurses are the ones teaching, their knowledge base is not as broad.
This hospital I started my career in was also the place that I worked for three years after graduating nursing school. At the time, it was not the most highly rated or sought-after place for health care. It had even been through some rough patches before I was hired. During my time there, they were working hard to change their reputation.
Because of this, unions would come sniffing around. Some nurses would get excited and try to get others on board, but it would blow over. Not because the administration would send out emails telling everyone how bad a union would be, and not because the nurses had maximum benefits and top-of-the-scale pay. It would blow over because the administration could deliver basic needs, and because part of the change they made was to value their nurses. As a result, when administration couldn't deliver, the staff could trust that eventually, they would. So, nurses would strive through the hard times, because they knew as things flowed they would get the support back. So, no union was formed. The nurses knew that they were valued and they valued their employer. It was a team. When nurses form a union it is telling of the state of health care at a facility.
At Logan Health, formerly Kalispell Regional Healthcare, the nurses' union was formed 21 months ago. For 21 months, local nurses — not reps from SEIU — the nurses who work at the hospital and in the clinics, the nurses who are dedicated to their patients, the nurses who are nurses because it is their virtue, have been bargaining with administration for patient safety, better working conditions, and competitive wages that will bring in more experienced nurses. The nurses that take care of so many people in this community have been (and are currently) bargaining for better quality of care. After 21 months, a contract has yet to be signed.

The important thing to remember is that even though the nurses have been trying to bargain for these basic needs for the last 21 months, they have been making these requests for years and it has fallen on deaf ears. Since the nurses have formed a union, the administration has made wage and benefit changes for all non-union employees. These employees received a cost of living wage in 2020, and have been promised to receive one later in 2021. These are raises that are long overdue, as the nurses are not the only employees dealing with administrative issues. I am very thankful these changes have happened for my coworkers. It definitely feels like if the nurses hadn't stood up, these changes never would have happened for anyone. I've been working in the valley for 13 years and I've been hearing the same complaints from all employees of the hospital system ever since.
The lack of a contract after so long means it comes to a vote to strike. How can I strike and not be there for my patients — patients that I've been taking care of for almost 12 years. Patients that know me, and patients that I know? How can I strike when my coworkers, who have been working a skeleton crew for as long as I've known, count on me to do my job? We run like a well-oiled machine. We have been supplying our own oil, spare parts, and repairs for a long time. We are tired, and asking the user of that machine to do their part in keeping it running.
No one wants to strike. There is not a dedicated nurse that has a bone in their body that can tell a patient, "No, I don't want to help you at all." It just doesn't happen.
The decision to strike was not made because the nurses are selfish. It was a decision made with a heavy heart. All of the nurses in the valley need better working conditions, so they can give the best possible care to the people of this valley. The hospital is denying us the tools to give patients the care they deserve.
Sarah Hartig is a registered nurse at Logan Health. She lives in Bigfork.
---