Mamie Lillian Chabot Nelson Rogers, 101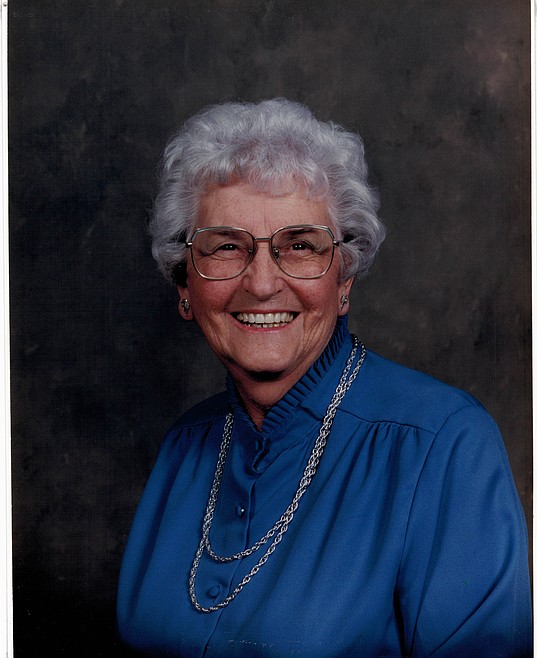 Mamie passed away May 25, 2021, at the age of 101, at her home in Rollins. Mamie was born in Fort Benton on June 4, 1919, to Louis Chabot and Mary Jane "Minnie" Goodrich. She was named by her 3-year-old brother Louie, after her deceased sister Mamie Fern. Upon seeing her, Louie exclaimed, "Mamie came back!" The family moved to Kalispell and Mamie graduated from Flathead County High School in 1937.
She married Glenn C. Nelson in 1938. They went to California during the war to work in the shipyards. Mamie worked on the refrigeration ships, while Glenn served overseas in the navy. After the war, they returned to Montana and settled in Rollins, where she spent the rest of her life. They had two sons, Loren born in 1945 and Marvin born in 1948. Glenn died in 1961, and she married Charles Rogers in 1966. Charles died in 2005.
Mamie was very active in the Rollins community, belonging to many clubs and organizations. She owned the Rollins Store and Post Office for many years and retired after spending 20 years as the Rollins postmistress. She was a member of the Fraternal Order of Eagles Auxiliary no. 234 for 76 years.
Mamie liked to stay busy. Her favorite project was making dolls to donate to charity. She felt that every girl should have a doll to love. She also enjoyed riding horses, bowling, traveling in her RV, tending her orchard and garden, and spending time with her family and friends. In her quieter moments, she enjoyed crossword puzzles, reading, quilting and cribbage.

Mamie was preceded in death by her parents, sisters L.C. Catherine and Mamie Fern, brothers Victor and Louis, first husband Glenn, son Marvin, grandson Christopher, second husband Charles, and stepsons James and Patrick Rogers.
She is survived by her son Loren, granddaughters Jennifer J. Nelson and husband Gabe Anderson, and Christine L. Sinks and husband Michael Sinks. Mamie loved her five great-grandchildren, Kylie, Kaden, Claire, Adam and Thomas, and stepgrandchildren Uri, Tye and Adi.
In lieu of flowers, please donate to your favorite charity.

Funeral services will be held at 1 p.m. on June 4 at Buffalo Hill Funeral Home, with burial to follow at C.E. Conrad Memorial Cemetery.
Friends are encouraged to visit website www. buffalohillfh. com to leave notes of condolence for the family. Buffalo Hill Funeral Home and Crematory is caring for the family.
Recent Headlines
---