Time to invest in sidewalks for Evergreen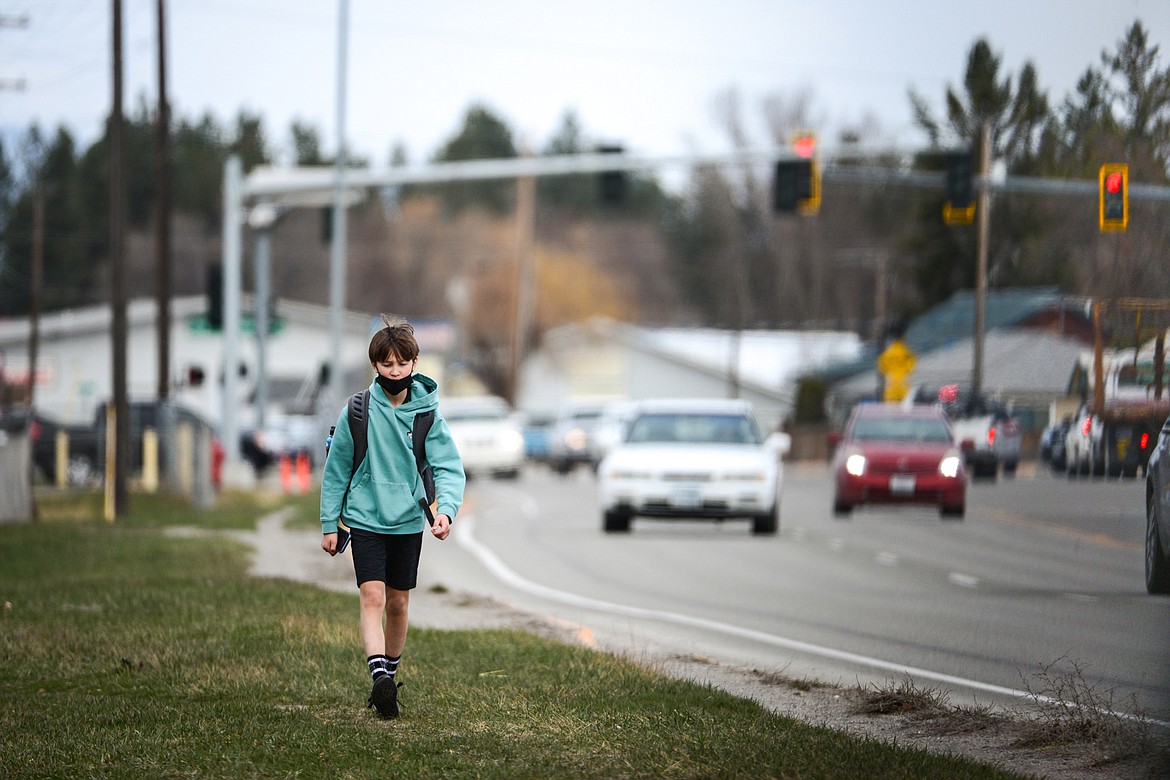 A student walks along U.S. 2 outside Evergreen Junior High School in this April 7, 2021, file photo. (Casey Kreider/Daily Inter Lake)
by
Daily Inter Lake
|
May 30, 2021 12:00 AM
The years-long community push to create paved pedestrian paths along the U.S. 2 corridor through Evergreen is often described as a "chicken and egg" situation. The question always being, who will make the first move to put this much-needed Safe Routes to Schools project in motion?
Neither the state nor Flathead County has stepped up to build the sidewalks that are needed to keep young students from having to walk to school along the narrow and muddy shoulder of a four-lane highway. The dangerous scenario is a tragedy waiting to happen, and the Evergreen community is pleading for assistance on this critical infrastructure project.
Thankfully, Flathead County commissioners finally took the first step last week, albeit at the 11th hour.
After expressing initial reservations about such a project, the commissioners unanimously agreed to submit a grant application to the Montana Department of Transportation to fund construction of sidewalks. But here's the rub. The deadline to apply for the grant is June 4 — the clock is ticking down quickly.
And in order to strengthen the grant application, the county would need to initiate a process to establish a rural service improvement district to provide local matching funds through taxes levied on property owners along the highway.
County Administrator Mike Pence said the formation of the service district and the county's ability to accept a state grant are contingent on one another. He said his office would push to get its assessment done, and we're hopeful they can meet the deadline.
Of course, even if the application is submitted on time there is no guarantee the funding will come through. And if the county's application doesn't make the cut, that can't be the end of the conversation.
The Evergreen Chamber of Commerce, the Rotary Club of Evergreen, and Evergreen Community Partners all have skin in the game, having helped raise the funds to hire an engineering firm to draft a plan and come up with cost estimates. Backers are also willing to help raise private funds for sidewalk maintenance.
It's high time Flathead County's elected officials get in the game as well, and commit to making this project a priority — not just for the betterment of Evergreen but for the safety of the entire community.
There's too much at stake to ignore it any longer.
---