Election results: Johnson re-elected Kalispell mayor; Whitefish renews resort tax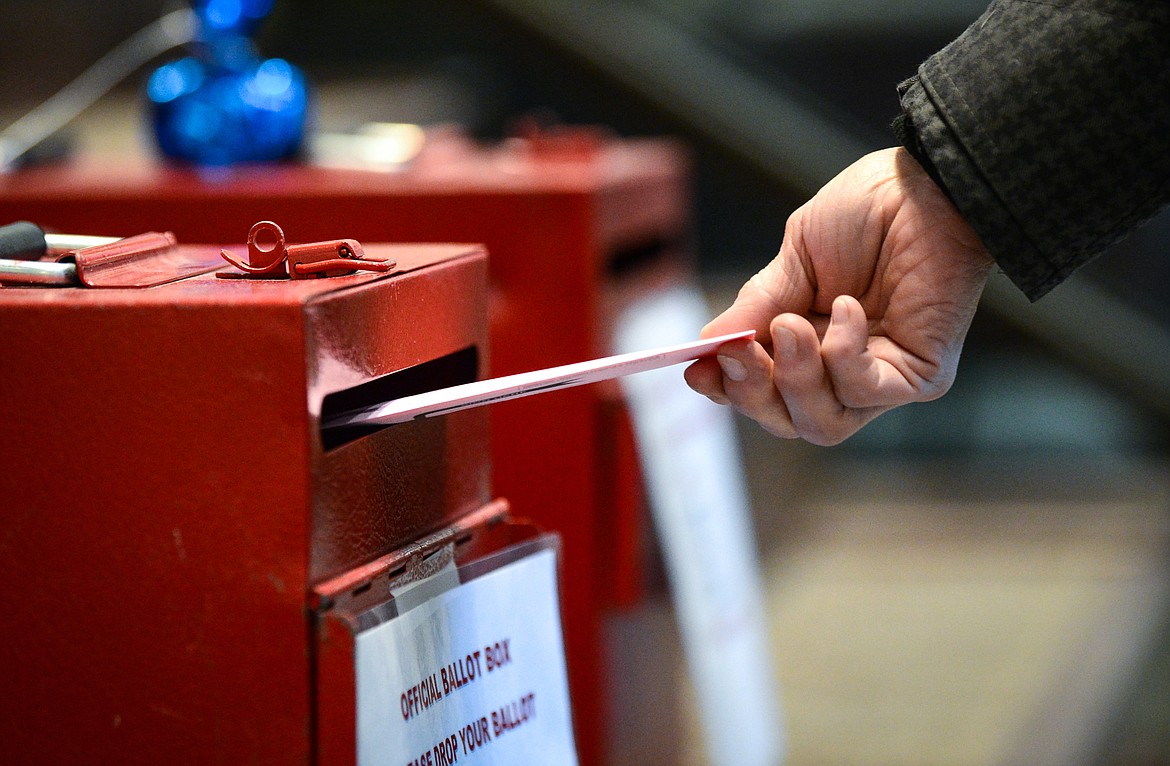 A voter casts their ballot at the Flathead County Election Department. (Casey Kreider/Daily Inter Lake FILE)
by
Daily Inter Lake
|
November 2, 2021 11:00 PM
Mark Johnson easily secured a third term as Kalispell mayor with a decisive victory Tuesday.
With all precincts reporting, Johnson topped challenger Sid Daoud 3,036 to 1,158, according to unofficial results from the Flathead County Election Department.
"I am humbled and honored by the outpouring of support I received on Election Day," Johnson said Wednesday. "The past eight years have been truly transformational for Kalispell and we still face many challenges, new and old, that need addressing.
"I look forward to working with the council and the citizens of Kalispell as we transform challenges to opportunities for our great community. I am honored to represent you and privileged to have your confidence," Johnson said.
The Kalispell City Council elections saw a very tight race in Ward 3 with Jessica Dahlman holding a slight 451-443 lead over Rod Kuntz.
Incumbent Chad Graham secured another term in Ward 2, defeating Gabe Dillon, and Jed Fisher was elected in Ward 4 over Angela Kennedy. Sandra Carlson was unopposed in Ward 1.
In Whitefish's mail-in election, incumbents Ben Davis and Andy Feury were easily re-elected to the City Council.
Giuseppe Caltabiano edged out Kristen Riter by 20 votes for the third open council seat. Caltabiano and Riter had shown support for each other during their campaigns, and appeared together on election mailers.
Whitefish residents overwhelmingly supported renewal of the city's 3% resort tax for another 20 years.
The tax has generated $46 million since the it began in 1996. The vote shifts the tax allocation for streets, storm sewers and sidewalks from 65% to 58%, and increases funding for bike paths and parks to 10%. The measure also sets aside 2% of total collections for the maintenance of the Whitefish Trail.
In Columbia Falls, incumbent Columbia Falls Mayor Don Barnhart easily won re-election over two write-in candidates. Barnhart received 660 votes. There were 47 write-in votes total. John Rallis and Chris Sellman ran as write-ins.
Election results posted online did not break out the write-in votes.
Columbia Falls City Council incumbents Jenny Lovering, Michael Shepard and Paula Robinson all ran unopposed. They received 564, 562, and 556 votes respectively.
Flathead County Election Department results report
Election Day Precincts Reporting 6 of 6
Precincts Complete 6 of 6
Precincts Partially Reported 0 of 6
Absentee/Early Precincts Reporting 6 of 6
Registered Voters - Total 26,470
Ballots Cast - Total 7,660
Voter Turnout - Total 28.94%
Kalispell Mayor
Mark Johnson — 3,036
Sid Daoud — 1,158
Write-in — 39
Kalispell City Council Ward 1
Sandra L. Carlson — 939
Write-in — 30
Kalispell City Council Ward 2
Chad Graham — 870
Gabe Dillon — 545
Write-in — 4
Kalispell City Council Ward 3
Jessica Dahlman — 451
Rod Kuntz — 443
Write-in — 2
Kalispell City Council Ward 4
Jed Fisher — 449
Angela Kennedy — 324
Write-in — 1
Municipal Judge
Lori A. Adams — 3,511
Write-in — 88
Columbia Falls Mayor
Donald D. Barnhart — 660
Write-in — 47
Columbia Falls City Council (Vote for 3)
Jennifer J. Lovering — 564
Michael F. Shepard — 562
Paula Robinson — 556
Write-in — 58
Whitefish City Council (Vote for 3)
Ben Davis — 1,644
Andy Feury — 1,585
Giuseppe (G-Man) Caltabiano — 970
Kristen Riter — 950
Phil Boland — 858
Vincent Dell'omo — 348
Terry K. Petersen — 259
Judy Hessenland — 244
Mark E. Owens — 96
Write-in — 32
Total votes cast — 6,986
Whitefish Municipal Judge
William Hileman, Jr. — 1,491
Write-in — 69
Renew 3% Whitefish resort tax
For — 2,204
Against — 263
---