Halt Cancer initiative awards grants to local nonprofits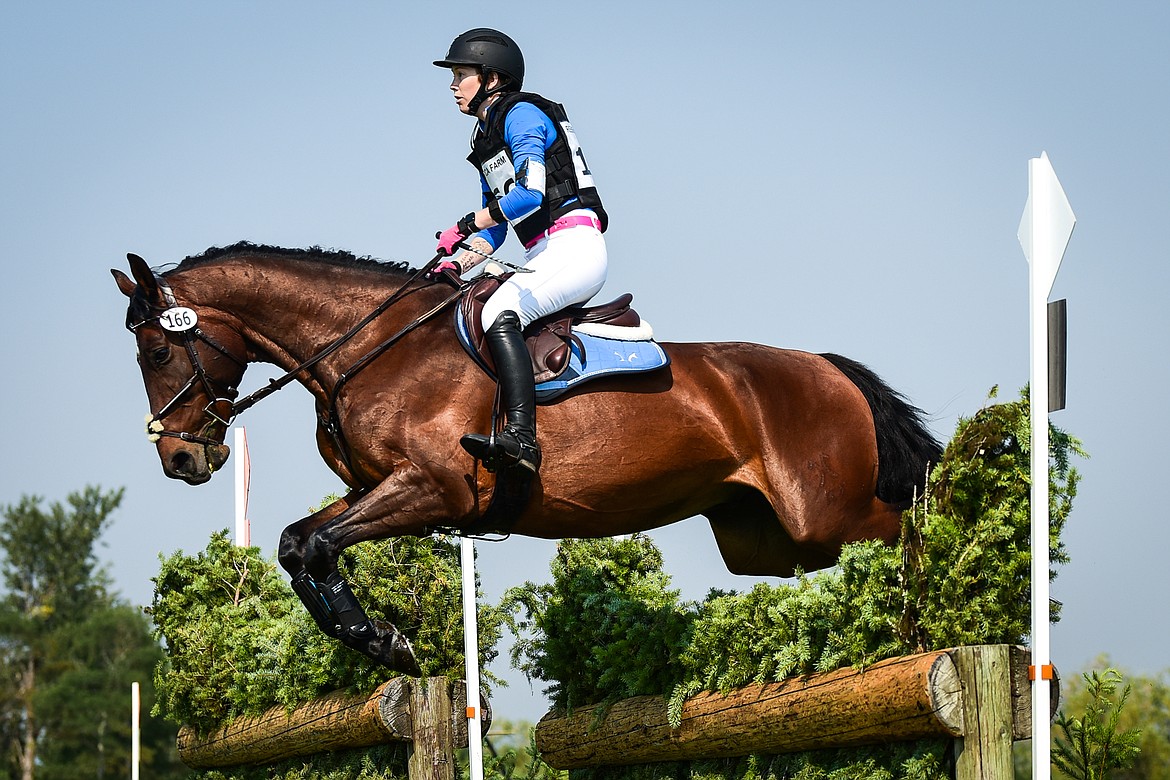 Rose Lemke and Watch Maker C clear a jump in the Training Three-Day cross-country course at The Event at Rebecca Farm on July 23, 2021. Money raised during The Event through parking donations, silent auction proceeds and donations from competitors and individuals goes to Halt Cancer at X, a charitable initiative of Montana Equestrian Events. (Casey Kreider/Daily Inter Lake file)
|
November 5, 2021 12:00 AM
Halt Cancer at X, a charitable initiative of Montana Equestrian Events, continued its mission to better the lives of cancer patients and survivors by recently awarding more than $58,000 in community grants to local nonprofits. This year's grantees include Casting for Recovery, Save a Sister, Flathead Cancer Aid, Wings, Cancer Support and Survivorship - Logan Health, Cancer Support Community Montana and Chicks N' Chaps.
The funds were distributed at a small reception hosted at the Rebecca Chaney Broussard Center for Nursing and Health Science at Flathead Valley Community College. Halt Cancer at X founder Sarah Broussard and committee chairwoman Dr. Melissa Kaptanian awarded the gifts, which were raised during The Event at Rebecca Farm through parking donations, silent auction proceeds and donations from competitors and individuals. Through Halt Cancer at X, Montana Equestrian Events has granted more than $355,000 to local cancer support organizations and another $420,000 to national breast cancer research initiatives.
"The money had really dried up," said Lori Alsbury from Wings, referring to the past year of giving due to the inability to have events. Wings received the largest gift this year of $12,000, which will immediately go to work in Flathead and Lincoln counties helping to offset travel expenses and other underlying expenses for cancer patients, which "can often be a reason to forgo treatment," Alsbury said.
For the last two years Save a Sister has used its grant money toward the cost of nipple restoration for breast cancer survivors. Using the latest in 3-D tattoo technology, Seattle artist Eric Eye has been flown in to provide the procedures in conjunction with Glacier View Plastic Surgery.
"He is just so particular," Save a Sister volunteer Muffie Thompson said. "The final results left survivors in tears of joy. Being a breast cancer survivor myself, this is just the best experience to witness"
Save A Sister has also provided more than 1,000 free mammograms to local women to support early detection of breast cancer.
The $10,000 granted to Flathead Cancer Aid will help with daily living expenses for current patients, including those in stage 4 metastatic breast cancer, for which there is no cure and a severely limited quality of life. Sandy Shaw, representing the organization, stated that it was especially important this year as FCA was behind on its fundraising due a death on their board and inability to participate in the Whitefish Community Foundation program.
Cancer Support and Survivorship at Logan Health will use its $10,000 grant to continue programs that provide a full range of support services for youth and adults affected by cancer, including image renewal, retreats, art classes and active outings for those affected by cancer.
The Western Montana chapter of Casting for Recovery will put its $5,000 award to use hosting its annual fly fishing retreat for local breast cancer survivors.
Chicks N' Chaps' $11,200 grant will support seven breast cancer patients by handling extra expenses not covered by insurance.
Cancer Support Community of Montana rounds out the seven organizations receiving grants, and will put its $2,500 award toward hosting the 2022 Mending in the Mountains Retreat for women impacted by cancer.
"I can't believe how far Halt Cancer has come. To be able to support so many local programs each year and really make a difference means so much to me," Broussard said. "We are definitely more than just horses. We really care about this community."
For more information, visit www.rebeccafarm.org/halt-cancer/.
Recent Headlines
---