Kalispell Education Foundation funds 'Great Ideas'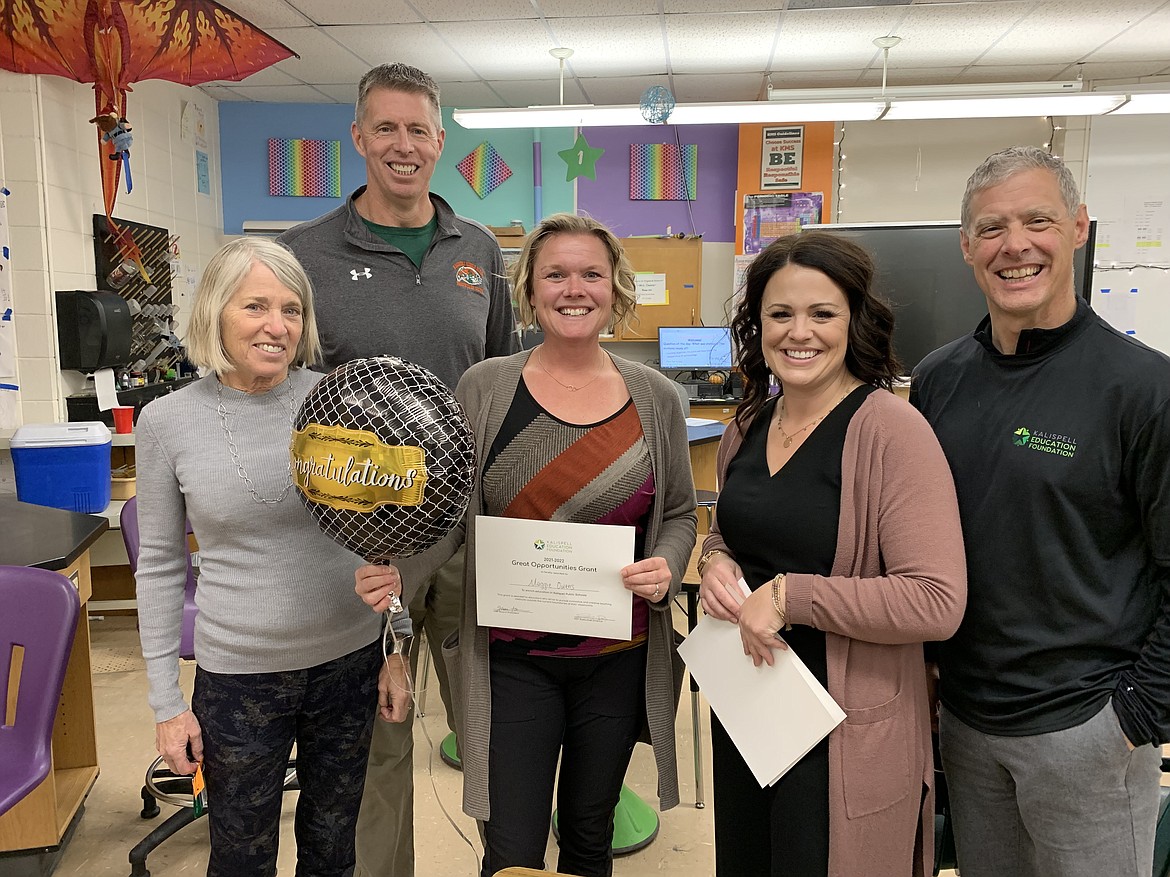 The Kalispell Education Foundation (KEA) awards Kalispell Middle School science teacher Maggie Owens with a Great Ideas grant for the purchase of science, technology, engineering and math materials to teach electricity and magnetism. The grant was one of 19 awarded to Kalispell Public Schools staff. Pictured left to right, KEA board member Carol Santa, Kalispell Middle School principal Tryg Johnson, Owens, KEA board president Jessica Hanson and board treasurer Jevon Clark.
by
HILARY MATHESON
Daily Inter Lake
|
November 17, 2021 12:00 AM
The Kalispell Education Foundation awarded $26,687 in Great Ideas grants to help teachers and counselors fund projects and equipment to enrich the classroom experience in Kalispell Public Schools.
Thanks to the community support the foundation received this year, 19 out of 24 grant requests were funded, according to Kalispell Education Foundation Executive Director Dorothy Drury.
Several projects this year focused on student mental health, wellbeing and collaboration in addition to academics.
Rankin Elementary Principal Merissa Murray was awarded a $1,989 grant for classroom "calm down kits" to help students identify emotions such as anxiety and healthy social-emotional responses to self-regulate. A $1,300 grant went to Kalispell Public Schools Special Education Director Sara Cole's project proposal "Yoga for teachers and teens." The grant will fund a yoga class with the intention of helping potentially overwhelmed staff and students slow down, pay attention to their bodies and emotions through guided movements and breath with a focus on mindfulness practices.
At Peterson Elementary, counselor Allyson Jones received $1,443 in funding to purchase updated technology to increase student access to a counseling program where she teaches weekly interactive lessons and tools related to social-emotional learning and academic readiness.
"In today's world with broken families, difficult economic times, and Covid-19, mental-health issues are rapidly increasing, and by providing a more intensive program we hope to reach every student through weekly counseling skills classes," Jones stated about the project need in her grant application. "In our community alone, we have suffered great losses of students and adults to suicide. These whole class lessons will provide skills and tools for students to put away in their toolbox and access when they find it necessary. Skills may include emotional regulation, how to make friends, problem-solving, and career development."
Each year, staff are invited to apply for up to $2,000 in funding.
"Our teachers go above and beyond to make school fun, safe, interactive and transformative for their students. It is an honor to support them in their role of helping their students learn," Drury said.
Following is a list of grant applicants, projects and amount of funding received.
Edgerton Elementary
Amber Carpenter, "Math Masters," $650
Heather Key, "Life Skills Classroom Library," $652
Elrod Elementary
Heather Anderson, Chelsea Kammerzell and Nicole Fahnlander, "Making Kindergarten Masterpieces," $1,410
Ryan Streiff, "Whiteboard Madness," $2,000
Flathead High School
Megan Koppes, "Graphic novels are good for novice readers," $1,811
Helen Lyford, "Life Skills Wish List," $1,826
Stephanie McLean, "Adaptive ALEKS," $1,035
Linzi Napier, "Backyard Brains to Biomed Brains," $1,630
Glacier High School
Josh Munro, "Glacier Yearbook cameras," $2,000
Hedges Elementary
Melania Ames, "Game On!" $1,089
Dani Burtsfield, "Supporting our Youngest Readers — Decodable Books," $1,133
Kalispell Middle School
Annie Gustafson and Ashley Anderson, "Biomimicry Youth Design Challenge," $1,928
Maggie Owens, "Electricity Discovery," $701
Kristi Sanders, "Book Club for Beginners," $1,366
Linderman Education Center
Mary McRae, "Counseling with a Caring and Casual Vibe," $873
Peterson Elementary
Allyson Jones, "Counseling with Technology," $1,484
Rankin Elementary
Merisa Murray, "Classroom Calm Down Kits," $1,989
Kelli Thomas, Marla Nelson, Kari Elliot, Tonya Nickerson, "STEM in Action," $1,810
School District
Sara Cole, "Yoga for teachers and teens," $1,300
Reporter Hilary Matheson may be reached at 406-785-4431 or by email at hmatheson@dailyinterlake.com.
Recent Headlines
---