Cats, Griz ready to brawl in 120th meeting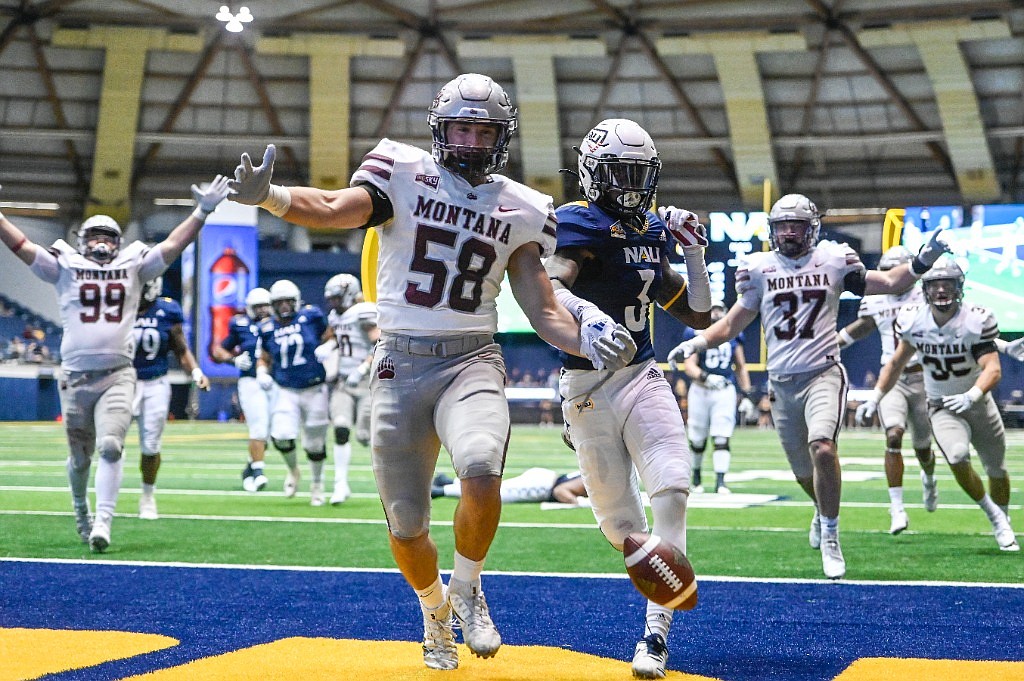 Grizzlies linebacker Patrick O'Connell (58) runs a recovered fumble in for a touchdown during the Montana Grizzlies 30-3 win over the Northern Arizona Lumberjacks in Flagstaff, Arizona on November 13, 2021. (Tommy Martino/UM Athletics)
by
FRITZ NEIGHBOR
Daily Inter Lake
|
November 19, 2021 10:44 PM
The betting line has moved, the Montana State Bobcats are on a streak and the Montana Grizzlies are still beat up.
These and other factors lend drama, as if that's necessary, to the 120th Cat-Griz game set for today at noon, in Washington-Grizzly Stadium.
The 10-1 Cats are ranked No. 3 in the Football Championship Division, the 9-2 Griz are No. 7; both seem assured of a postseason berth. But still, there's so much to play for.
"There's a lot that I've watched over the years," Montana right tackle Dylan Cook said of the annual intrastate rivalry, one of the longest in college football. "I know the two that stick in my mind the most, and they're the most recent ones. And we're trying to right that ship."
Cook's presence at UM's Monay press conference was interesting in that the 6-foot-6, 305-pound MSU-Northern transfer hasn't played for two weeks. Will he play? Is he why the Bobcats, who were favored by 3 points on the road earlier this week, are now underdogs? Or is it the questionable status of MSU running backs Isaiah Ifanse and Elijah Elliott?
Ifanse, quite possibly the Big Sky Conference offense MVP, took a pretty good helmet-to-helmet hit in MSU's 20-13 win over Idaho last week. He didn't play in the second half, and neither did Elliott.
"The day-to-day aspect is how I'd classify (them)," first-year MSU coach Brent Vigen said earlier this week. "I hope we can work through those. Playing running back, that's par for the deal and I think they're both on the mend."
That would help the Bobcats, who own a four-game winning streak in this series and since 2002 — the year MSU snapped Montana's 16-game run — are 9-9 against the Grizzlies.
If they didn't play, though, the Griz would hardly be out of the woods. Example: Bobcat wunderkind Troy Andersen, then a running back/linebacker, didn't play in 2019 and MSU still rolled 48-14.
Montana, meanwhile, would love to have Marcus Knight, who tore his ACL in the spring, at running back; just about every back who's played this fall has missed time, including leading rusher Junior Bergen, a true freshman.
Despite this and injuries at defensive tackle, quarterback (Cam Humphrey has made a remarkable return from ankle surgery), receiver, offensive line and in the secondary, the Griz are right there.
"I don't think there's any one thing, because we've been so banged up," Grizzlies' coach Bobby Hauck said. "I think it's just the competitiveness of our group, and finding ways to get things done. The competitive piece is probably what's carried us."
The Bobcats, like many Big Sky teams, employ two quarterbacks. Matthew McKay starts and throws some, often to Lance McCutcheon; Butte product Tommy Mellott is decidedly run-first and had all three of MSU's touchdowns against Idaho.
In their 28-21 home loss to Sacramento State in October, the Griz had trouble with the Hornets' tandem QBs as well as a split-back formation.
"Some teams have run some split back stuff against us, not real true I-formation, but more West Coast-y type stuff," Hauck said this week. "Some of it has been effective. I mean, to date this year nobody has been all that effective running the ball against us."
Nobody was effective running against the Grizzlies' 3-3-5 defense in 2019, either, up until the Cats rolled up 382 yards. Ifanse had 173 of those; Glacier High project Logan Jones had another 121.
So, MSU remains a run-first team with a strong offensive line. The Cats will see if they still have the winning formula, having already beaten Big Sky powers Weber State and Eastern Washington on the road.
This game comes after a pandemic pause: Neither team played football last fall because of Covid-19.
"This one's got a few more layers to it, for sure," Vigen said. "I know offensively they've been through a lot of personnel, but it seems like they're getting healthier at (running back). "Defensively, they do it differently. ... It's going to be great competition."
Montana officials opened extra bleacher seats at Washington-Grizzly Stadium, so another record crowd could be in store.
"There's really nothing like it," Cook said. "I still don't think I"ve seen Washington-Grizzly filled to its full, max capacity. I think that's what it's going to be at Saturday, it's going to be loud and rowdy and we plan on putting on a show."
---