Florence downs Bigfork 42-0 for State B title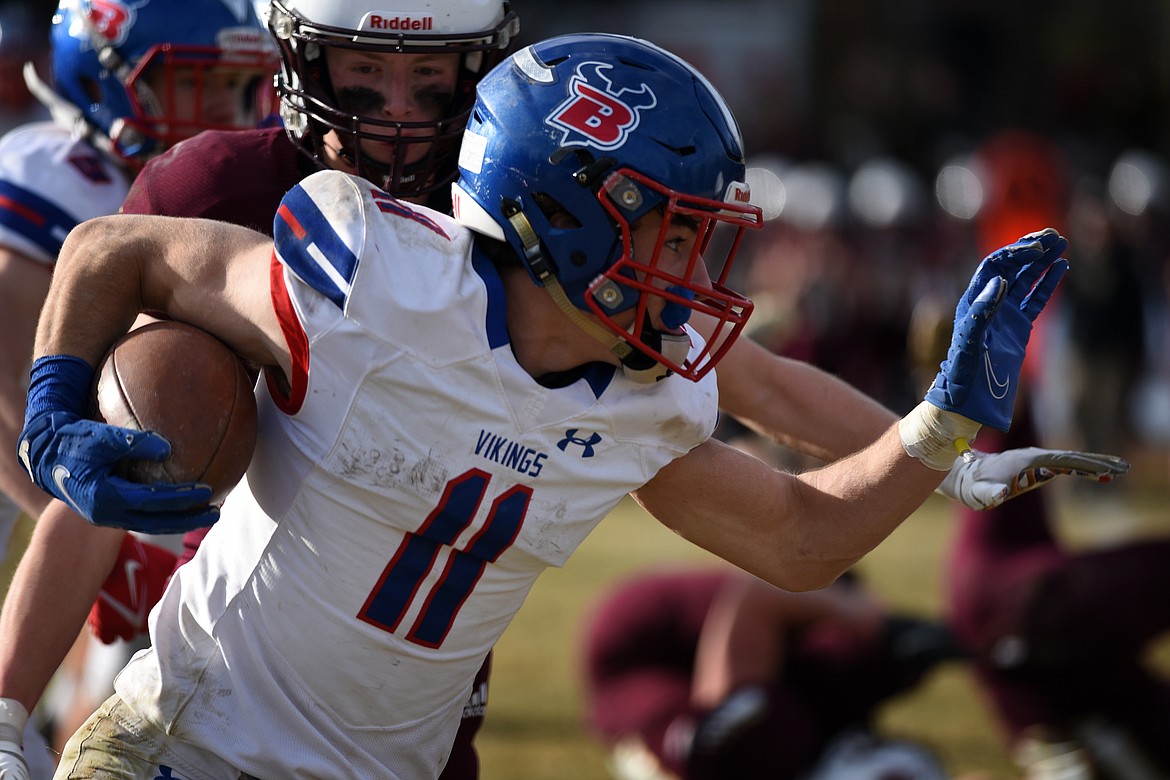 Bigfork's George Bucklin looks to hold off the Florence defense during a third-quarter run in the Class B football state title game Saturday, Nov. 20. (Jeremy Weber/Daily Inter Lake)
by
Daily Inter Lake
|
November 20, 2021 10:54 PM
FLORENCE — The Florence Falcons were as advertised.
Patrick Duchien threw for 271 yards and three touchdowns, ran for another score and won the State B football championship Saturday with a 42-0 win over conference foe Bigfork.
The all-Western B final was a rematch of a game Florence (12-0) won 62-26 during the regular season. The Falcons won their first football title since an 8-man championship won in 1977.
Bigfork, on the road for a fourth straight playoff game, ended up 9-3.
"They deserve a ton of credit," Bigfork coach Jim Benn said. "They've built a solid program in a short period of time. They have great athletes, and they're doing things the right way."
Blake Shoupe caught two TD passes, covering 19 and 10 yards, Luke Maki hauled in a 23-yard scoring pass and had a 6-yard touchdown run, both in the second quarter.
"We had a nice opening drive," Benn noted. "It was fairly tight in the first quarter. They're just so opportunistic and can score so quickly in so many ways. That's as complete a Class B team as you will ever see."
Tristan Pyette had 21 carries for 148 yards and scored Florence's final two touchdowns. The Falcons owned a 451-177 yardage advantage.
Patrick Wallen was 7-for-15 passing for 27 yards for Bigfork. He was intercepted twice. George Bucklin ran 11 times for 70 yards for the Vikings, and teammate Wyatt Herd picked up 44 yards on 11 carries. Wallen rushed for 32 yards.
Jackson Abney (6.5 tackles), Jordan Betts (6) and Levi Taylor (5.5) led Bigfork's defense.
"Our senior class deserves a ton of credit," said Benn, whose club was in the championship for the first time since Bigfork's 2010 B title. "They have been the heart and soul of this team. They did stuff the right way, and they benefited. They got themselves into position to play this game. They played as hard as they could."
Bigfork 0 0 0 0 - 0
Florence 0 21 27 0 - 48
F — Blake Shoupe 19 pass from Patrick Duchien (Duchien kick), 9:53-2Q
F — Luke Maki 6 run (Duchien kick), 5:16-2Q
F — Maki 23 pass from Duchien (Duchien kick), 2:02-2Q
F — Duchien 11 run (Duchien kick), 9:46-3Q
F — Shoupe 10 pass from Duchien (Duchien kick), 6:37-3Q
F — Tristan Pyette 15 run (kick failed), 2:10-3Q
F — Pyette 15 run (Duchien kick), :32-3Q
---