Sacred Eats shares unique food flare with Sacred Waters Brewing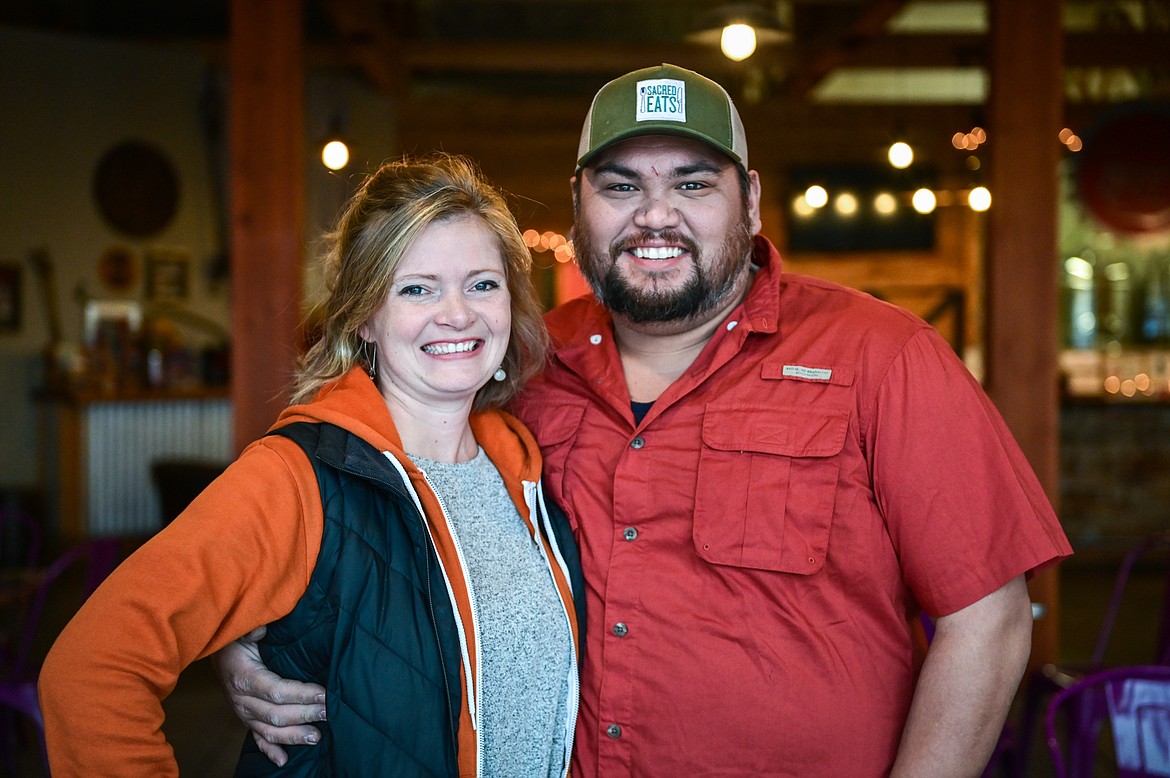 Kallai and Chris Boyce of Sacred Eats at Sacred Waters Brewing Company on Friday, Nov. 12. (Casey Kreider/Daily Inter Lake)
by
CAROL MARINO
Daily Inter Lake
|
November 22, 2021 12:00 AM
On a sunny afternoon in November, almost half the clientele in Sacred Waters Brewing Company were kids — laughing, playing, some choosing to just sit happily on the floor.
The popular taphouse and its accompanying eatery, Sacred Eats, is unquestionably a family-friendly establishment. The brewery at 3250 U.S. 2 E., which celebrated its third anniversary Nov. 20, has been a popular gathering spot ever since it first opened.
When the independent, on-site restaurant, Fork in the River, announced in mid-June it would be closing three weeks later, Sacred Waters Brewing Co. owners Jordan Van Eimeren and Kirk Gentry, not wanting to lose the restaurant, immediately bought all the equipment in hopes of quickly finding someone to take it over.
At the time, Kallai Boyce had been working at the restaurant for about a year.
She and her husband Chris Boyce had often talked about opening a food truck one day; then the opportunity surfaced to buy the restaurant. Sacred Waters' owners had wanted it to open as soon as possible and gave them 24 hours to think about it because others had already shown interest.
"We said we've always wanted to do this. What are we waiting for?" Chris said.
"We took a leap of faith," Kallai added.
Amazingly, within two weeks — on the Fourth of July — the Boyces were able to reopen the restaurant, which they renamed Sacred Eats, to reflect it was now operating under the Sacred Waters umbrella.
The Boyces first met at Flathead High School in 2007 and have been together the last eight years. When they met up again in 2013, they discovered their shared creativity with food and their mutual dream to open a food truck.
Kallai had been working in the valley in the restaurant industry for 15 years and had graduated from Flathead Valley Community College's two-year culinary arts program.
Chris was a commercial driver for Anderson Masonry at the time, but also had extensive experience as a landscaping foreman and had attended some college classes to become a teacher. Growing up, his grandparents had a butcher shop in Ronan. An avid hunter, he'd taught himself how to cook with wild game. His Hawaiian heritage also influenced his interest in food.
IT WAS a mad scramble, however, to get their new restaurant open on such short notice.
"We found out all we had was a kitchen. We didn't have a menu. We didn't have vendors. We didn't have staff." Chris said. "We were pulling out of our own pocket just to get it going."
Kallai added, "We had to get a pre-health inspection. We had to create recipes. We had to train staff in two weeks."
Fortunately, some of the Fork in the River staff wanted to stay on.
The Boyces wrote up a menu based on the history of what they liked to eat, kept a few recipes from Fork in the River, and created some new ones of their own.
They thought their opening day would be a soft opening since they hadn't advertised it.
"We had a line out the door by 12 o'clock," Chris said.
And business hasn't slowed down much since. To say summer was busy is a big understatement.
"But everyone had a great attitude," Kallai said. "We've been so fortunate to have such a great staff."
Their two boys, ages 11 and 12, also jumped on board and were more than willing to help out.
"When you're doing what you love doing and you can be creative, you can have fun with it," Chris said, adding, "I mean, we're exhausted, but we enjoy it!"
Their most popular sandwiches are the Philly Fever and Horsy French Dip, a sandwich they created while on a camping trip to Silverwood with their sons.
"We'd said [at the time] 'This would be so good if we ever have a restaurant,'" Kallai said.
They like to rotate their menu every three months.
"What's really special about Sacred Eats is everything's made from scratch," Kallai said. "What makes everything really great are the sauces."
"We're trying to create food that has some kind of culture connected to it." Chris added.
The chicken marinade for their Huli Huli bowl recipe came from Chris' uncle, who lives on the Hawaiian island of Kauai.
In addition to themselves, Sacred Eats has seven employees.
The couple not only has made Sacred Eats a success because of their creative menu and focus on handcrafted food, but also because of how they feel about their staff.
They believe in cross-training their staff, so everyone has a chance to work in all areas, from cooking and prep to helping customers.
"It keeps it interesting for them," Kallai said."We love what we do. We love working with our staff."
"We want them to build their skills and, if they do leave, it's because they're bettering themselves," Chris added. "If we can take care of them, they'll take care of us."
"We love Kalispell. We love Evergreen," Chris said. "We want to do what we can to be a part of the community."
Community editor Carol Marino may be reached at 406-758-4440 or community@dailyinterlake.com.
LEARN MORE
Sacred Eats, along with Sacred Waters Brewing Co., is now open seven days a week, from noon to 8 p.m. Sacred Eats is closed for an hour each day, from 3 to 4 p.m., to prepare for the dinner crowd.
Both Chris and his brother Jaime have served as firefighters with the Smith Valley Fire Department. Jaime Boyce is also a paramedic, flies with ALERT and the captain of the Evergreen Fire Department.
To show their appreciation, Sacred Eats offers all first responders $2 off any entry. The eatery also offers loyalty cards to the general public.
​​
---