Honors for O'Connell, Griz football players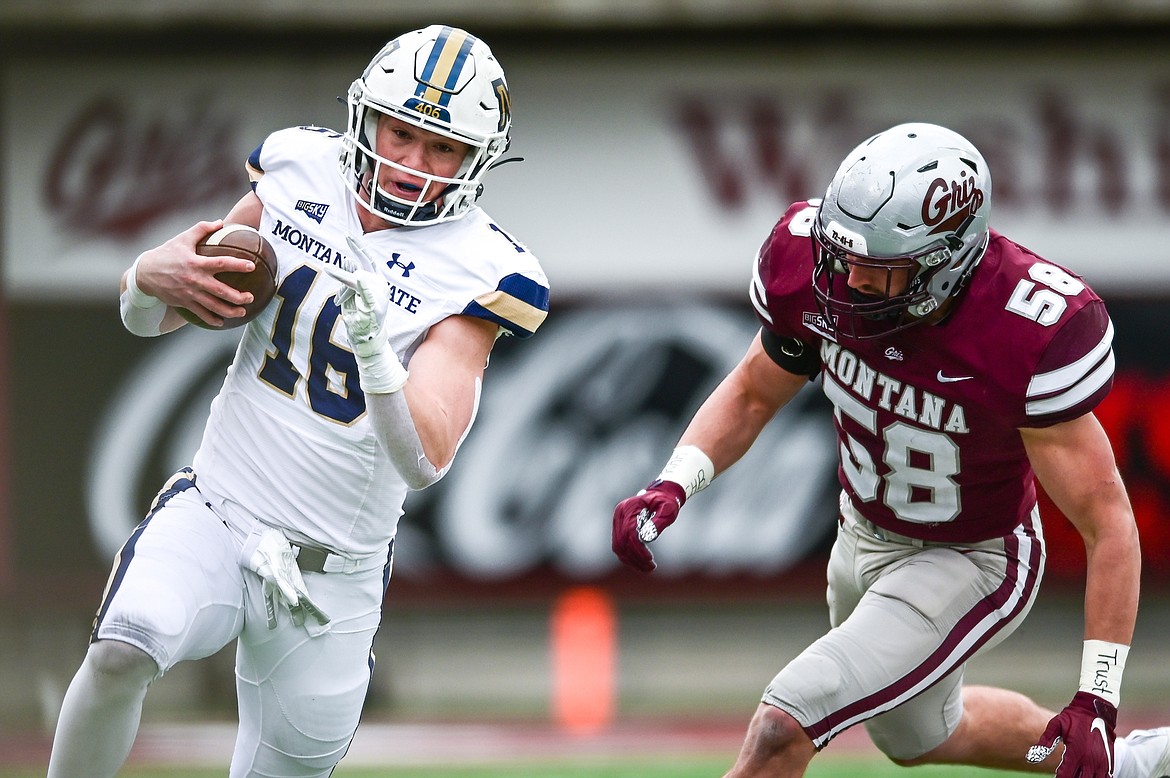 Montana State quarterback Tommy Mellott (16) tries to get past Montana linebacker Patrick O'Connell (58) during the 120th Brawl of the Wild at Washington-Grizzly Stadium on Saturday, Nov. 20. (Casey Kreider/Daily Inter Lake)
by
UM Sports Information and Daily Inter Lake
|
November 22, 2021 10:00 PM
It's been an impressive few days for Montana defensive standout Patrick O'Connell.
The junior linebacker received several honors this week.
On Monday, he was named — along with cornerback Justin Ford — as one of two Griz who are finalists for the 2021 Stats Perform Buck Buchanan Award, which is presented annually to the NCAA Football Championship Subdivision's defensive player of the year.
Also Monday, he was honored as the ROOT SPORTS Big Sky football Players of the Week on defense.
Also this weekend, he was recognized by Montana head coach Bobby Hauck and his staff as one of the Grizzlies' best performers of the year at the annual team awards banquet.
The "Doug Betters Golden Helment Award" for the team's best tackler and hardest hitter, now named after Grizzly Sports Hall of Famer and former NFL defensive MVP Doug Betters went to O'Connell, and two-time recipient Robby Hauck.
This past weekend, O'Connell posted a game-high 11 tackles with 1.5 sacks for an MSU loss of 11 yards and one QB hurry.
The Kalispell native leads the Big Sky and is third in the FCS in total sacks with 13 to his name, getting in on at least one in 10 of UM's 11 games to date. He also ranks third in the league in both tackles for loss and forced fumbles and is ranked No. 8 in the conference in total tackles.
Following Saturday's game, he now ranks No. 10 in career sacks with 19.5 and is top-15 in career TFLs with 29.
He and cornerback Ford (both juniors) represent two of just three finalists from the Big Sky Conference, with only one other team (Florida A&M) placing more than one player on the list.
MSU linebackes Troy Anderson is the third finalist from the Big Sky.
In 11 games played, Anderson has recorded 111 tackles (57 solo), 9.5 tackles for loss (33 yards), two sacks, two INTs, seven passes broken up, a fumble recovery, a quarterback hurry and a TD.
In his first season as a Grizzly, Ford has been one of the most dominant defensive backs in all of Division-I football, going on an streak of collecting eight interceptions in eight straight games.
His eight interceptions are the most, not only in FCS football but in FBS and D-II football as well. And in addition to interceptions, he also ranks third in the nation in total passes defended and is second in the Big Sky and top-15 in the FCS in fumbles recovered.
Ford ends the regular season as Montana's No.8 overall tackler with 38 total stops and has registered a stat in nearly every defensive category with two TFLs, one sack, 16 pass deflections, one QB hurry, and one forced fumble.
His eight interceptions currently rank him fourth in Montana history in single-season INTs.
The Buchanan Award, now in its 27th season, is named for the legendary Hall of Fame defensive lineman. Past recipients include two-time winner Dexter Coakley, Rashean Mathis, and Jared Allen.
A 50-member, national media panel will select the winner, who will be announced on Jan. 7 in Frisco, Texas – the eve of the FCS championship game.
Montana's Dante Olson won the Buchanan Award in 2019 – the last complete season of FCS football played. Other Grizzly Buchanan Award winners include Tyrone Holmes in 2015 and Kroy Biermann in 2007.
2021 Buchanan Award Finalists
Brevin Allen, DE, Campbell (Big South)
Statistics: 44 tackles (26 solo), 17.5 TFL (63 yards), 9.5 sacks, 6 QBH, 2 FF, 1 FR, 1 PBU (11 games)
Troy Andersen, LB, Montana State (Big Sky)
Statistics: 111 tackles (57 solo), 9.5 TFL (33 yards), 2 sacks, 2 INTs, 7 PBU, 1 FR, 1 QBH, 1 TD (11 games)
Kelechi Anyalebechi, LB, UIW (Southland)
Statistics: 101 tackles (58 solo), 5.5 TFL (34 yards), 3.5 sacks, 2 INTs, 4 PBU, 4 FF, 1 FR, 3 QBH (10 games)
Markquese Bell, S, Florida A&M (SWAC)
Statistics: 79 tackles (55 solo), 6.5 TFL (41 yards), 2 sacks, 1 INT, 1 PBU, 4 FF (10 games)
Adam Bock, LB, South Dakota State (MVFC)
Statistics: 100 tackles (55 solo), 9 TFL (29 yards), 2.5 sacks, 1 INT, 5 PBU, 2 FF, 1 QBH, 1 BK (11 games)
Isaiah Chambers, DE, McNeese (Southland)
Statistics: 59 tackles (39 solo), 15.5 TFL (94 yards), 10.5 sacks, 3 PBU, 13 QBH, 5 FF (11 games)
Jacob Dobbs, LB, Holy Cross (Patriot)
Statistics: 112 tackles (59 solo), 15 TFL (65 yards), 8 sacks, 3 PBU, 6 QBH (11 games)
Decobie Durant, CB, South Carolina State (MEAC)
Statistics: 37 tackles (29 solo), 1 TFL (1 yard), 3 INTs, 11 PBU, 2 QBH (11 games)
Justin Ford, CB, Montana (Big Sky)
Statistics: 33 tackles (22 solo), 2 TFL (8 yards), 1 sack, 8 INTs, 8 PBU, 2 FR, 1 FF, 1 QBH, 2 TDs (11 games)
James Houston, DE, Jackson State (SWAC)
Statistics: 59 tackles (44 solo), 20.5 TFL (125 yards), 14.5 sacks, 8 QBH, 7 FF, 2 FR, 1 TD (11 games)
Matthew Jackson, LB, Eastern Kentucky (AQ7)
Statistics: 102 tackles (57 solo), 11 TFL (51 yards), 3.5 sacks, 1 INT, 6 PBU, 2 FF, 1 FR, 6 QBH (11 games)
Darius Joiner, S, Western Illinois (MVFC)
Statistics: 142 tackles (79 solo), 7 TFL (30 yards), 1.5 sacks, 1 INT, 5 PBU, 1 FF, 3 QBH (11 games)
Jahari Kay, DE, Sam Houston (AQ7)
Statistics: 30 tackles (18 solo), 11 TFL (42 yards), 5 sacks, 10 QBH, 3 PBU, 1 FF, 1 FR, 1 TD (10 games)
Isaiah Land, LB, Florida A&M (SWAC)
Statistics: 43 tackles (32 solo), 25.5 TFL (147 yards), 19 sacks, 2 PBU, 3 FF, 1 FR (11 games)
Titus Leo, LB, Wagner (Northeast)
Statistics: 71 tackles (48 solo), 18.5 TFL (86 yards), 7 sacks, 1 PBU, 3 QBH, 1 BK (11 games)
Nate Lynn, DE, William & Mary (CAA)
Statistics: 52 tackles (29 solo), 13.5 TFL (61 yards), 12 sacks, 2 PBU, 5 QBH, 6 FF (11 games)
Jalen Mackie, LB, Dartmouth (Ivy)
Statistics: 86 tackles (49 solo), 8 TFL (28 yards), 1 sack, 1 INT, 2 PBU, 3 QBH (9 games)
Devonnsha Maxwell, DE, Chattanooga (Southern)
Statistics: 42 tackles (28 solo), 15.5 TFL (66 yards), 12 sacks, 5 QBH, 1 FF (11 games)
Shaundre Mims, DL, Charleston Southern (Big South)
Statistics: 58 tackles (26 solo), 16.5 TFL (78 yards), 8 sacks, 1 INT, 3 PBU, 1 FF, 7 QBH (11 games)
Patrick O'Connell, LB, Montana (Big Sky)
Statistics: 91 tackles (40 solo), 19.5 TFL (121 yards), 13 sacks, 5 QBH, 3 FF, 1 FR, 1 TD (11 games)
Koby Perry, S, Austin Peay (Ohio Valley)
Statistics: 85 tackles (51 solo), 8 TFL (29 yards), 1 sack, 2 INTs, 3 PBU, 1 FF, 3 QBH, 1 TD (11 games)
Forrest Rhyne, LB, Villanova (CAA)
Statistics: 110 tackles (35 solo), 5.5 TFL (22 yards), 2.5 sacks, 4 QBH, 1 FR (11 games)
Stone Snyder, LB, VMI (Southern)
Statistics: 120 tackles (49 solo), 11 TFL (36 yards), 4 sacks, 5 QBH, 3 FR (11 games)
Vaughn Taylor Jr., DE Morehead State (Pioneer)
Statistics: 71 tackles (30 solo), 23.5 TFL (81 yards), 10.5 sacks, 15 QBH, 1 FF, 1 BK (10 games)
Jeremiah Tyler, LB, Princeton (Ivy)
Statistics: 58 tackles (49 solo), 7 TFL (35 yards), 2 sacks, 6 PBU, 1 QBH, 1 FR, 1 TD (10 games)
Recent Headlines
---