Griz pull away from Dixie St. in second half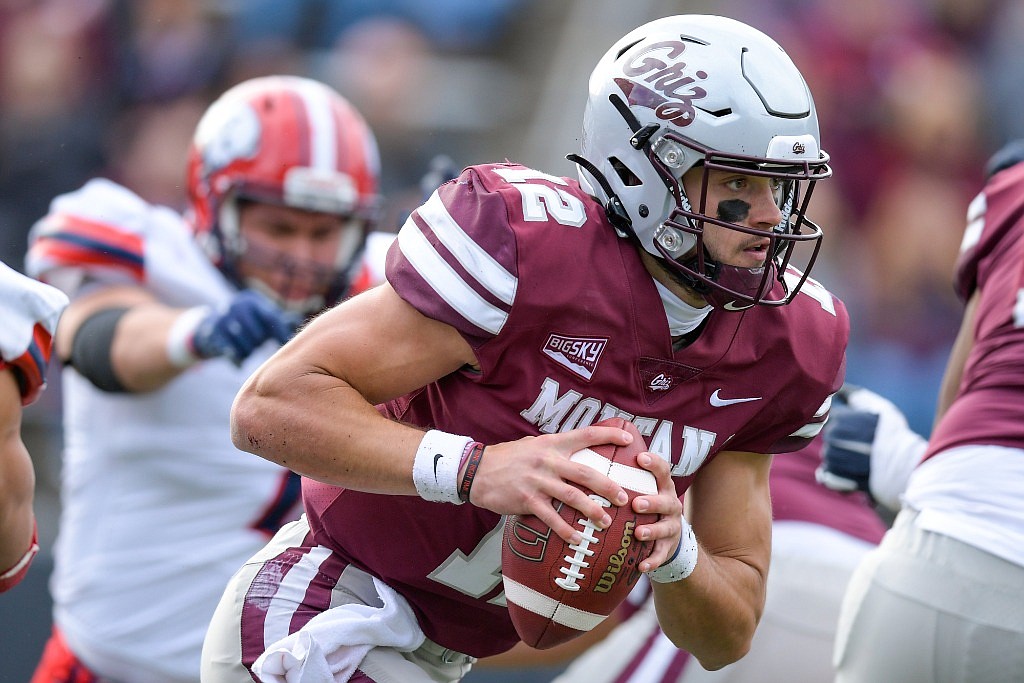 UM Grizzlies quarterback Kris Brown against Dixie State on Saturday, Oct. 9. (Tommy Martino/UM Athletics)
by
FRITZ NEIGHBOR
Daily Inter Lake
|
October 9, 2021 10:28 PM
MISSOULA — It wasn't the walkover victory many expected Saturday, with the winless Dixie State Trailblazers coming to town.
The Montana Grizzlies will take it, turnovers and missed opportunities and all.
Freshman Kris Brown threw for one touchdown and ran for two in his first start at quarterback, and the Griz thumped Dixie State 31-14 in a non-conference football game at Washington-Grizzly Stadium.
"Really glad to get the win," Montana coach Bobby Hauck said, after his team improved to 4-1. "I'm certainly proud of our team to get challenged — and get challenged again at halftime to come out and take the win. That's what we did in the third quarter."
Brown, starting in place of injured senior Cam Humphrey, was 20 of 30 passing for 241 yards. He was sharper after halftime — the Griz went into intermission up just 3-0 — and especially in the third quarter with nine completions in 11 attempts for 131 yards. That included an 8-yard catch and run by tight end Cole Grossman.
That made it 17-3 at 8:42 of the quarter. On the previous possession Grossman's 23-yard reception on a similar play helped set Junior Bergen's 6-yard scoring run.
It was the first collegiate TD for both players, which may or may not sum up the Grizzlies' 2021 season. They've lost quite a few starters, including Humphrey and receiver Gabe Sulser in last week's 34-28 loss at Eastern Washington.
"There were a lot of guys playing today ... that hadn't played a lot," Hauck said. "I'm anxious to see the film and see how we held up. It was an interesting week to say the least in terms of figuring out who was going to plug in where. It was a rough week."
Glacier product Henry Nuce, a freshman, started at defensive end; he made two tackles. Keelan White started at receiver and made two catches.
Brown, well, he had three fumbles, losing two, and an interception. His first drive was promising before he was sacked and the ball came out; the Trailblazers then put together a nice drive before Griz cornerback Justin Ford made a diving end-zone interception.
In the second quarter Brown threw into double coverage and Dixie State linebacker Will Leota picked off the pass at UM's 30. The Blazers went backwards, though, and Connor Brooksby missed a 50-yard field goal.
Eventually, the offense got warm against the 0-5 FCS newcomer from St. George, Utah.
"The game just kind of sorted itself out and started slowing down," said Brown, a Bozeman High product. "I was able to see things the defense was doing. Definitely I'd say over time it just got easier."
"With the quarterback position there's a lot of moving parts," Hauck said. "It's managing the game, it's making throws, it's making checks … I thought he did just a fine job today. I was impressed with him. There was a lot going on.
Helping was Grossman, who had seven catches for 70 yards (yards after catch: 46), and Xavier Harris, who ran for 119 yards on 29 carries.
"I thought he ran hard," Hauck said of Harris, who is listed at 182 pounds. "There were a couple plays today where I thought he ran bigger than he is, and I thought he finished some runs real physically.
"And I think 29 carries too many, but that's hindsight — when the game was going on we didn't have a firm pulse on that."
Brown's first of two 1-yard scoring runs came early in the fourth quarter, after Dixie State turned the ball over on downs at its own 33. Then things got uneven again: Brown had a nifty 21-yard run on his next possession, but on the next snap fumbled and saw Devin Chandler scoop and score for Dixie State.
That cut the UM's lead to 24-6. After an unsuccessful onside kick left the Griz with another short field. Brown had a 10-yard pass to Mitch Roberts to convert the only third down on a 41-yard drive. Then he scored his second TD to make it 31-6 with 4:52 remaining.
All in all, a passing grade for a guy making his first start since high school in 2018.
"It wasn't a simple plan — we didn't simplify anything," Hauck said. "I thought he did a good job, and I think he'll take correction this week and play great next week."
The Griz are home next Saturday against Sacramento State.
Dixie St. 0 0 0 14 — 14
Montana 0 3 14 14 — 31
­UM - Macias, Kevin 27 yd field goal, 2Q 02:12
UM - Bergen, Junior 6 yd run (Macias, Kevin kick), 3Q 07:25
UM - Grossman, Cole 8 yd pass from Brown, Kris (Macias, Kevin kick), 3Q 03:52
UM - Brown, Kris 1 yd run (Macias, Kevin kick), 4Q 14:29
DSU - Chandler,Devin 38 yd fumble recovery ( ), 4Q 07:37
UM - Brown, Kris 1 yd run (Macias, Kevin kick), 4Q 04:52
DSU - Veach, Cade 3 yd pass from Oblad, Kenyon (Veach, Cade pass), 4Q 01:32
---