Kalispell angler catches $10,000 lake trout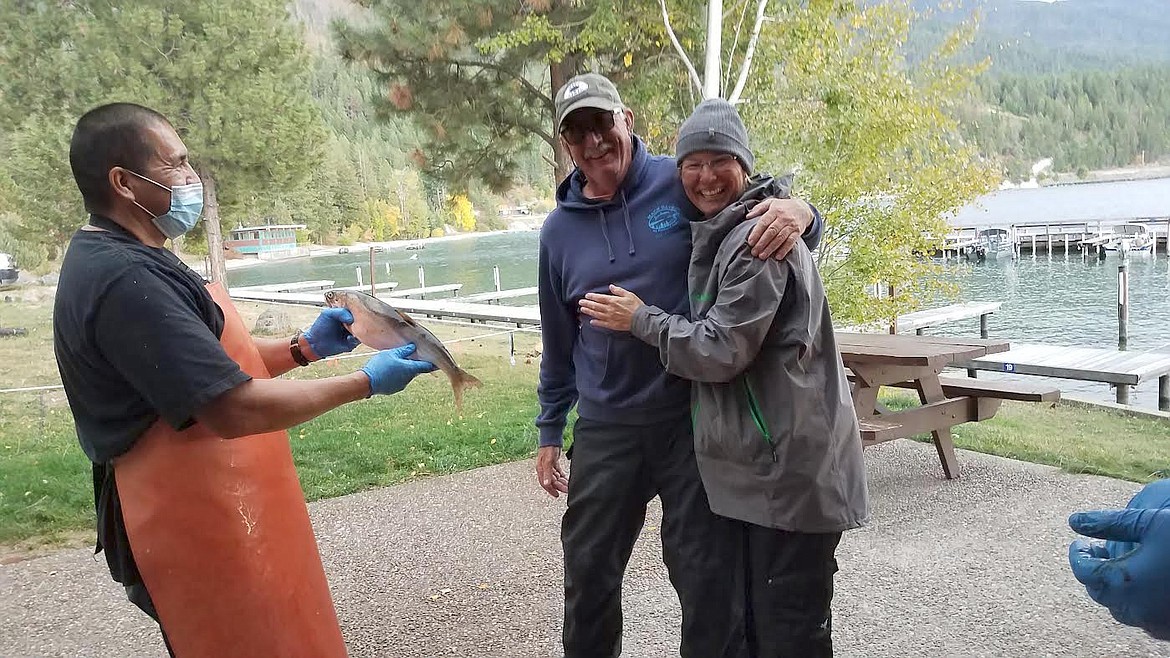 Fishing partners Terry Krogstad and Julie Perkins show off the Mack Days $10,000 lake trout, also known as "Freddie Mack," Krogstad caught Thursday, Oct. 6 in Flathead Lake. (CSKT photo)
by
SCOTT SHINDLEDECKER
Hagadone News Network
|
October 12, 2021 3:30 PM
"Freddie Mack" swims no more.
The Mack Days Tournament $10,000 lake trout was caught by Terry Krogstad Thursday, Oct. 6, in Flathead Lake's Blue Bay.
Krogstad and his fishing partner, Julie Perkins, both of Kalispell, were headed to the dock when they stopped in front of Blue Bay and caught the notorious fish in 80 feet of water.
"You never know where you might find a tagged fish!" said Stephanie Gillin, CSKT information and education program specialist.
It was the third time in tournament history, and second in the last two years, the famous $10,000 tagged lake trout has been caught during the annual event.
Kalispell's Matt Guckenberg Sr. brought the valuable fish to net in the Yellow Bay area in June 2020.
Krogstad is in the top 10 with 247 lake trout while Perkins is in ninth with 268. Perkins leads the ladies category.
While "Freddie Mack" is on ice, three $5,000 macks are still swimming in the lake as well as five $1,000 fish.
According to officials, 7,804 lake trout have been caught. The Monday through Thursday total was 1,402 while Friday-Sunday total was at 6,402. For last week, Friday's catch was 396, Saturday's was 355, and a windy Sunday total was 80.
Felix Gauci of Stevensville is first in the top 20 category with a total of 656 lake trout. Second place is Larry Karper of Florence with 434, third place is Scott Bombard of Missoula with 372, fourth place is Sam Cusker of Bigfork with 366 and Lonepine's Mike Benson is fifth with 357.
In the 70-and-over category, Larry Karper is first with 434 lakers.
Entries continue to be taken until the last day of the event. It is free to enter.
Saturday, Oct. 16 is the second Bucket Day. The heaviest bucket of four lake trout that measure under 30 inches will win a $200 cash prize.
For more information, go to www.mackdays.com for information or call 406-270-3386.
Recent Headlines
---