Nine school districts offer free Covid testing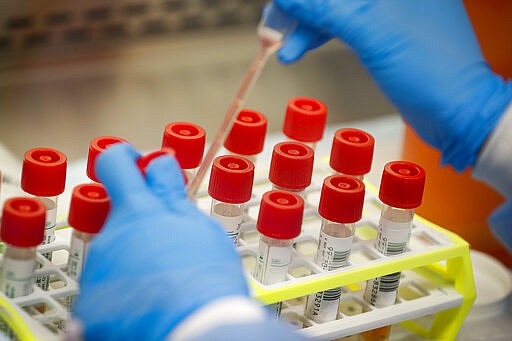 A technician prepares Covid-19 patient samples for testing at a laboratory on New York's Long Island in this March 11, 2020, file photo. (John Minchillo/Associated Press)
by
HILARY MATHESON
Daily Inter Lake
|
October 14, 2021 12:00 AM
Nine school districts are offering free rapid Covid testing to staff, K-12 students and parents at three Kalispell and Evergreen locations.
This includes Evergreen, Cayuse Prairie, Fair-Mont-Egan, Helena Flats, Kalispell, Kila, Marion, Smith Valley and West Valley districts.
Kalispell Public Schools Assistant Superintendent Matt Jensen estimates the testing sites will operate for about six to seven months.
Days, locations and times are as follows:
Monday through Friday
• Snappy Sport Senter parking lot: 7 to 11 a.m. and 4 to 7 p.m.
• KidSports Complex parking lot: 7 to 11 a.m. and 4 to 7 p.m.
Monday through Saturday
• Flathead County Fairgrounds 4-H building: 9 a.m. to 4 p.m.
At each site, participants will be asked to fill out some paperwork prior to getting tested. Parent or guardian consent, either written or verbal, is required for student testing. School IDs are not required to get tested. Each testing site will have information available based on an individual's results.
The rapid test being administered is called BinaxNow, which is a Covid-19 self-test. Participants taking the BinaxNow test will perform a lower nasal swab. Results may be available as soon as 15 minutes, Jensen said.
"The vision here is how we can make testing convenient for parents to be able to make the best decisions for their family," Jensen said.
"We hope that this ability to provide testing is an upstream strategy to keep our schools healthy, number one; number two, to allow state-confirmed tests to allow students to return sooner from quarantine," he added.
In providing a snapshot of participation on Tuesday Jensen said a total of 78 people were tested with 16 Covid-19 positive results.
Test kits, personal protective equipment and specimen collection materials are provided by the Montana Department of Public Health and Human Services (DPHHS) with funding distributed through a Centers for Disease Control and Prevention ELC Reopening Schools Grant. Any school, public or private, may apply for the grant funding. The deadline for schools to apply for the first round of funding is Dec. 31.
Reporter Hilary Matheson may be reached 406-758-4431 or email at hmatheson@dailyinterlake.com.
Recent Headlines
---