Great Fish Challenge nets $4.2M for 61 nonprofits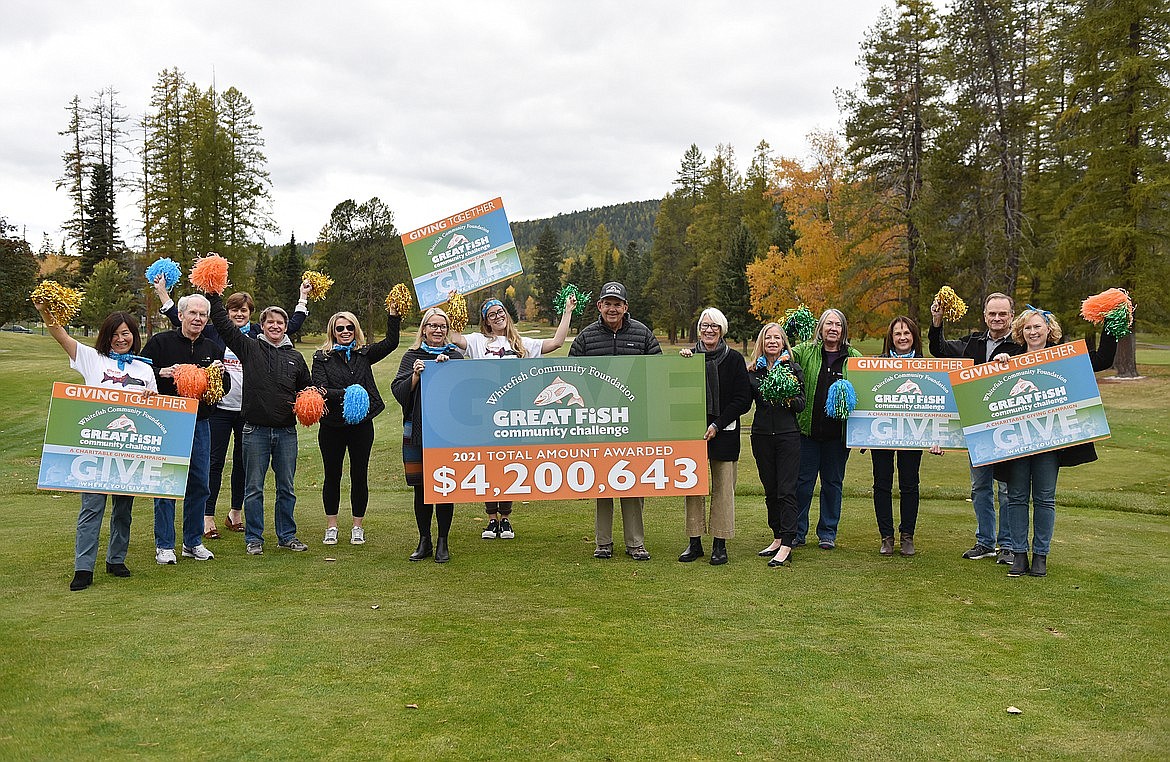 The Whitefish Community Foundation awarded more than $4.2 million to 61 Flathead Valley nonprofit organizations during the Great Fish awards. (Heidi Desch/Whitefish Pilot)
|
October 20, 2021 12:00 AM
Whitefish Community Foundation awarded more than $4.2 million to 61 Flathead Valley nonprofit organizations during the Great Fish awards event Monday evening. The total amount awarded included $3,519,754 donated by 2,683 donors during the six-week Great Fish Community Challenge, plus a 56% match on the first $20,000 raised by each organization.
The Great Fish match is made possible by Whitefish Community Foundation's Circle of Giving and those who donated to the match fund during the Challenge. This year's Great Fish Match grew to $665,739. Whitefish Community Foundation also awarded $15,150 in incentive grants throughout the Challenge, bringing the grand total awarded through this year's Great Fish Community Challenge to $4,200,643, a 28 percent increase over last year.
The 2021 Challenge attracted 10% more donors and 21% more gifts than last year.
The Great Fish Community Challenge is a charitable giving campaign that offers donors the opportunity to give to multiple organizations with one transaction. Whitefish Community Foundation organizes and administers the Challenge free of charge for qualifying nonprofits. The estimated cost of this year's Challenge is approximately $285,000, a value of over $4,600 to each participating nonprofit. Since 2015, the Great Fish Community Challenge has raised over $17 million for more than 75 local nonprofit organizations.
In addition to the $4.2 million distributed at the Great Fish Awards Event, Whitefish Community Foundation presented numerous special awards Monday evening, including the $7,500 Great Fish Award given annually to an organization that demonstrates tremendous leadership and dedication toward advancing their mission and impacting the critical needs in local communities. Abbie Shelter was selected as the 2021 Great Fish Award recipient for the organization's work to provide court advocacy, mental health support, and shelter for those seeking safety and justice from domestic and sexual violence.
Other special award winners were:
• Flathead Warming Center: $5,000 Jean Howard Memorial Award
• DREAM Adaptive Recreation: $2,500 Russ & Mary Jane Street Community Service Award
• North Valley Food Bank: $2,500 Doris Schumm Community Spirit Award
• Backpack Assistance Program, in memory of Traci Stolte: $2,500 Connie Heckathorn Cheers for Volunteers Award
• Nate Chute Foundation, selected by Whitefish Lake Restaurant: $2,500 Corporate Citizenship Award
• Foy's to Blacktail Trails: $500 New Fish on the Block Award
• Ravenwood Outdoor Learning Center: $500 Best Fish Teamwork Award
• Boys & Girls Club of Glacier Country: $500 Upstream Award
• Gateway to Glacier Trail: $500 Finest Fishing Award
• Farm Hands – Nourish the Flathead: $500 Most Improved Fishing Award
---