Rendina decided he was a back in Little Guy, and hasn't stopped running since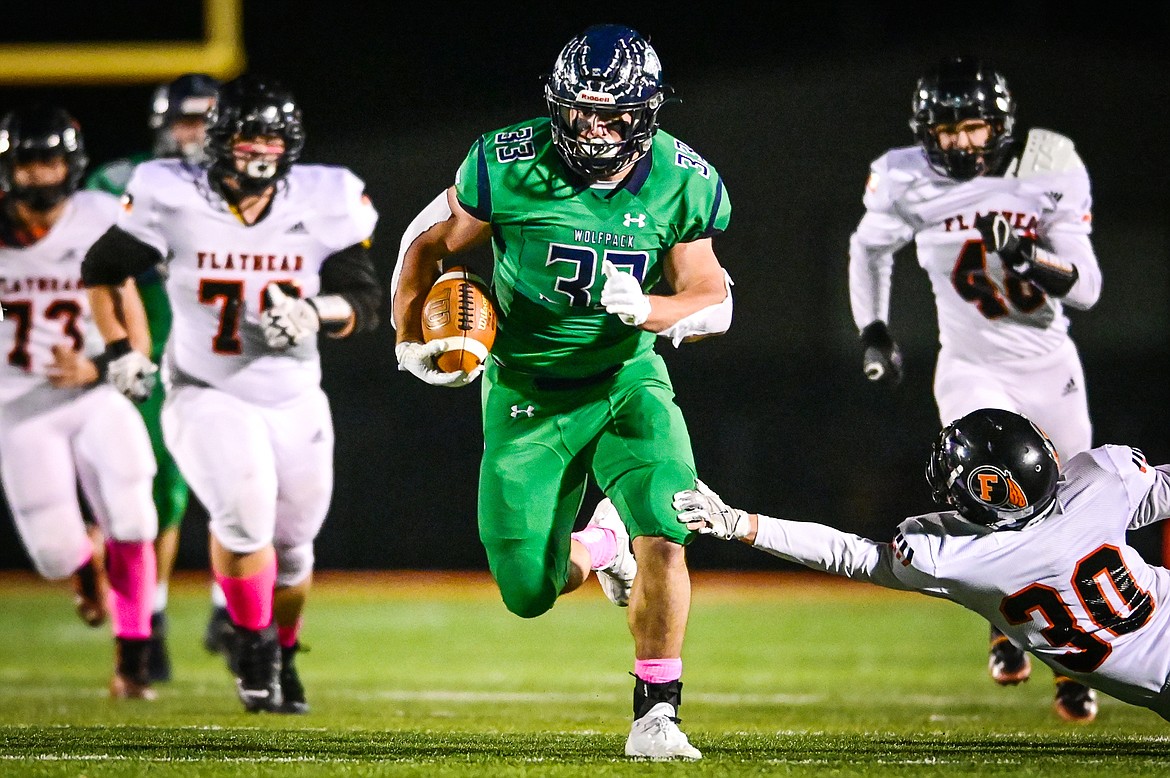 Glacier running back Jake Rendina (33) breaks loose in the second quarter against Flathead at Legends Stadium on Friday, Oct. 15. (Casey Kreider/Daily Inter Lake)
Glacier running back Jake Rendina (33) extends a stiff-arm to Missoula Sentinel defender Donovan South (21) on a second quarter run at Legends Stadium on Friday, Oct. 23, 2020. (Casey Kreider/Daily Inter Lake)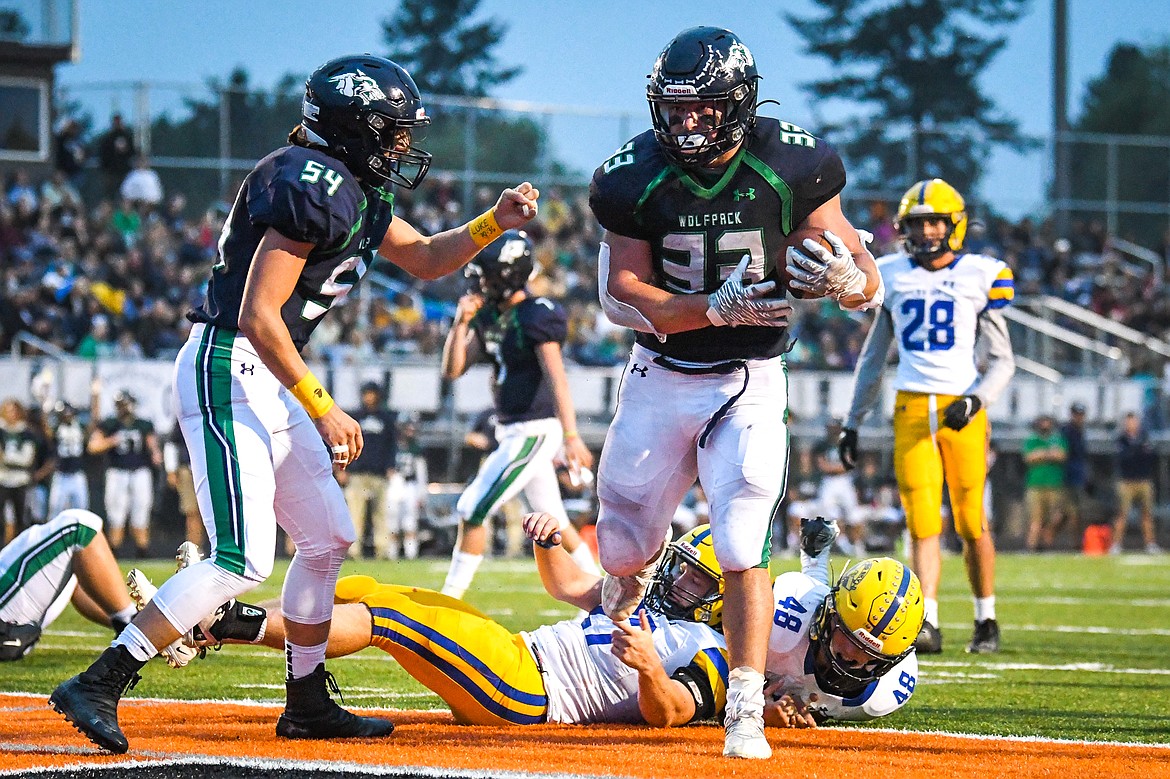 Glacier running back Jake Rendina (33) scores a second-quarter touchdown against Missoula Big Sky at Legends Stadium on Friday, Sept. 10. (Casey Kreider/Daily Inter Lake)
Previous
Next
by
FRITZ NEIGHBOR
Daily Inter Lake
|
October 20, 2021 10:26 PM
Jake Rendina will tell you statistics don't mean much, and when you consider he quietly seized Glacier High's record for career touchdowns last Friday — with his third against crosstown rival Flathead — it's easy to believe.
He didn't mention his 53rd rushing TD on Tuesday.
"It's about winning games," said the 230-pound running back, who'll play his final regular season home game tonight against Missoula Hellgate, at Legends Stadium.
But when you consider what Rendina did his sixth-grade year, it's clear he wants all the carries he can get. He was playing Little Guy football and was over the skill position weight limit for his age group; he could play nowhere but the line.
"I was a 'red-striper' all the way, until my last year," Rendina recalled. "Then I made weight and became a running back. I think the limit was 120 pounds, but I was definitely a good 140. So I cut weight.
"That's not a great thing to say. But I knew what I wanted to be."
The weight came off through weight training — muscle weighs less than fat — and diet. The product of a health and wellness coach (mom Heidi) and former executive chef (Kevin), Rendina continues to be a physical specimen and a threat to take the next carry to the house.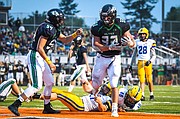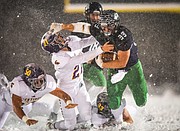 He did that 28 times last year, one short of the single-season TD record set by Thomas Trefney in 2014, though Trefney did it in four more games.
Rendina is a smart kid that could turn his nose for the end zone into a career at a service academy; he's a funny kid that runs angry.
"That's the thing that jumped out when he was a freshman," Glacier coach Grady Bennett said. "He just ran so angry. It was like he was offended when he got tackled."
Three years later he has 3,173 yards while averaging 5.5 per punishing carry. The total moves him past Trefney to No. 2 at Glacier, and within shouting distance of Drew Turner's record of 3,466.
---
On June 5 in San Antonio, Rendina won the national powerlifting championship for 220 pounds, ages 16-17. He's ranked No. 4 in the world and tops in the U.S.
"We're a hard-working family," Rendina says. "My grandfather (Jim DeWitt) was a logger. My other grandfather (Frank Rendina) was a carpenter.
"My work ethic comes through my parents and grandparents. My skills came through that hard work."
"Jake was never small," Kevin Rendina said. "He was an awfully big kid when he was born… Let's call him husky. But then you hit that age where you go, 'I want to feel good, too.' He started wanting to get in shape. That final year of Little Guy he was like, 'I don't want to be a red stripe any more.' We helped him with his food and exercise, and he took to it."
Not much this side of gang tackling has stopped him since. Bennett took note of him early: His strong relationship with the Salonens had him reffing youth sports when his current senior class — Wyatt Thomason, Levi Frost, Connor Sullivan, Luke Bilau — was a bunch of fourth-graders.
"It's just so surreal," Bennett said. "Because it seems like yesterday I was reffing them in a fifth-grade championship game.
"And Jake was always that guy in the middle. I probably fouled him out of more games than any ref has anyone, ever."
Rendina gave up hoops his freshman year — "I was ejected from a game and decided maybe that was it for me," he said — and that left more time for weights and football. Now all three service academies have contacted him; he's visited Air Force and Montana State (which also offered a scholarship) and will visit West Point in late November.
Pretty heady stuff, but Rendina isn't concerning himself with that too much.
"I haven't really narrowed down my decision," he said. "I"m too focused on this season, and helping take this team where I can, to really sit down and think about it."
---
Glacier, 5-3, lost three of four games to fall off the pace in the Western AA, though a win tonight coupled with a Helena victory over Helena Capital Friday would mean a home playoff game next week.
Rendina's carries (149) and yards (799) are down from 2020, though he still leads the Western AA in both categories. He's battled an ankle injury, though he declines to blame health.
"What changed is we have more athletes at receiver," he said. "We have a little less weight up front, but realistically, we're just using the tools we have. I could be toting the ball 30 times a game, but it hasn't been needed yet."
"The fact is, he's actually been kind of banged up," Bennett said. "We haven't fed him, or haven't had to, or wanted to."
Hellgate comes in with its dangerous passing attack, and there's a bit of irony in that: Stats are stats, but Rendina's obvious highlight came last October against the Knights. He set single-game school records of 276 yards and seven touchdowns.
His twin 54-yard scoring bursts put the capper on the Pack's 54-38 win.
"There's his mental toughness and that physical toughness," Bennett said. "When you combine those two, you have a guy that gets tougher as the game goes on. When you get in the fourth quarter and he's still grinding … man."
That's what happened against Hellgate. At the end, in front of a quieted crowd at MCPS Stadium, the Pack lined up in victory formation. In the pause between center Beau Shulenburger looking at the QB and snapping the ball, Rendina asked, "How's everybody's night going?" to everyone present.
"The funniest thing ever," Rendina remembered.
That team fell to Billings Senior in the AA quarterfinals. This team, with Gage Sliter at quarterback, could go at least as far. That's the way Rendina feels about it.
"After that little dip we had, I think we've regrouped," he said. "Gage, he's a great athlete and he is brilliant. Jake Turner, I'm so proud to be his teammate. He is one of the toughest, if not the toughest athlete I've played with. Just a bowling ball of fury.
"You learn more from losses than you do from wins, for sure. A win on the road, another win after that, and we could be in the state championship. If we play Wolfpack football we can take this pretty far."
Recent Headlines
---