Mary Ellen Winter, 58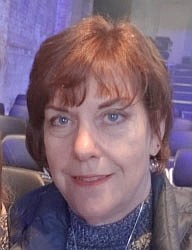 |
October 28, 2021 12:00 AM
Mary went home on Oct. 19, 2021. The world lost a beautiful, gregarious, loving, vibrant kind spirit, but heaven gained an angel.
Mary was born Jan. 28, 1963, to Boyd and Mary Maude Sherman of Evergreen. She attended Evergreen Elementary and Junior High before graduating from Flathead High School in 1981. After high school Mary moved to Missoula and Helena for a short time before returning to her hometown. She married Randy Winter in 1985 and welcomed a son, Kyle Warren, and a daughter, Justine, in 1990 and 1993, respectively. Mary's family meant the world to her. She didn't just consider her family to be those related to her, she was family with those she navigated life with. Mary has many "second children" and close friends who will feel emptiness in her absence. Mary had a knack for knowing when her loved ones needed her light shown on them in just the right way to bring a smile to their face. Her character was larger than life in a goofy, loving, charismatic, personable way, whether she just met you or had known you her whole life.
After a couple career changes, Mary found her passion working with children as a grade school special needs paraprofessional. This schedule meant she was able to be with her children when they weren't in school, and be close by while they were. She was able to attend sporting events, dance recitals, had summers off with her kids and all the neighborhood kids as well. Mary had a sort of open door policy that made anyone and everyone feel welcome in her home throughout her life. As her kids aged out of school Mary began caretaking and later began substituting with kids again. She also enjoyed serving in Kids Ministry at Christian Center and Fresh Life Church.
Mary fought years of difficulty and tragedy with her daughter, before battling and surviving breast cancer, and losing her son in a tragic oil field accident. These challenges in her life affected her in many ways, but she kept her light burning brightly until her last day.
Mary is survived by her brother Myron and Char Sherman, daughter Justine and son-in-law, ex husband/friend Randy Winter, many nieces and nephews and multiple "adopted" siblings and friends that she considered family.
She was preceded in death by her father Boyd, mother Mary Maude, brother Warren, son Kyle, lifelong best friend DeeDee and good friend Lloyd Isbell.
There will be a visitation for Mary Sunday, Nov. 7, from 5 to 7 p.m. with the first hour being open casket at Johnson-Gloschat Funeral and Crematory, with services to follow Monday, Nov. 8, at 10 a.m. at Fresh Life Church in Kalispell. Graveside services will follow at 1 p.m. Monday at Glacier Memorial Gardens.
In lieu of flowers, donations can be sent to Evergreen School District no. 50 at 18 West Evergreen Drive, Kalispell, MT 59901; or Kyle W. Winter Memorial Scholarship at P.O. Box 2667, Kalispell MT 59903
---