Vietnam veteran shares battle with PTSD to help others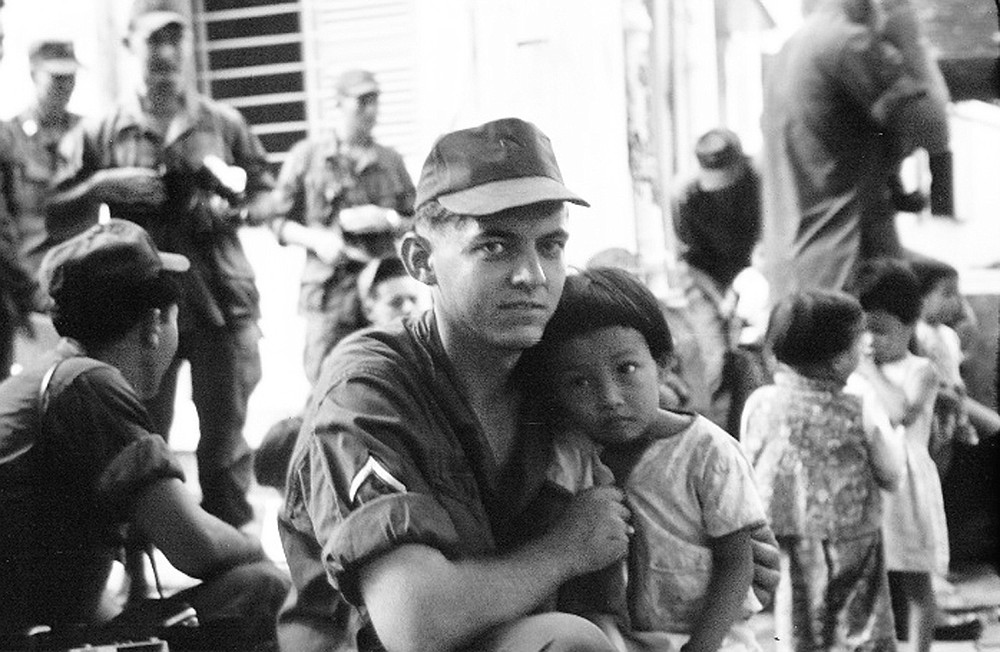 Pfc. Stan Bain is seen in 1967 with a child at an orphanage in My Tho, Vietnam. Months later, the orphanage was attacked by the Viet Cong. (Courtesy photo)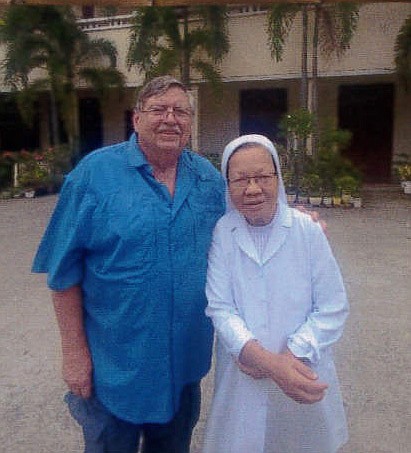 Author and Vietnam War veteran Stan Bain poses with Sister Renee, a nun who was at an orphanage in My Tho, Vietnam, at the same time as Bain during a Viet Cong attack on the facility in November 1967. Bain served 13 months in Vietnam in 1967 and 1968. (Courtesy photo)
Previous
Next
by
CAROL MARINO
Daily Inter Lake
|
September 5, 2021 12:00 AM
There are many reasons why people write — to share their stories, to educate, to entertain. In Vietnam veteran Stan Bain's case, it's to unburden his spirit and let other veterans suffering from post-traumatic stress disorder know they aren't alone.
"If I can make a difference in and save one life, it's worth it," Bain said in a recent phone interview.
A Kalispell native and Flathead High School graduate, Bain was drafted into the Army in 1966. He served during the Vietnam War, often in the most harrowing jobs — nighttime ambushes against the Viet Cong and the North Vietnamese Army, convoys, guard duty.
By the time he returned to the U.S. in July 1968 after 13 months of active duty, Bain was forever changed. It took nearly 45 years for him to be diagnosed with PTSD, but in that time he's suffered from nightmares, night sweats, hallucinations and debilitating pain.
Bain was encouraged by one of his Veterans Affairs counselors in Kalispell to write a book about his experiences in Vietnam and, in his words, his battles with his demons. In 2018, he self-published his first book, "You Are Never Alone," in which he describes the three traumas during the war that have haunted him the rest of his life.
First, Bain and his friend Stewart were struck by Viet Cong mortars while on nighttime guard duty and, in the aftermath of the attack, Bain held his friend as he died in his arms.
Second, following a firefight while on ambush duty, he found the body of a North Vietnamese soldier he knew he had killed. In the soldier's pockets, he found a photograph of the man's wife and baby. In that moment, he realized he'd just taken the life of a husband and father.
The most traumatic of all Bain's experiences happened in November 1967 at a children's orphanage in My Tho, a small village near Dong Tam Base where he was stationed. Bain and some buddies had befriended some of the children there who loved the attention the American soldiers gave them. Bain returned several times with candy and cookies from home to give them, and he grew particularly fond of two children around the ages of 5 or 6.
He and some of the soldiers got word of a possible Viet Cong ambush planned at the orphanage and persuaded their commanding officer to let them investigate. When they arrived, they found a woman lying with a baby in her arms in a pool of blood, both dead. Then they heard two children whimpering and smelled diesel fuel. He immediately recognized they were "his two kids."
The Viet Cong set them on fire to draw in and ambush the four American soldiers. Bain raised his M16 rifle and fired, sparing the children an agonizing death, and most likely saving the lives of his fellow soldiers. Because of that tragedy, Bain decided never to have children, a decision he later regretted.
"At the time, I carried so much guilt. I felt I wasn't worthy of being a father," he said.
Bain has carried the trauma of those events in his heart and head ever since. A half century later, he felt that if he could return to Vietnam, revisit the origins of his demons and find the orphanage again, he might be able to bring peace to his life. But he couldn't afford such a trip.
Then, in 2019, his cousin Greg Bain, of Kalispell, and Greg's wife Clare LaMeres made it possible.
After reading his cousin's first book and recalling how his own father never talked about his World War II memories, Greg Bain told Stan to set the wheels in motion for what became a two-week trip to Vietnam for the three of them.
OUT OF that experience, in 2020, Stan published his second book, "Return To Vietnam."
Their tour guide, whom they called Mr. Giang, accompanied them on their travels to many interesting places — among them Ho Chi Minh City and My Tho, where the orphanage had been located during Bain's tour of duty. Though the orphanage was destroyed by the North Vietnamese Army in 1975, it was rebuilt into a well-equipped school, day care and orphanage in 1978. Fifty-two years later, much of Vietnam wasn't recognizable to Bain, yet he felt a pull and sensed something familiar about the school where children were playing.
A priest they spoke with was unfamiliar with the old orphanage, but said someone at the convent across the street might know about it. Bain met Sister Renee, who had been there in 1967 and remembered the day of the Viet Cong's attack. She'd been the principal at a school across from the orphanage. The nun who had died in the courtyard during the attack had been a friend of hers. As they talked about the atrocities of that day, Bain grew emotional and tears ran down his cheeks. It was LaMeres who described what happened and Bain's role in saving the children from burning to death.
"I had been living with that memory. It was as much a part of me as anything in my life's experience," Bain wrote in his book. "As horrible as it was, and as difficult as it was to live with, it was even harder to let it go."
Sister Renee, fully understanding he had been put there in that moment for a specific purpose, then took his hand and prayed for him.
"I felt it was the beginning of a healing process," Bain said. "I had put the blame on myself all those years."
WHILE REVISITING Vietnam, Bain also met a former Viet Cong soldier at the Cu Chi tunnels, a network of underground tunnels built in the 1940s during the French occupation and later expanded by the Viet Cong to communicate between villages and evade U.S. Army sweeps. They learned they had fought in the same battle on opposite sides, and could even laugh at the coincidence, agreeing that at the time they'd both been soldiers just doing their jobs.
During their trip, the three were fascinated to learn about their guide Giang's exodus at age 10 with his father from Vietnam to Cambodia, planning to get to America — which Giang called "the land of milk and honey" — and then send for their brother and mother. For years they lived in temporary refugee camps, often under deplorable conditions, and were forcibly moved between work and prison camps deep in the jungle before being classified as economic refugees and sent back to their Vietnam home 10 years later.
After Bain retired from a 33-year career with the U.S. Forest Service, he worked for a number of years in the construction and home inspection trades, as well as a joy-filled 15-year role playing Santa Claus at the Kalispell Center Mall before moving to Florida.
NOW 76 and having recently bought a house, Bain, who has been married and divorced three times, has finally found some solace and been able to put most of his demons to rest.
Though he no longer wakes from nightmares, he still has trouble sleeping. His body and joints are in constant pain, most likely from exposure to Agent Orange. However, he rarely visualizes the images that once traumatized him, and he no longer wakes to see his friend Stewart sitting on the edge of his bed. These days when he thinks of "his kids" from the orphanage, he pictures only their smiling faces.
Bain carried a picture of those kids in his billfold for years. In 1991, while on a fishing trip in the Spotted Bear Wilderness, he took a break and, in a place and moment where he felt at peace, took out the children's photo.
"I felt maybe it was time to put them to rest,'' Bain said. "I climbed up the riverbank, found a beautiful spot overlooking the river, viewing the mountains. I dug a small hole and buried the picture. Placed a few rocks around it. I felt it was time to move on and felt good about saying goodbye."
All the years he's struggled with PTSD have taken their toll, but Bain has turned to his writing to raise his own awareness about the disorder to help himself heal and to reach out to other veterans. He remains forever indebted to Greg Bain and Clare LaMeres for giving him the opportunity of a lifetime to return to Vietnam.
"I used to feel so ashamed and I wouldn't talk to anyone," Bain said. "It's been a hard trip."
BOOK SIGNINGS
Stan Bain will sign his books from 1 to 5 p.m. on Sept. 10 at The Bookshelf, 101 S. Main St. in Kalispell.
He'll also sign books in Dayton, where he once served on the board of the Chief Cliff Volunteer Fire Department, from noon to 4 p.m. on Sept. 11 at the history tent during the annual Dayton Daze celebration.
All his books are available on his website, stanbainbooks.com. "Return to Vietnam" is also available on Amazon. His first book, "You Are Never Alone," is available at bluenotepublications.com.
Bain also has published a book about his 15-year post-retirement job playing Santa at the Kalispell Center Mall. Titled "Being Santa: Santa's Secrets" it is also for sale on his website and Amazon.
He is currently working on a three-part suspense fiction series.
Community editor Carol Marino may be reached at 406-758-4440 or community@dailyinterlake.com.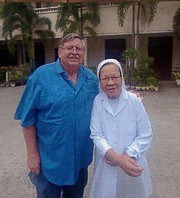 ---