Kalispell board considers rules for legal marijuana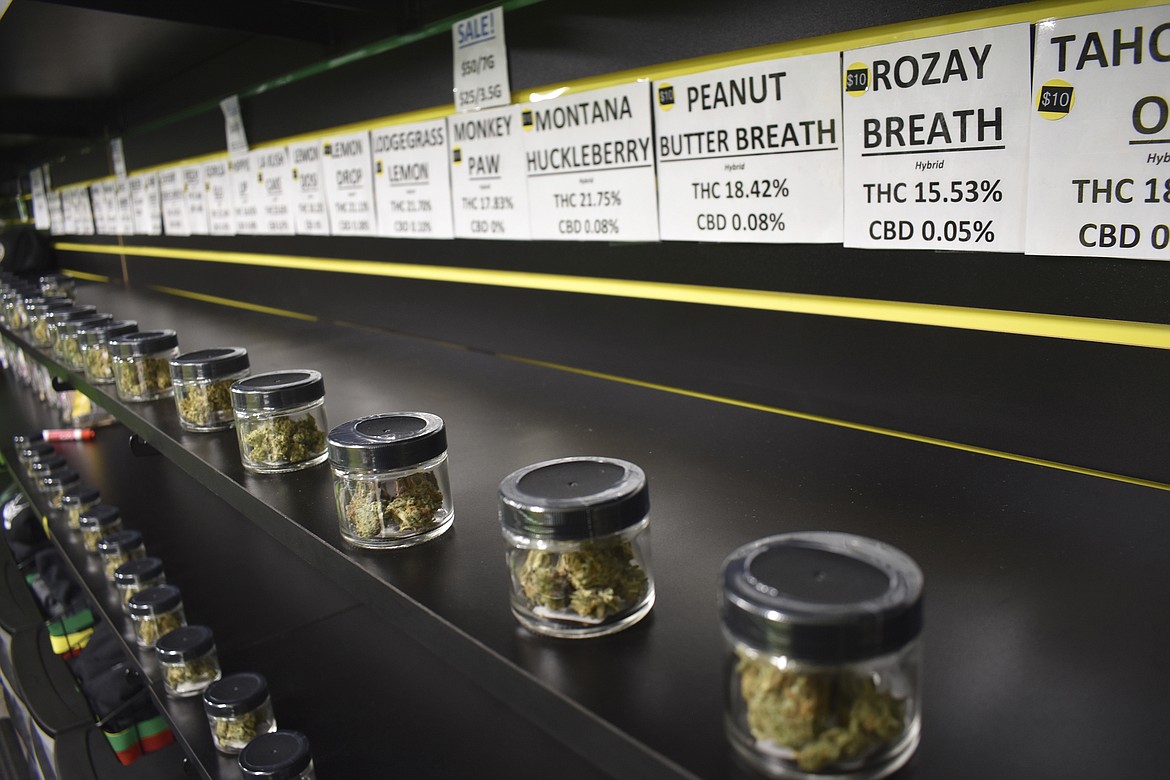 Jars of marijuana are seen on display at Montana Advanced Caregivers, a medical marijuana dispensary in Billings, in this Nov. 11, 2020, file photo. (Matthew Brown/Associated Press)
by
BRET ANNE SERBIN
Daily Inter Lake
|
September 13, 2021 12:00 AM
The Kalispell Planning Board looks to clear the smoke surrounding legal marijuana during its monthly meeting at 6 p.m. Tuesday, Sept. 14.
The board will consider a zoning text amendment that outlines appropriate zones and uses for legalized marijuana in the city. Montanans voted to legalize marijuana statewide during the 2020 General Election. That legal change takes effect at the end of the year.
The proposed zoning amendment would allow for marijuana dispensaries in all of the city's B (Business) and I (Industrial) zones. Marijuana cultivation and manufacturing would be allowed in all I zones. An administrative conditional-use permit would be required in all situations.
Additionally, a buffer would be put into place 300 feet from churches, schools, parks and city residential (R and RA) zones.
The Planning Board's recommendation on the text amendment will be forwarded to the Kalispell City Council for final approval.
IN OTHER business the Planning Board will consider two large development proposals on Tuesday.
One is a planned-unit development request for a massive project that would include 480 dwelling units.
G23 Properties, LLC, is requesting a planned-unit development overlay for Parkland Meadows, an ambitious project located at the northeast corner of Airport Road and Cemetery Road. The subject property encompasses approximately 38.4 acres of land.
The developer is requesting the city to annex the property and initially zone 31.1 acres as RA-1 (Residential Apartment). The remaining 7.1 acres would be zoned B-1 (Neighborhood Business), according to the proposal.
The developer also is asking for preliminary plat approval of the project. The preliminary plat encompasses the entire PUD and includes seven RA-1 lots and seven B-1 lots.
Another planned-unit development proposal is also up for approval.
Kilday & Stratton are requesting approval of Starling Phases 1-8, a residential mixed-use project. The 58-acre property is located on the west side of Stillwater Road to the west of Timberwolf Parkway.
An expired PUD overlay is already in place on the site, which was zoned R-3 (Residential).
The current developers have a tripartite vision for the future of the property.
They've requested RA-1 (Residential Apartment) zoning for the entire PUD overlay.
Phases 1 through 3 encompass 20.84 acres, which would require preliminary plat approval. Phases 1 and 2 contain approximately 14.9 acres and include 77 residential lots and sublots, divided between 37 single-family lots and 40 townhomes. Phase 3 is a single lot plus a common area totaling approximately 5.9 acres. Multiple proposed uses are possibilities for Phase 3, including: up to 35 multi-family dwelling units, a combination of live/work units and office space, or a small-scale neighborhood retail space.
The Kalispell Planning Board will hold a public hearing on the three agenda items. The public is invited to attend the meeting in the Kalispell City Council Chambers at 201 First Ave. E., or participate via Zoom at the following link: https://us02web.zoom.us/j/85357723436?.
The meeting starts at 6 p.m. on Tuesday, Sept. 14.
Reporter Bret Anne Serbin may be reached at 406-758-4459 or bserbin@dailyinterlake.com.
---