​​MTPR's Annie Garde to retire;"Pea Green Boat" will continue
|
September 23, 2021 12:00 AM
The longtime host of Montana Public Radio's children's programs "The Pea Green Boat" and "The Children's Corner" has announced her retirement. Annie Garde, who took over hosting and producing duties in 2003, will be stepping down after her final broadcasts Friday, Oct. 8, and Saturday, Oct. 9.
"It's been a dream job — if I can call it a job," Garde said. "My thanks to the listeners for their support over the years."
Garde said she appreciates the opportunity to introduce guests such as Kate Davis and her birds, Glenn Marangelo as the Bug Guy, the Poetry Club, and children who came in to read their stories or their poems live on-the-air.
"I'm really looking forward to seeing what a new host will bring to the show," Garde said.
Garde started as a music host at MTPR in 1979 hosting a variety of programs. She was chosen to host and produce "The Pea Green Boat" and "The Children's Corner" after former host Marcia Dunn retired. "The Pea Green Boat" is one of the longest-running children's radio programs in the country.
"We're been so lucky to have Annie on-the-air for Montana children," MTPR program director Michael Marsolek said. "She's able to relate to kids with a song, a poem or a story; we're sad to see her retire. "The Pea Green Boat" is such a radio refuge for listeners of all ages.We are committed to children's programming at MTPR and plan to bring on a new host this fall."
"The Pea Green Boat" airs Monday through Friday at 4 p.m. "The Children's Corner" airs each Saturday at 8 a.m.
Montana Public Radio is a public service of the University of Montana and broadcasts on 89.1 Missoula (KUFM), 91.5 Missoula, city (K218AI), 91.9 Hamilton (KUFN), 89.5 Polson (KPJH), 90.1 Kalispell, Whitefish, North Valley (KUKL), 90.5 Libby (KUFL), 91.7 Kalispell, city (K219BN), 101.3 Swan Lake (K267BJ), 91.3 Butte (KAPC), 91.7 Helena (KUHM), 90.9 and 91.7 Dillon (KDWG and K219DN) and 89.9 Great Falls (KGPR). Learn more at http://mtpr.org.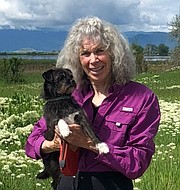 ---