UM dominates Cal Poly, 39-7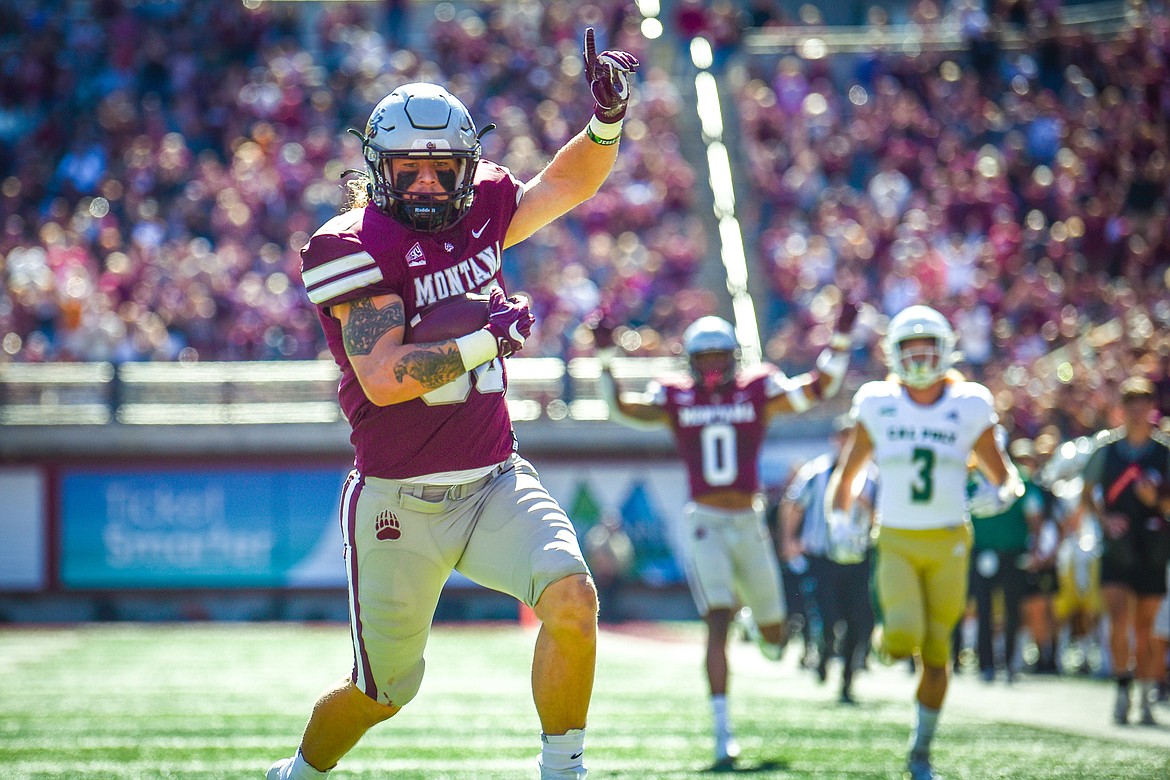 Montana defensive end Justin Belknap (90) returns an interception 24-yards for a touchdown in the first quarter against Cal Poly at Washington-Grizzly Stadium on Saturday, Sept. 25. (Casey Kreider/Daily Inter Lake)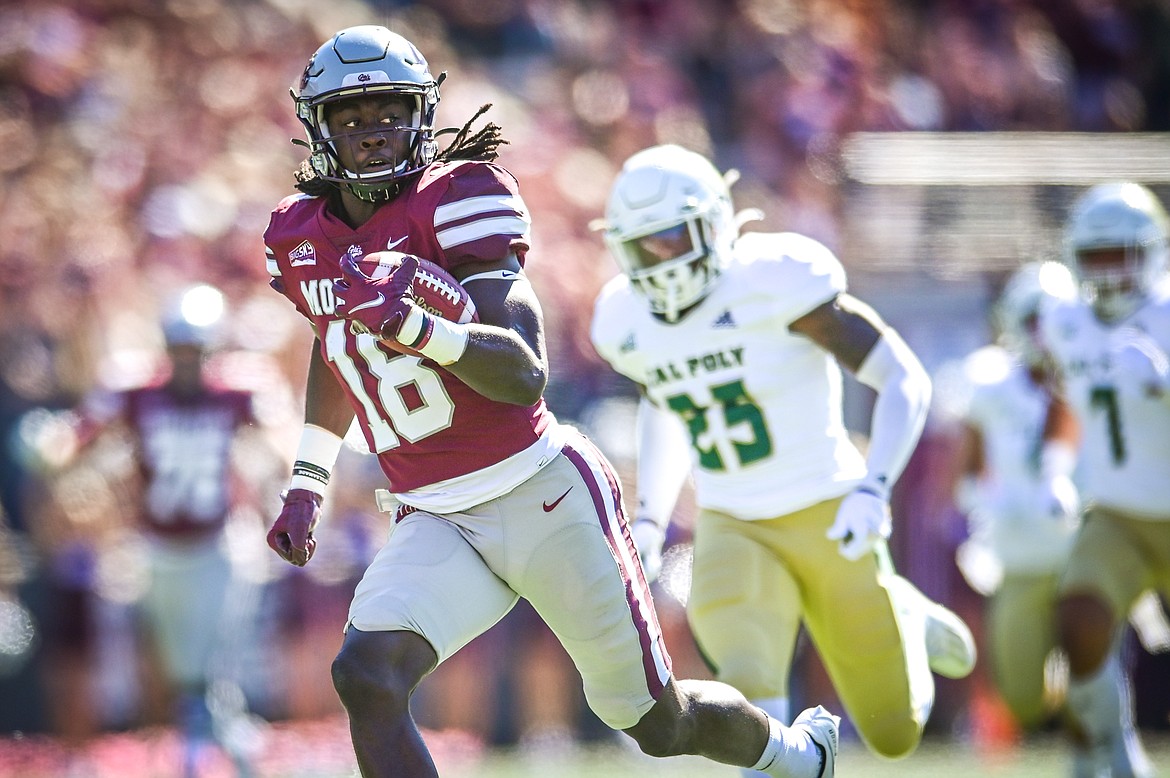 Montana wide receiver Samuel Akem (18) takes a 65-yard touchdown reception to the end zone in the first quarter against Cal Poly at Washington-Grizzly Stadium on Saturday, Sept. 25. (Casey Kreider/Daily Inter Lake)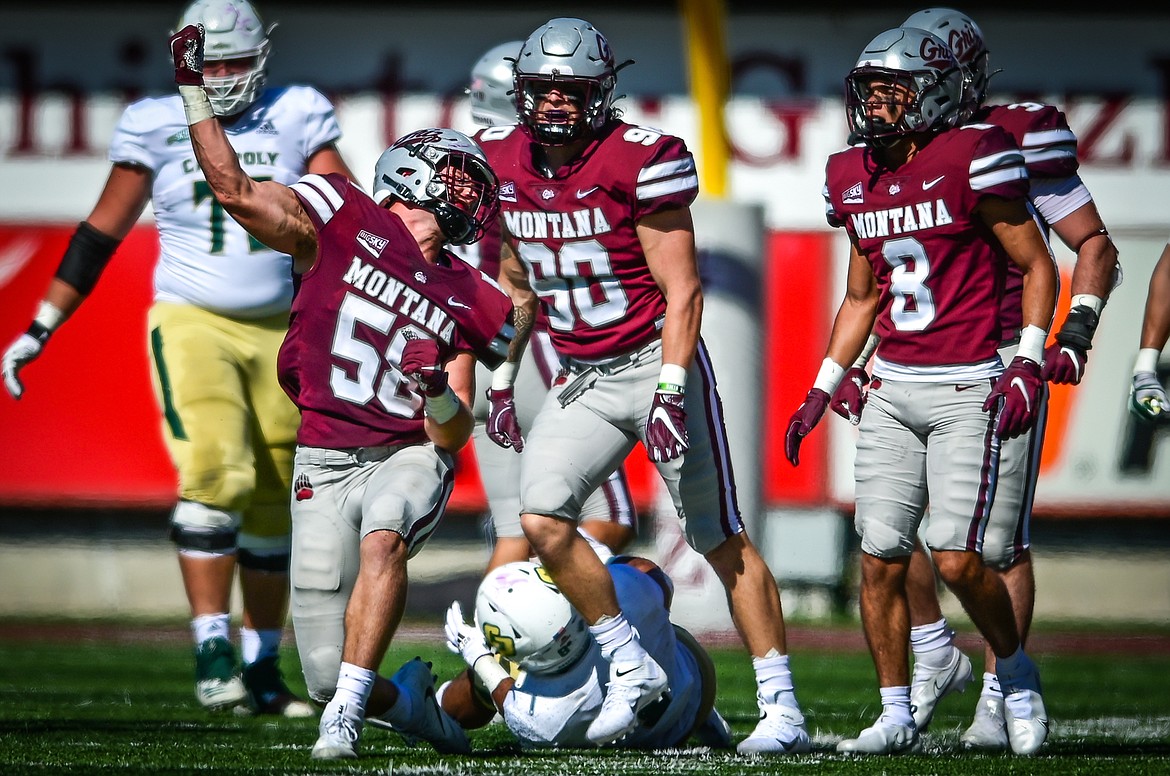 Montana linebacker Patrick O'Connell (58) celebrates after making a second quarter tackle against Cal Poly at Washington-Grizzly Stadium on Saturday, Sept. 25. (Casey Kreider/Daily Inter Lake)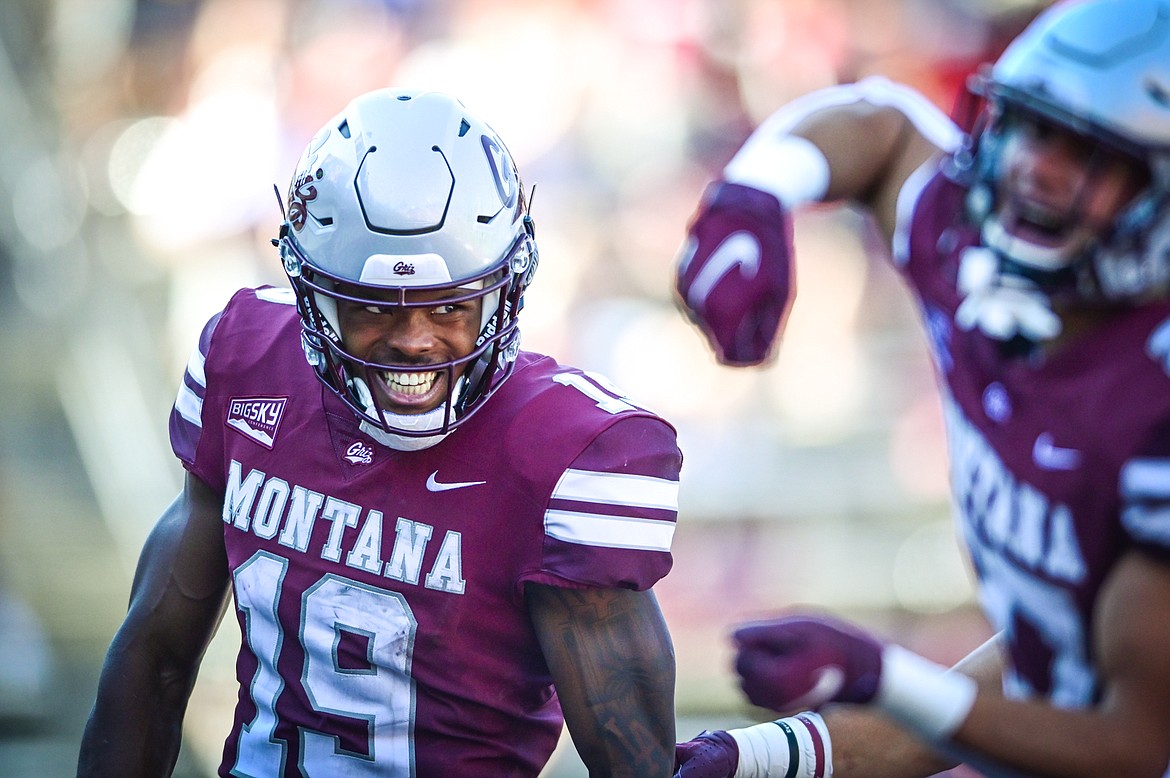 Montana kick returner Malik Flowers (19) celebrates after a 95-yard kickoff return for a touchdown in the third quarter against Cal Poly at Washington-Grizzly Stadium on Saturday, Sept. 25. (Casey Kreider/Daily Inter Lake)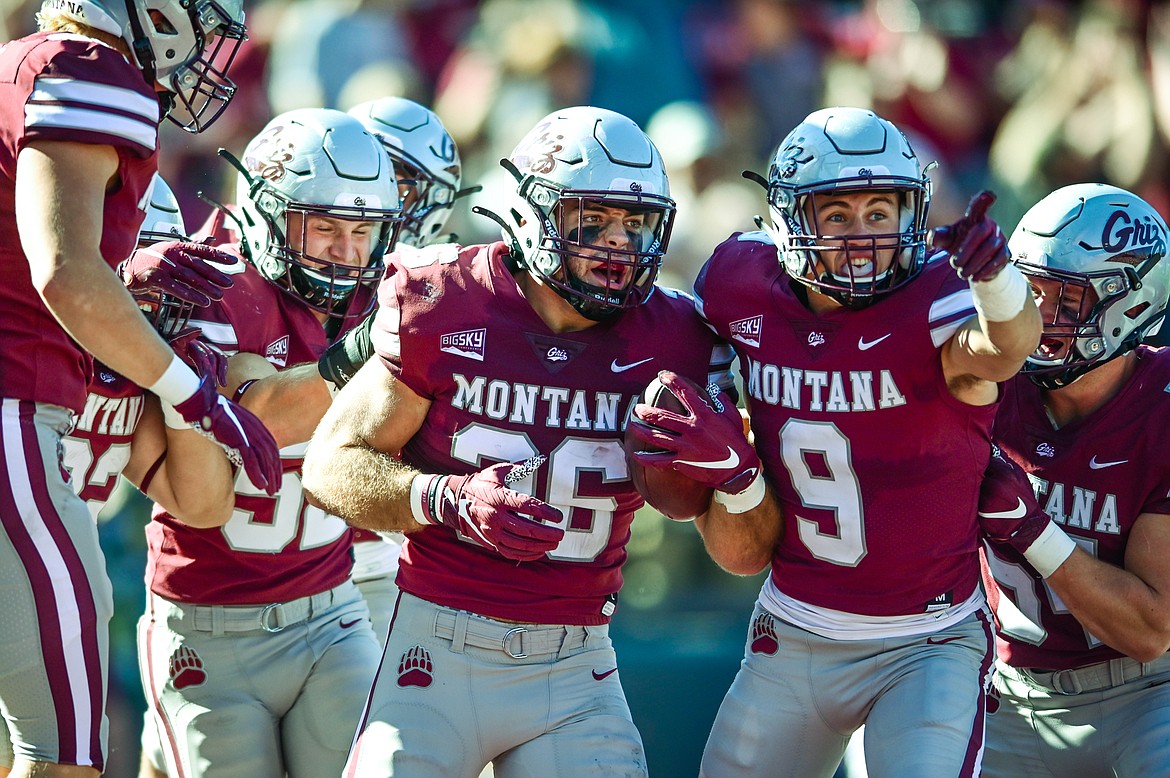 Montana linebacker Levi Janacaro (36) celebrates with David Koppang (9) and teammates after Janacaro's punt block and ensuing touchdown in the third quarter against Cal Poly at Washington-Grizzly Stadium on Saturday, Sept. 25. (Casey Kreider/Daily Inter Lake)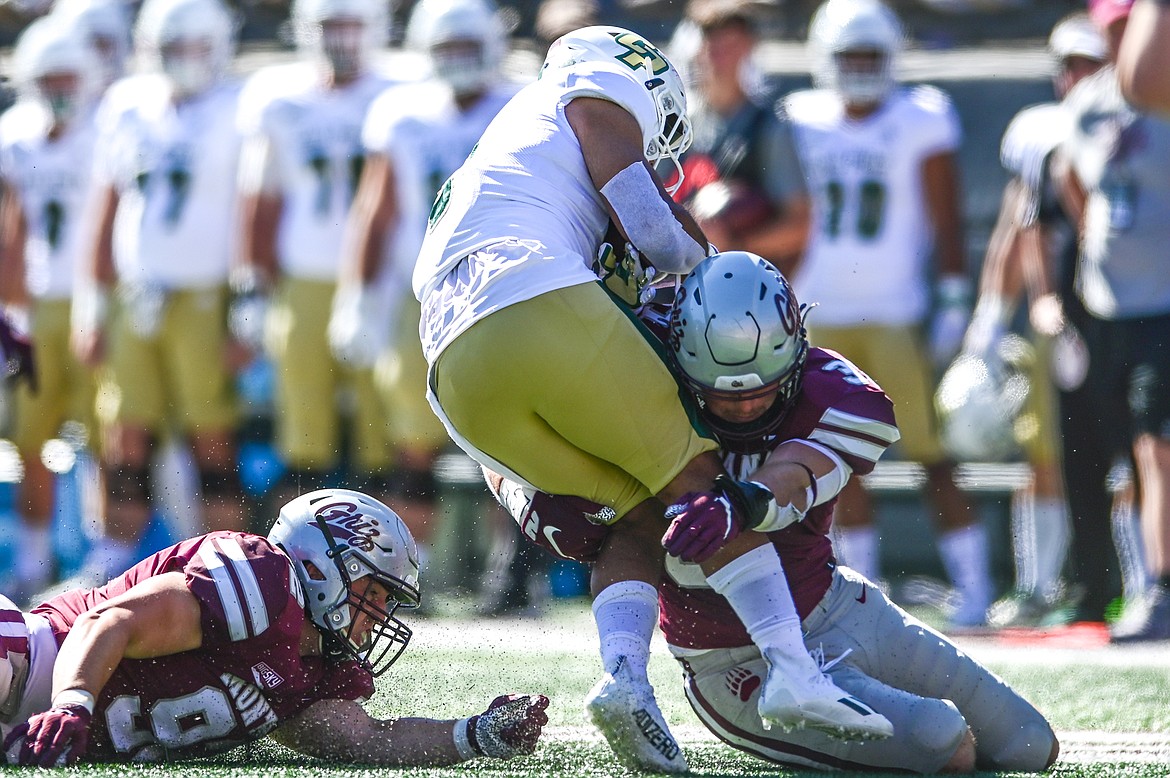 Montana defenders Jacob McGourin (92) and Jace Lewis stop Cal Poly running back Shakobe Parker (8) in the first quarter at Washington-Grizzly Stadium on Saturday, Sept. 25. (Casey Kreider/Daily Inter Lake)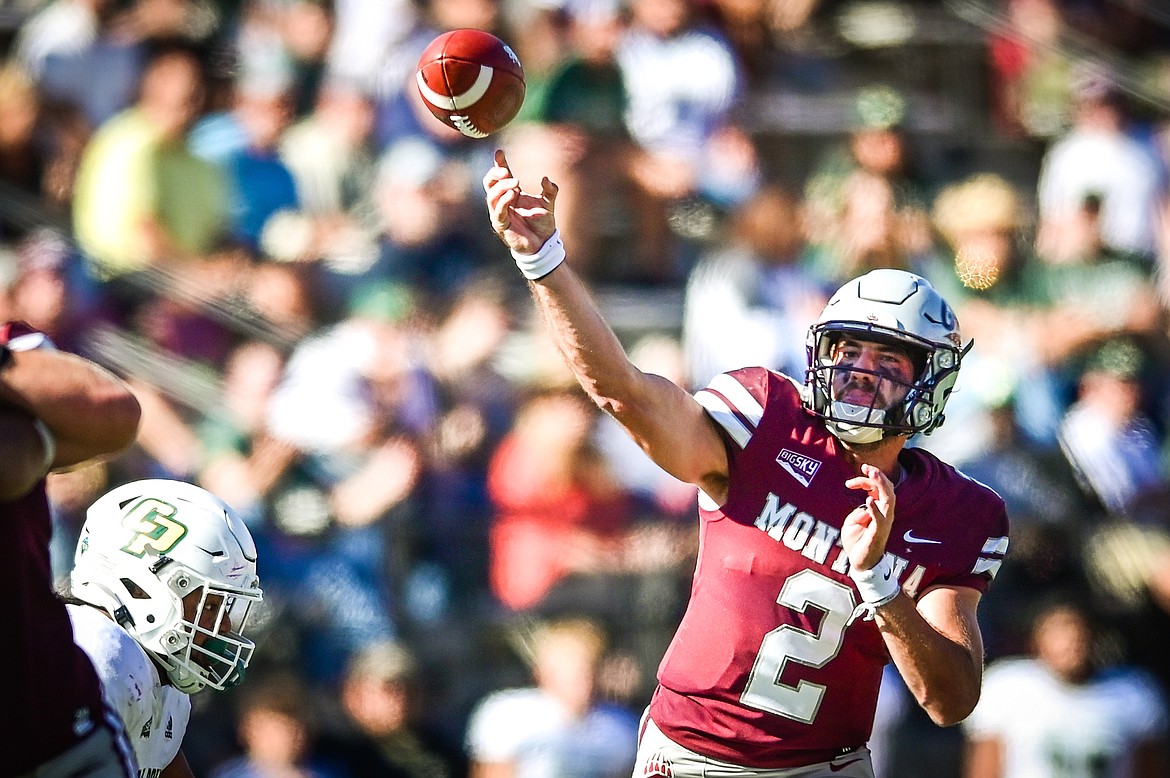 Montana quarterback Cam Humphrey (2) looks to pass in the third quarter against Cal Poly at Washington-Grizzly Stadium on Saturday, Sept. 25. (Casey Kreider/Daily Inter Lake)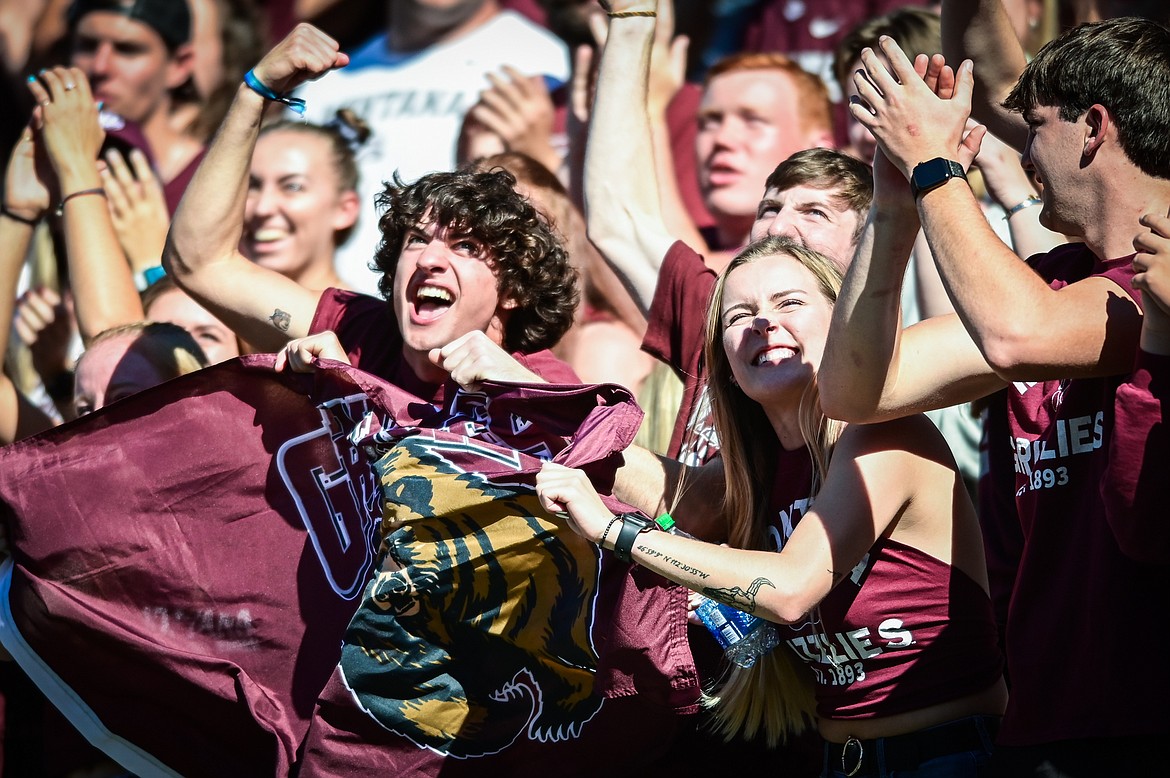 Montana Grizzlies fans cheer in the second quarter against Cal Poly at Washington-Grizzly Stadium on Saturday, Sept. 25. (Casey Kreider/Daily Inter Lake)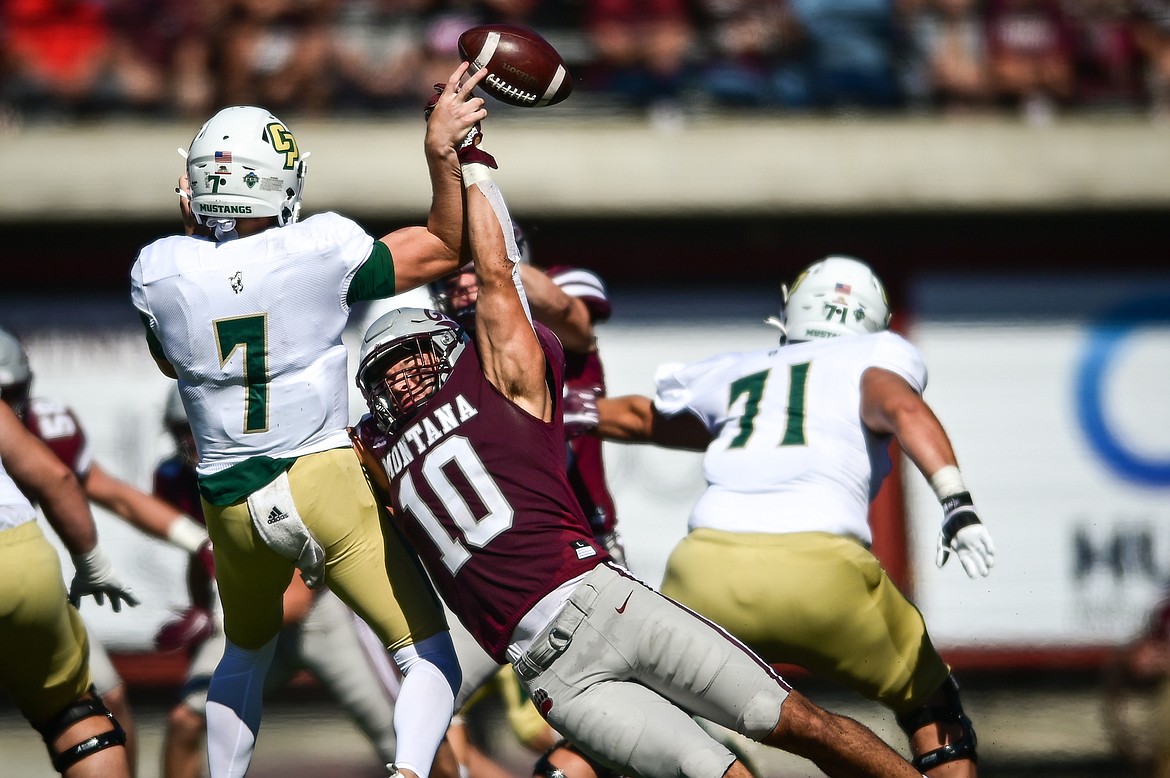 Montana linebacker Marcus Welnel (10) knocks down a pass attempt by Cal Poly quarterback Conor Bruce (7) in the second quarter at Washington-Grizzly Stadium on Saturday, Sept. 25. (Casey Kreider/Daily Inter Lake)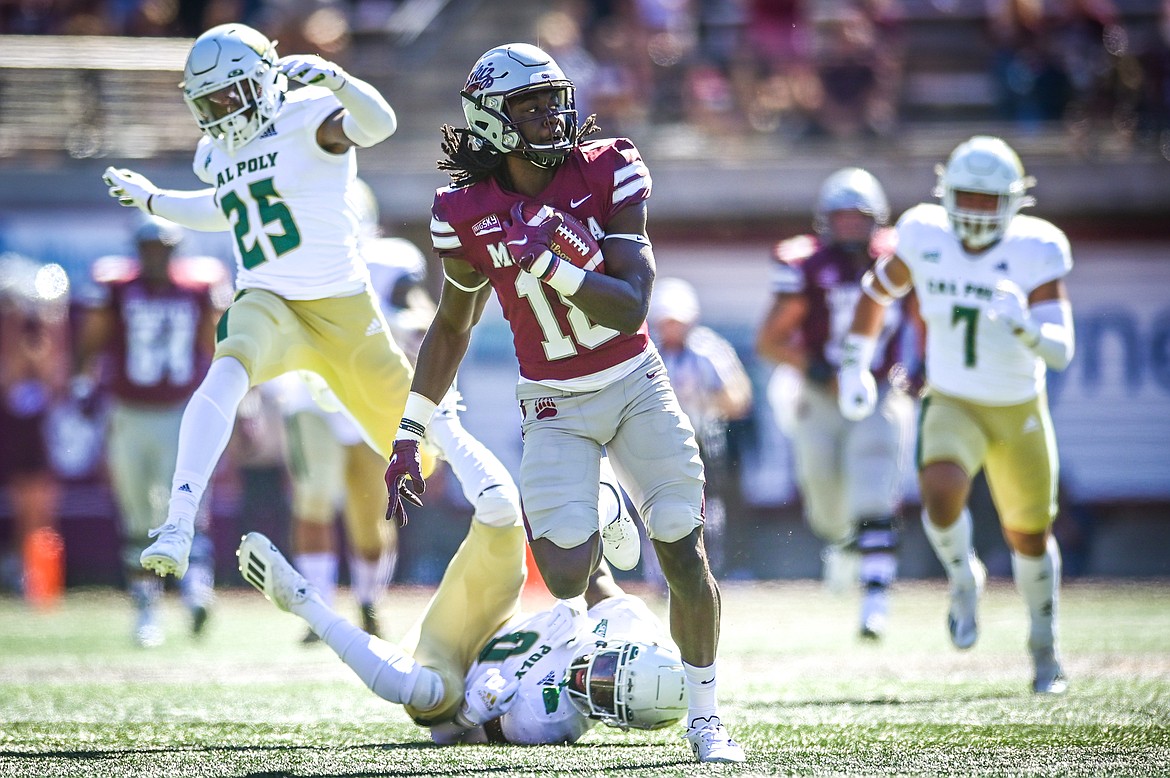 Montana wide receiver Samuel Akem (18) takes a 65-yard touchdown reception to the end zone in the first quarter against Cal Poly at Washington-Grizzly Stadium on Saturday, Sept. 25. (Casey Kreider/Daily Inter Lake)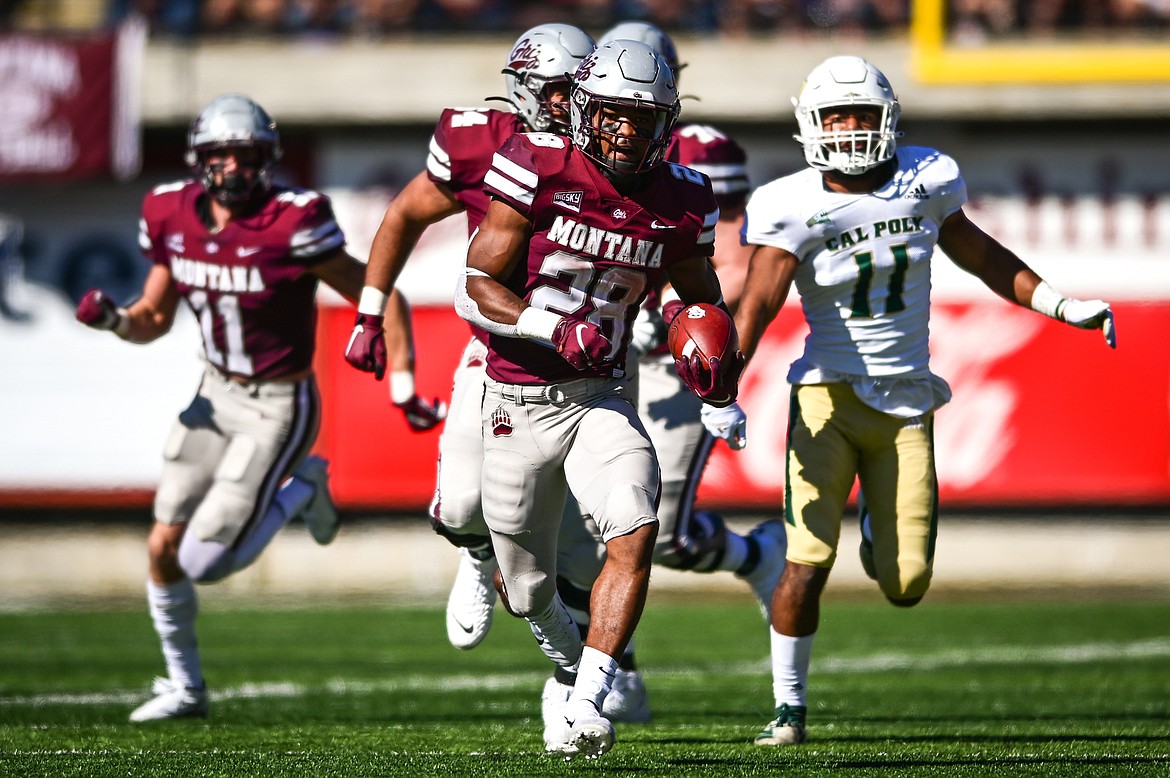 Montana running back Isiah Childs (28) looks for running room in the third quarter against Cal Poly at Washington-Grizzly Stadium on Saturday, Sept. 25. (Casey Kreider/Daily Inter Lake)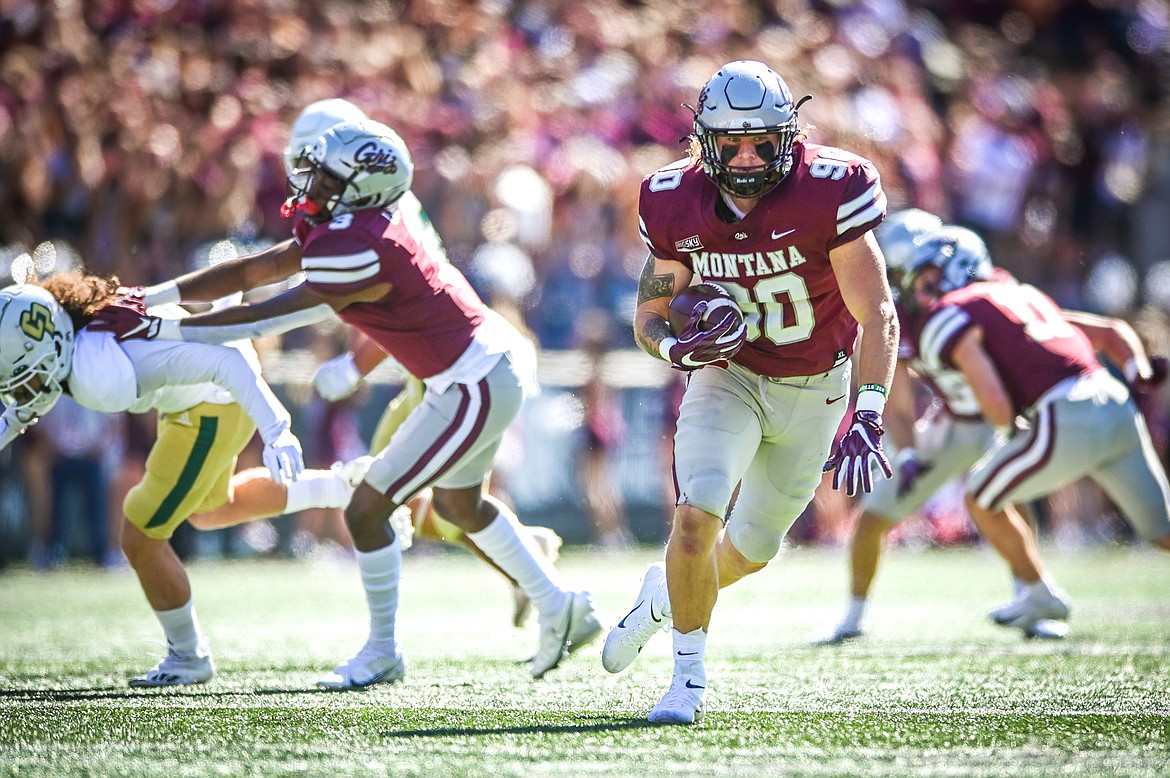 Montana defensive end Justin Belknap (90) returns an interception 24-yards for a touchdown in the first quarter against Cal Poly at Washington-Grizzly Stadium on Saturday, Sept. 25. (Casey Kreider/Daily Inter Lake)
Previous
Next
by
FRITZ NEIGHBOR
Daily Inter Lake
|
September 25, 2021 8:00 PM
MISSOULA — The Cal Poly Mustangs were determined to be unfazed by the homecoming crowd at Washington-Grizzly Stadium.
They were out-phased instead.
The No. 4 Montana Grizzlies rode a defensive touchdown and two scores from their special teams to a 39-7 Big Sky Conference win, a convincing outcome even if the offense never hit its stride.
"Great teams find a variety of ways to win games," Montana coach Bobby Hauck said after his team improved to 3-0, 1-0 in the Big Sky, before an announced crowd of 25,600. "Sometimes it's the offense that carries you, sometimes it's the defense that carries you and sometimes it's special teams that carries the day."
The offense had its moments, starting with a 59-yard, blitz-beating catch-and-run by Samuel Akem off a Cam Humphrey pass in the first quarter. But the special teams and defense had many more.
First defensive end Justin Belknap dropped into coverage and picked off a Conor Bruce pass and skated 24 yards for a first-quarter touchdown; then, after a moribund second quarter, Malik Flowers took the third-quarter kickoff 95 yards to the house.
Flowers' fourth career return touchdown pushed an 18-0 halftime lead out to 25-0. The gap grew to 32-0 on Montana's one sustained drive, an 80-yarder that was capped by a 23-yard pass to wide-open Joey Elwell with 3:59 left in the third.
Montana's last TD came 33 seconds later: Sophomore linebacker Levi Janacaro, who blocked a Cal Poly punt and then chased into the end zone. It was 39-0.
Humphrey threw for 215 yards and two touchdowns, completing 15 of 24 passes. Cal Poly, meanwhile, worked its short passing game for 315 yards between two quarterbacks (Conor Bruce was hurt towards the end of the first half).
The Mustangs outgained the Griz 362-364 and picked up 24 first downs to UM's 16. The rub was Montana's 13 tackles for loss and four sacks on defense. And those special teams plays.
"We were going to make them earn everything," said Cal Poly coach Beau Baldwin, who was visiting Missoula for the first time since his days as Eastern Washington's coach. "If we can get it to the eighth play of the drive, ninth play of the drive, 10th play of the drive that we were going to have a shot at maybe getting a sack.

"Instead those explosives happened on special teams."
Glacier product Patrick O'Connell had another huge game with nine stops, a sack and 3.5 tackles for loss. Garrett Graves, a sophomore out of Eureka making his first college start in place of safety Gavin Robertson, had 11 tackles. Robbie Hauck had 10 tackles.
The defense dodged a couple bullets — Justin Ford picked off a Cal Poly pass at the UM 9-yard line, and Mustang kicker Jaden Ohlsen missed two field goals — while extending its scoring streak to 168 minutes and change.
The Mustangs got a 1-yard TD from Shakobe Harper to cap a penalty-helped, 58-yard drive with 10:12 left in the game.
'I think we're back where we need to be when we're talking about a 39-7 conference win not being what we want," Hauck said. "I'm really pleased with being 3-0 in the first time in I don't know, eight years?
"I don't want to take anything away from Cal Poly because they were ready to play. We were ready to play but we did not play sharp enough today. We have a lot to improve on moving forward."
The Griz have a showdown with Eastern Washington next Saturday, in Cheney.
---